8 Things To Do If Your Ex Reaches Out To You On Valentine's Day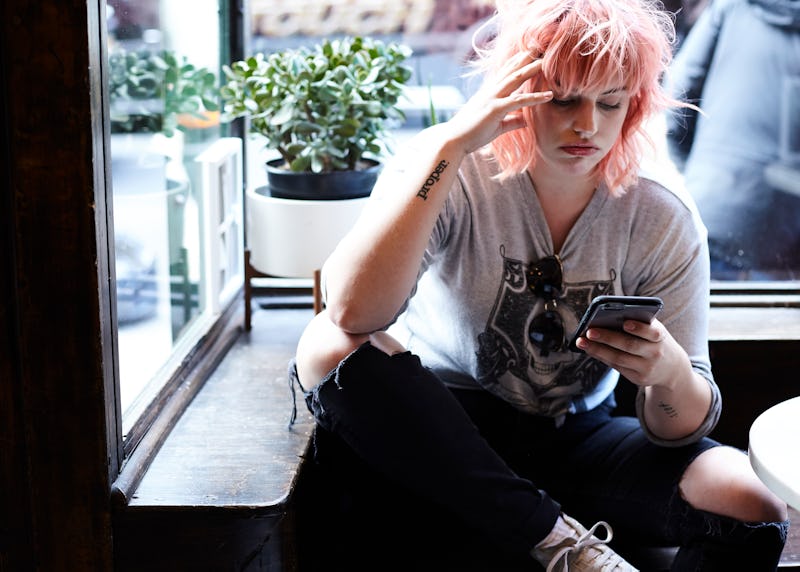 Hannah Burton/Bustle
With red and pink decorations and candy flooding the stores, it's a reminder that Valentine's Day is quickly approaching, which may stir up emotions more in some people than in others. Whether you're single, just started dating someone, or in a serious relationship, everyone has different feelings about the love-centric day. You may also reach out to friends and family on February 14, just to remind them that you love them. But what should you do if an ex reaches out to you on Valentine's Day?
You may welcome hearing from them — they've finally come to their senses! — or, you're in shock. Or angry. Perhaps you're finally over them, or maybe you may be perfectly content dating yourself. And then THE EX appears out of the blue. After all, this tends to happen when you've finally gotten them out of your head — and social media feeds. Now what?
"This holiday is one that can stir up complicated feelings for both men and women," Kat Haselkorn, matchmaker for Three Day Rule, tells Bustle. "If an ex contacts you, they may be trying to capitalize on your vulnerability (not nice!) or they may truly be missing you and hoping to reconcile." She says that it's important to not let the emotions surrounding Valentine's Day affect your behavior. "Make sure to treat it like any other day," she says. Of course, this may be easier said than done. If you do hear from an ex on Valentine's Day, before you respond, here's what experts recommend you do.