Turns Out There's Actually A Difference Between Climax & Orgasm
A sex educator breaks it all down.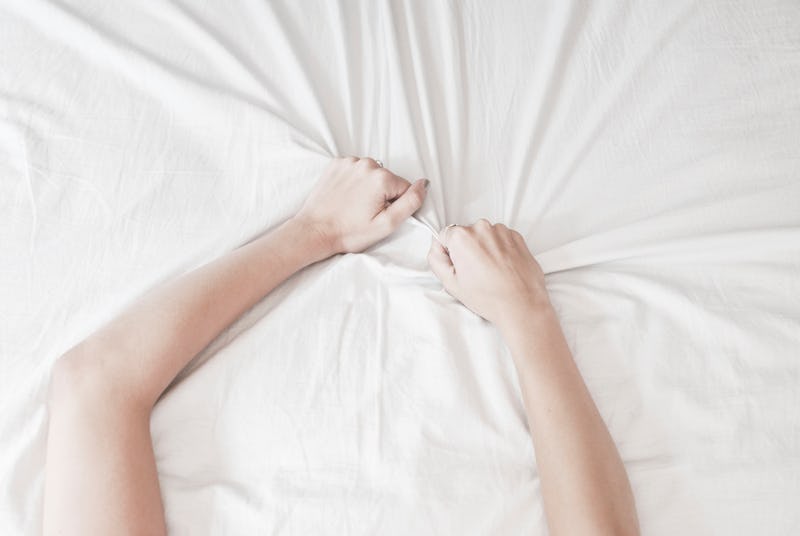 Emelie Ollila/Moment/Getty Images
You probably grew up hearing the words "orgasm" and "climax" used interchangeably (if you grew up hearing them at all, that is). Yet, some schools of thought, like orgasmic meditation and extended orgasm, actually treat them as two separate processes. The difference between climax and coming can be a confusing concept, so when I learned sex educator Lucia Paxton was teaching a class on climax vs. orgasm through O.School, I was eager to learn more.
O.School is a site full of live-streamed video classes on every sex-related topic from polyamory to the best G-spot sex toys. This particular course was called "A Woman's Orgasm: More than Meets the Eye." In addition to taking people's general questions about what an orgasm is, Paxton explained her research and personal experience with orgasm as distinct from the "climax model."
Climax, she explained, is what we usually think of when we hear "orgasm," a few seconds of pelvic floor muscle contractions. Orgasm, on the other hand, is a state that can last as long as you want. It's what happens if your body stays in the state it reaches right before climax — except instead of tensing, it relaxes.
Sound like fun? Here's what Paxton taught us about how non-climax orgasm works and how to achieve it.
Sources:
Lucia Paxton, sex educator
This article was originally published on