Uh, Why Does My Partner's Penis Keep Slipping Out?
Managing this common sex mishap is easier than you think.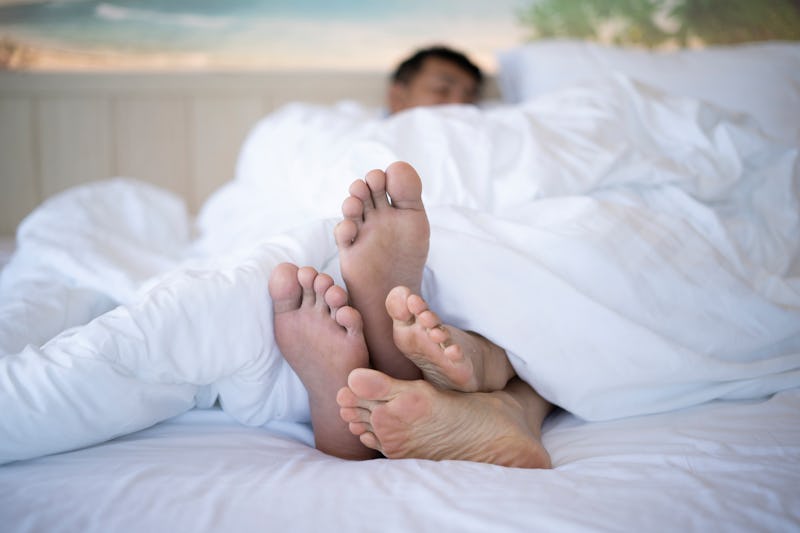 sukanya sitthikongsak/Moment/Getty Images
From surprising bodily noises to muscle cramps and awkward angles, there are a lot of less-than-romantic yet inevitable parts of sex you're likely to encounter, and a penis slipping out during vaginal intercourse is one of them. Thankfully, it's incredibly common, and there are lots of strategies out there to address it.
"Penises get erect in a variety of angles and, depending on the position you're both in, they can more easily sort of 'spring' out of the vagina with each outward thrust — especially because, ideally, there's a lot of slippery lubrication going on," sex educator Anne Hodder tells Bustle. "During orgasm, the vagina muscles contract and tighten, which can absolutely 'push' out something inside — penis, dildo, hand — if there isn't anything keeping it in place. So it's totally possible that a vagina can accidentally push out a penis, especially one that's post-orgasm and losing its erection, but it's really nothing to worry about. Kind of just part of the deal."
So, bottom line: don't be concerned if your partner's penis is falling out during sex. Inconvenient as it may feel in the moment, it's not an unusual part of the process and in fact my present new opportunities for intimacy that hadn't even occurred to you. Below, a few tips to both help you prevent it from happening and keep going after it's happened.
This article was originally published on