8 Ways To Repair Hair Breakage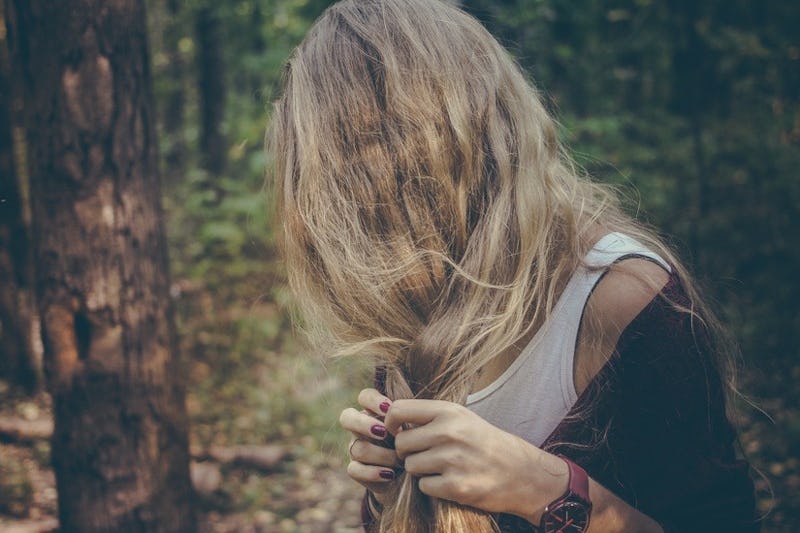 Coloring hair and applying heat to it is intended to make it all kinds of pretty, but both things can have a seriously unwelcoming side effect: hair breakage. Figuring out how to repair it is no easy feat either. If you think a bad haircut is upsetting, just wait until you've got half broken strands sitting on top of the rest of your hair. Not cute.
By now, everyone knows that chemicals, bleach, and heat can dry out your hair, but they can also make it susceptible to breakage. This is when your hair breaks off before it's lifecycle is complete, usually mid-way down the shaft or close to the root, leaving those pieces considerably shorter than the rest of your hair. Depending on the natural strength of your hair (some people are born with thick, durable hair, while others naturally have thinner, more brittle hair) and how often you color or use heat it on, the potential for breakage will vary. Some people may never experience it, but if you have, you know the struggle is all too real.
Unlike taming a haircut gone wrong, you can't (or rather, shouldn't) flatiron or curl the broken pieces to help them blend more, because that will only cause more breakage. You also probably can't cut the rest of your hair to equal the broken length, because the pieces tend to be pretty short, so you're just kind of stuck waiting for it to grow out. So, what you do need to do? Take proper care of your broken pieces to prevent further damage.
If you suffer from hair breakage, make sure you do these eight things to help your strands recover.
Intense Hydrating Mask , $26, Amazon
Your hair is breaking because it's dry and brittle, so getting moisture is important. Try to use a deep conditioner/hair mask once a week. If you can leave it on for an hour, that's great, but if not, at least leave it on for 5-10 minutes when you're in the shower. If you don't want to pay for a new product, try one of these DIY hair masks.
2. Lower The Temperature On Your Styling Products
Conair Infiniti Pro Tourmaline Ceramic Curling Iron, $15, Amazon
According to celebrity stylist Ken Paves, you need to lower the temperature of your styling tools because heat=more breakage. "If your iron is at 375 degrees, it will still style your hair efficiently without the damage," Paves said. Although, if you can live without your flat/curling iron — do it.
TRESemme Thermal Creations Heat Tamer Protective Spray, $7, Amazon
If you are going to style your hair, do not put any heat on your hair without a serum to protect it first.
Ken Paves You Are Beautiful Detangling Thermal Protectant Spray, $17, Amazon
"Weak or damaged hair will have lost some elasticity so you should use a lightweight detangler to prevent over stretching the hair when combing out after shampooing," said Paves.
5. Skip The Topknot
Goody Ouchless Soft Fabric Gentle Scrunchies, $7, Amazon
I love a ballerina bun just as much as the next girl, but piling hair on top of your head and securing it with an elastic creates way too much tension on broken hair. Instead, pull your hair back in a low ponytail and secure with a soft scrunchie. The '90s are back after all!
DEEPLY INVESTED Nourishing Hair Mask, $19, esalon
"When doing color changes make sure that you are doing treatments before and after the chemical services. This helps to prepare and repair the disulfide bonds in your hair," said Paves.
Alaska Bear Natural Silk Pillowcase for Hair, $20, Amazon
Tossing and turning in your sleep can cause even more hair to break off, and cotton is not as friendly on your hair as silk or charmeuse.
8. Comb Your Hair With Conditioner On
To avoid ripping off more hair when combing, only comb when you have conditioner on in the shower. That way, the hair is protected.
Images: Walmart; Alliance/Fotolia; Moroccan Oil; Drugstore.com; Amazon