Stylish Moments From Golden Globe Nominated Series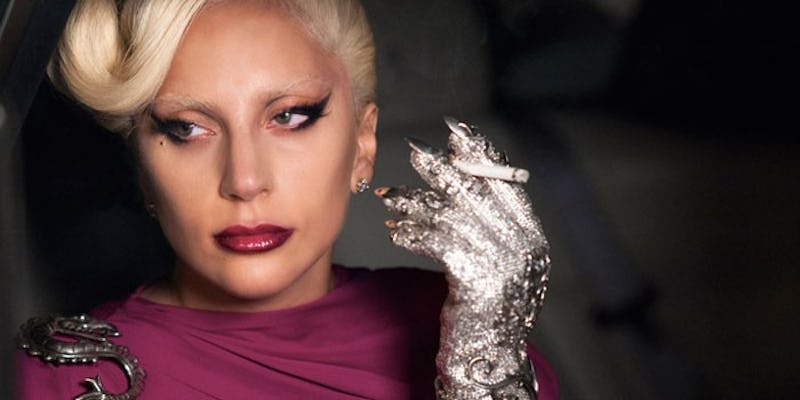 There's no denying the 2016 Golden Globe nominated TV series are super stylish. Be it a few characters or the whole cast, the television nominations for the upcoming award ceremony will not disappoint when it comes to costuming. So, while we wait patiently until next month for awards results, let's take a moment to admire the amazing outfits worn on ten Gold Globe-nominated television shows.
While there are certainly a lot of stylish films also nominated, television shows give us that dose of fashion inspiration we need on a regular basis. The longevity of television shows allow characters' style to evolve along with the story line over a longer period of time, not just throughout a couple of hours. With a series, we typically follow the characters as their lives — and their wardrobes — change over several years. My favorite shows are the ones in which style also makes for a big part of the series as a whole.
Style plays an important part in any successful series because it can convey so much about the characters, the time period, the mood. Here are the most stylish moments from ten GG nominated TV series.
1. Empire
Who needs a whole cast of stylish characters when you have Cookie Lyon? Cookie's out-there, unapologetic style could make up for a million dull wardrobes, but on Empire, that's not necessary. For the most part, every character can hold their own.
2. Scream Queens
A feathered dress? Lace up nude heels? Chunky pearl jewelry? This new series, which debuted earlier this fall, has quickly become a favorite among fans of similarly wicked and glamorous shows like Gossip Girl and Pretty Little Liars. Each character has some seriously killer style. Get it?
3. Transparent
The Amazon series Transparent has received lots of well-deserved praise. Having earned two Golden Globe awards since its debut, the show is eye-opening and beyond fascinating. And, frankly, no one can pull off chunky necklaces quite like Mort.
4. VEEP
Julia Louis-Dreyfus already has impeccable style, so it's natural that it carried onto her portrayal of Selina Meyer in VEEP. The character's style is perfectly chic, put-together, and presidential.
5. Mad Men
Taking during the '50s and '60s, wardrobe plays a huge part in setting the mood on Mad Men. The characters are always impeccably dressed.
6. House Of Cards
If there's one character you don't want to mess with on TV, it's Claire Underwood from House Of Cards. That includes the style department! This gorgeous silk halter gown still haunts me to this day.
7. How To Get Away With Murder
If you're not already watching How To Get Away With Murder, you should be. Not only for the amazing story lines, but also for the great style. Viola Davis as Annalise Keating is fierce, strong, and, well-dressed. Her maroon dress with stand-out accessories was definitely a winner.
8. Jane The Virgin
The style in Jane The Virgin is totally accessible and cute. Her bright ensembles, like this yellow dress with matching accessories, are undeniably fun and adorable. And while Jane Villanueva certainly found herself in an unusual position, her style is perfect for her relatable character.
9. American Horror Story: Hotel
With Lady Gaga involved, you know American Horror Story: Hotel was bound to be a stylish affair. As great as she is, Gaga's only one part of the fashion fraction — the whole Hotel cast has great style and they're not shy about it on screen. This show is one to watch, whether it's for the gore or the glamour.
10. Downton Abbey
Easily one of my favorite TV shows to date, Downton Abbey is all my British countryside, corset-wearing, romantically-frustrated dreams come true. Lady Mary Crawley is definitely the fashionista of the estate. She's consistently pictured in chic designs and fairly modern dresses (and, of course, hats), despite the show taking place in the early 20th century.
All in all, these shows have got some major style. So if you for some reason still needed an excuse to watch them, now you've got it!
Want more style tips? Check out the video below, and be sure to subscribe to Bustle's YouTube page for more hacks and tricks!
Images: Fox, Amazon, HBO, AMC, Netflix, ABC, The CW, FX, PBS/BBC