Here's A V-Day Playlist That Isn't Cheesy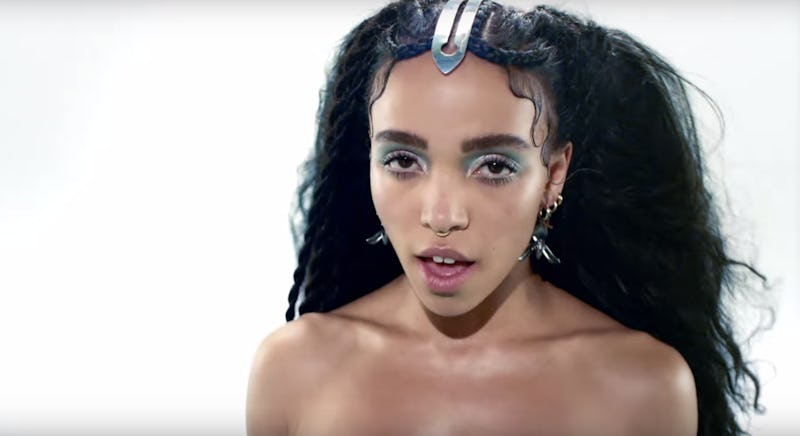 If you're a romantic like me, then every year when February 14th rolls around, you probably find reasons to enjoy celebrating Valentine's Day whether you're madly in love, single AF, or somewhere in between. And why wouldn't you? After all, Valentine's Day comes and goes whether we want it to or not, so we might as well find ways to make it fun. That said, even my longstanding love for the holiday has been tested as of late by it's unbearable cheesiness, and I'm 1,000 percent over listening to Valentine's Day playlists featuring unrealistic, bullshit love songs. So, with a little help from Spotify, I compiled a cool Valentine's Day playlist that isn't cheesy. You're welcome.
Don't get me wrong, cheesy love songs certainly have their own charm — and they can be a lot of fun when you're in the throes of new love. But if you've been around long enough to realize that even real love is painful, messy, confusing, and terrifying at times; or, if you've had your heart broken badly or recently enough that cheesy love songs still make your eyes roll, then scroll on. Because, believe it or not, there's actually a lot of awesome love songs that aren't cheesy at all.
Here's a Valentine's Day playlist that isn't cheesy, because if I hear one more sap singing about how "true love lasts a lifetime" or whatever, I just might barf.
1. "Gimme All Your Love" By Alabama Shakes
If you have yet to acquaint yourself with Alabama Shakes, now is the time to change that. Not only are their love songs super real and raw, their lead singer, Brittany Howard, is a body positive, rock goddess.
2. "Thank You" By Nathaniel Rateliff & The Night Sweats
This song is perfect for long-term couples who love each other but don't love cheesiness. If you just want to thank your SO for "getting you through," this is the track for you.
3. "Better Man" By Leon Bridges
OK, so I'm in love with Leon Bridges. My personal feelings aside, though, it's nice to listen to love song that's all about a dude trying to be a "better man" for his lover. Even if he shouldn't have messed up in the first place. I mean, anyone who offers to "swim the Mississippi river" for love must be serious about making amends. I've lived by that river, and it's disgusting.
4. "All The Way To New York City" By Rosie Thomas
This one may not be the most upbeat song you've ever heard, but it's not cheesy, either; and it's an absolute gem for anyone who has ever had to choose pursuing their goals over being near the people they love. If you're an NYC transplant like myself, the opening line, "I wish I could take you with me all the way to New York City," will be all too relatable.
5. "Love Minus Zero, No Limit" By Bob Dylan
I don't know who Bob was singing about in this rare love song of his, but if the line "My love she laughs like the flowers/Valentines can't buy her" is any indication of her personality, I think we'd all get along just fine.
6. "It'll All Work Out" By Tom Petty & The Heartbreakers
First of all, this song is gorgeous and peaceful as hell, so if you don't love it, I don't know what to tell you. On top of that, "It'll All Work Out" speaks to how big of a roll timing plays in love. And I think we can all relate to that.
7. "Going To California" By Led Zeppelin
This song is for anyone who's ever hoped a change of location would help them find love and happiness. It's also just a gorgeous example of acoustic mastery.
8. "Soap" By Melanie Martinez
It's rare to find a song this dancey that isn't also super cheesy. More importantly, I'm pretty sure most of us have thought to ourselves, "I should've never said the word love," at some point in our romantic lives. We feel you, Melanie. We feel you.
9. "2 Heads" By Coleman Hell
These lyrics are haunting in the best way. "Our love ain't nothin' but a monster with two heads" is a pretty fantastic way to describe the chaos of romantic love, am I right?
10. "Meet Me In The City" By The Black Keys
Whether you're in a long distance relationship, or simply trying to date in NYC, "Meet Me in The City," will pretty much sum up your struggle. And it will do so in that delightful, bluesy-rock way that only The Black Keys can.
11. "Casimir Pulaski Day" By Sufjan Stevens
So sad, so real, and so pretty. Sufjan beautifully captures young love and loss in this track without veering into cheesy territory. Try not to cry.
12. "Jackie And Wilson" By Hozier
Not only is this song surprisingly upbeat for Hozier, it's basically the perfect, non-cheesy ode for anyone who's finally found that person they can actually envision having a family with.
13. "Be Mine" By Alabama Shakes
The title says it all, but the way Brittany Howard belts the verse, "All them girls might wanna rip us apart/If they wanna fight they done started f*cking with the wrong heart/They got another thing comin'/Or I'll be a dead woman," is a great selling point for this song, too.
14. "Love Is A Losing Game" By Amy Winehouse
Amy's right, love feels like a losing game most of the time. Rest in peace, beautiful songstress.
15. "1234" By Feist
This one from the vault is a good, non-cheesy reminder of what your first love felt like — even if, in retrospect, you realize your first love was a turd.
16. "Electric Love" By BORNS
This album is titled Dopamine for a reason. "Electric Love" reminds us that new love makes you feel high as a kite, without ever saying something as ridiculous as, "new love makes you feel high as a kite."
17. "Pendulum" By FKA Twigs
FKA Twigs is a total babe, her voice is sexy as hell, and listening to "Pendulum" is probably going to make you want to get down with your SO. If you're like me and don't currently have an SO, you'll still appreciate the way FKA Twigs gets real about being lonely in relationships with the line, "So lonely trying to be yours/When you're looking for so much more."
Images: Pexels