How To Channel The Goblin King In Everyday Life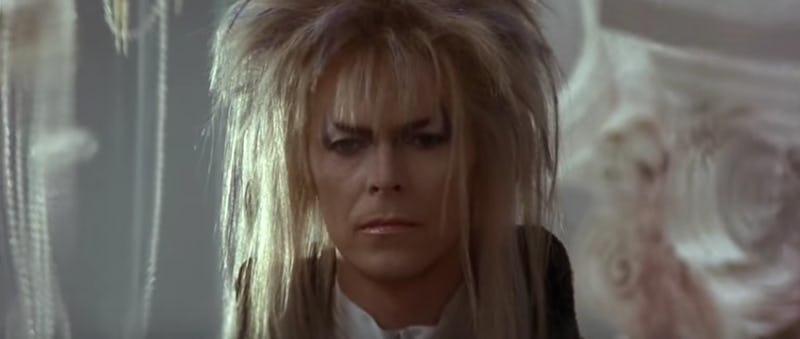 Jareth, the Goblin King of '80s cult film Labyrinth, is arguably one of the most stylish movie villains ever. Although his attire might seem majestic and otherworldly, it is totally possible to dress like Labyrinth 's Goblin King in everyday life. Who wouldn't want to copy an androgynous, magical, elfin human in their day to day?
All jokes aside, I cannot imagine anyone in the world being a better fit for Jareth than the legendary, late David Bowie. He fit Jareth's persona like a glove, with Bowie's ever-changing ethereal style seemingly matching and enhancing the character of the Goblin King. Of course, Bowie's Labyrinth songs were also a unique addition to the story and raised Labyrinth to another level of awesomeness altogether.
The wardrobe that Jareth flaunted wasn't a million miles away from what David Bowie wore himself, either. The Starman was always sporting extravagant ensembles, accessories, and makeup; and although there don't seem to be many humans in Jareth's labyrinthine world — the ones in the ballroom dream scene could be an illusion — Jareth still sticks out like a stylish sore thumb. The Goblin King, much like Bowie, wasn't afraid to wear gender-bending garments and clothing that grabbed his audience's attention.
If you too wish to experiment with menswear, make your wardrobe more magical and menacing, or pay homage to the late David Bowie, here's a selection of items to help you channel Jareth in everyday life.
1. Those Pants
Those super-tight pants, which left nothing to the imagination, are probably one of the most memorable parts of the entire movie (well, they certainly are for me). These bottoms will form the base of your entire look, so make sure to get a pair that you feel comfortable in.
Asos Rivington High Waist Denim Jeggings In Light Grey Wash, $45, asos.com
Jeggings weren't a thing back in the '80s. Had they been, I'm sure Jareth would have had a pair in every color. This light gray pair makes for a close call to the Goblin King's tight trousers.
Torrid Jegging — Charcoal Grey Wash (Regular), $58.50, torrid.com
A dark gray, plus size pair of jeggings will make for a subtle nod to Jareth's skintight pants.
2. The Ruffled Blouse
Jareth wore a selection of Victoriana blouses that helped him look like a magical pirate or a steampunk fan. His eccentric style made him otherworldly and it was definitely fitting attire for a goblin king from another realm.
Sister Jane Camelia Ruffle Blouse, $95, asos.com
A ruffled blouse will instantly inject an aura of elegance and sophistication into your ensemble.
Women's Plus Size Button Down Ruffled Blouse, $12.99-$14.99, amazon.com
Go all out with a blouse featuring a ruffled front and piratical sleeves.
3. The Smoky Eye Makeup
Wear a smoky eye to truly channel the king of the goblins. You can even go OTT like Jareth for a night out or a special occasion, or tone it all down a little for an everyday look.
Sephora Collection Colorful 5 Eyeshadow Palette In "N°01 Uptown To Downtown Smoky," $25, sephora.com
Keep a smoky eye palette in your purse to transform yourself into an ethereal queen whenever you desire.
4. The Black Waistcoat
Add the finishing touch to your blouse by incorporating a black waistcoat or gilet like Jareth.
Mia Leather Look Waterfall Gilet, $18, boohoo.com
Make your style more masculine with a black gilet that will balance out the feminine feel of your blouse.
Sleeveless Coat, $49.49, simplybe.com
On colder days, rock a gilet style coat to keep you warm yet whimsical.
5. The Black Heeled Boots
In keeping with his slight pirate theme, Jareth flaunted square-toed, knee length, heeled boots for dancing and anti-gravity walking.
Hex Sock-Fit Ankle Boots, $135, topshop.com
If you prefer a shorter style, try these heeled black booties on for size.
Black Heeled Boot, $69.50, evansusa.com
I'm sure Jareth would definitely approve of these plus size boots featuring a buckle. They are available in sizes 6 X Wide to 12 X Wide.
6. The Embellished Jacket
One cannot be goblin royalty without bejeweled outerwear, darling.
A Star Is Born Allover Luxe Embellished Trophy Jacket, $274, asos.com
Stand out from the crowd in an eccentric yet extravagant embellished jacket.
Alice & You Embellished Folk Jacket, $100, asos.com
Look like you've come from another world in this fantastical plus size piece.
7. A Fancy Glove Collection
Throughout the movie, I don't think there is a single time when Bowie is seen sans gloves. He sports off-white and black leather-look ones that I believe add to his villainous persona.
1960s White Faux Leather Gloves, $17.50, etsy.com
Take a theatrical turn with a pair of vintage 1960s faux leather gloves.
Leather Gloves, $24.99, fullbeauty.com
Or go dark with a pair of plus size jet black leather gloves in sizes 8 or 8.5.
8. The White Furry Cape
Towards the end of the movie, Jareth is seen wearing a very dramatic, floor-length cape. Instead of looking like you've come from a costume party, take inspiration from the top half of his cape that is cream and furry.
Ruby Faux Fur Cape, $40, boohoo.com
This fluffy faux fur cape will keep you feeling toasty and looking enchanting.
Lovedrobe Double Layer Fur Cape, $117.50, simplybe.com
This cream, plus size cape will look fabulous with the aforementioned tight pants.
9. The Blue Hair Mascara
The faint blue streaks in Jareth's hair might seem totally random to some, but I think they add to his overall magical aura.
Joyous Professional Temporary Hair Color Highlights & Streaks Touch-up (Medium Blue,) $6.99, amazon.com
Give your hair a blue tint just like the Goblin King's streaky 'do with this blue hair mascara.
Become the babe with the power in iconic Jareth style and embrace your own spellbinding, androgynous look.
Want more on gender fluidity? Check out the video below, and be sure to subscribe to Bustle's YouTube page for more inspo!
Images: Henson Associates, Inc., Lucasfilm Ltd. (10); Courtesy Brands