Aquatic Accessories To Become A Real Life Mermaid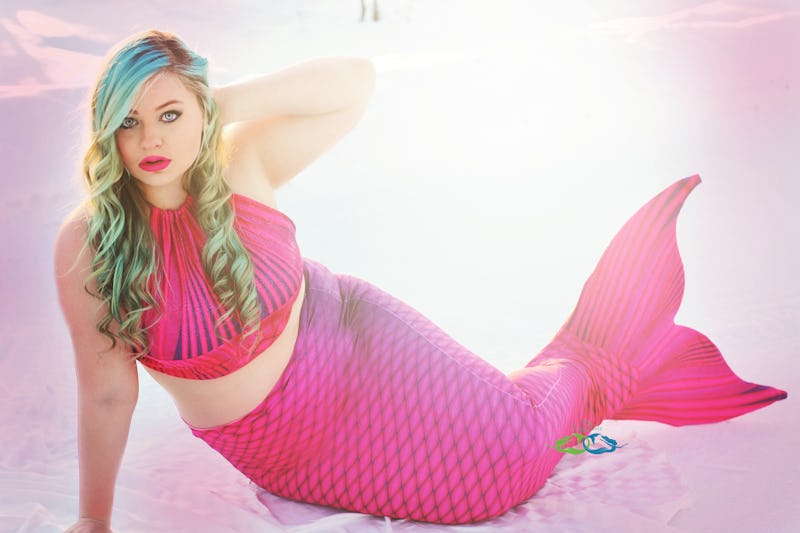 Have you ever dreamt of becoming a real life mermaid? Well your dreams could become a reality with functional mermaid accessories to help you make the most of your time under the sea. Mermaids seemed to be the favorite fantasy creature of 2015 and it's easy to see why these beautiful, ethereal beings were in vogue.
Mermaids have played a role in popular culture for many years. Mermaids featured in folklore and legends, acted as inspiration for Hans Christian Andersen's tale, starred in Disney's The Little Mermaid, featured in modern movies, and more. Whenever they are represented, mermaids appear to be seductive, beautiful creatures. There's also a certain danger to them; exemplified in Disney's Peter Pan where the girlish mermaids try to drown Wendy and more recently, the seemingly enchanting mermaids in Pirates of the Caribbean: On Stranger Tides lure the pirates into the water with their charm and song, before they transform into vicious predators and pick them off one by one.
The allure of the mermaid is strong and no matter whether you always wished to be Ariel, or you hoped that one day you could swim in the ocean like a mermaiden, you can now come closer to your dreams with functional mermaid accessories.
1. The MerFin
MerFin Classic Adults, $99.95, mahinamermaid.com
Have you ever wished to swim like a mermaid? This MerFin will help give you the swimming experience of a mermaid by keeping your feet together, so that you move through the water like a mermaid. It's also a great way to strengthen your core while you're swimming.
2. The Mermaid Tail
Lorelai Green Adult Mermaid Tail With Monofin, $121.90, themertailor.com
If you want to go all out, choose a full mermaid tail with a built in monofin to channel your favorite aquatic creature. It's safe to use in chlorinated and saltwater, so you can have fun flippin' your fins wherever you are!
3. The Mermaid Bandeau
Silicone Scale, $159, themertailor.com
This scaley, silicone bandeau style top is custom made to make all of your mermaiden dreams come true. You can choose your bra size, along with your preferred color scheme, so it can match your tail if you desire.
4. The Bikini Top
Potion Seashells Bikini Top By Margarita Mermaid, $45, dollskill.com
If you're going for an authentic Ariel ensemble, you're going to need this gorgeous, scalloped-edge purple bikini top in your aquatic attire collection.
5. The Curvy Mergirl Tail
Curvy Tail, $150, the2tails.com
Mermaids come in all shapes and sizes, so this Curvy Tail is suitable for any gals between 170-220 lbs. Choose from a rainbow of colors from "Fire Coral Red" to "Sparkle Black" depending on your preference.
6. The Customizable Top
Silicone Mermaid Scale Tops, Prices Start From $170, themernation.com
Design your own mermaid inspired top. Choose from a strapless style, to a full length corset design and add on fins, accents, netting straps, and more! Prices start at $170 when you send your own bra base and additional extras, custom detailing, and sizes larger than 36D come at an extra cost.
7. The Mermaid Swimsuit
Delphina Swimsuit By Margarita Mermaid, $98, dollskill.com
Look like an underwater goddess in this darling swimsuit with clamshell bust detailing.
8. The Mermaid Halter Neck Top
Swim Top Adult In "Catalina Aqua Sparkle," $15, the2tails.com
Athletic mer-babes are sure to love this sporty halter neck top which can be color co-ordinated to your The2Tails swimmamble mermaid tail – you're sure to make Ariel's sisters jealous.
9. The Diving Mask
Body Glove Women's EVX Dive Mask, $20.54, amazon.com
See the underwater world clearly in a pink rimmed diving mask, so you can truly become a part of Ariel's world.
Make a splash in mermaiden accessories to enjoy your time in the water and flaunt fathoms of style!
Images: Courtesy Brands