Here's How To Recreate The Olsen Twins' Hairstyles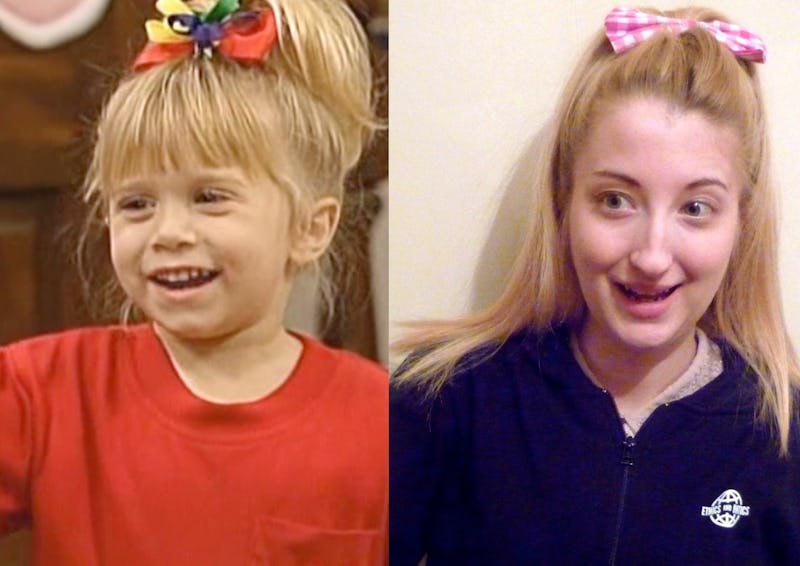 Mary-Kate and Ashley Olsen have been cool for what seems like forever. In fact, they probably came out of the womb cool. When it comes to stylish celebs, the babes are fashion royalty. Feeling like I needed a piece of the empire, I recreated seven Olsen twins' hairstyles at home. I could only hope that their coolness would rub off on me, and I'd be able to channel their strength and chicness.
These stylish siblings have been rocking awesome ensembles and matching each other since the early '90s. Their style has evolved from cutesy coordinates, to trendy tweens, to laid back luxe. They are often spotted front row at the most high-end shows of fashion week or looking super glam on the red carpet for movie premieres. Not only have their fashions changed, but their hairstyles have also undergone some dramatic transformations. Mary-Kate and Ashley have gone brunette, dabbled with red tones, and experimented with a variety of blonde hues.
From Full House, to Holiday In The Sun , to front row regulars, these gals know what's what when it comes to fashion and beauty. So here's how to recreate some of their most memorable looks. Prepare to live out your childhood dreams by temporarily becoming an Olsen twin.
1. The Full House Ponytail
Method: Michelle Tanner's super high ponytail was a piece of cake to recreate. All I needed to do was tip my head upside down, comb my mane, and secure it with a hair tie.
As my hair tie was pretty boring, unlike Michelle's awesome accessory, I added a bow clip to make it look more interesting.
Verdict: This ponytail was super easy, feminine, and kept my long locks out of the way so I could easily get on with my activities. I loved it!
2. The Double, Double, Toil And Trouble Pigtails
Method: I followed a similar method in order to recreate these cutesy pigtails. First I separated my hair into two halves and loosely secured one half to keep it out of the way.
Next, I tipped my head upside down in order to achieve a super high pigtail.
I attempted to comb out the bumps and then secured my pigtail with a hair tie. I followed the same procedure for the other side.
Verdict: I thought this look was sweet, but a little too young for a 26-year-old. I felt a little like a Harley Quinn wannabe, but far less interesting.
3. The Two Of A Kind Up-Do
Method: Considering the fact that I have so much hair and I couldn't see the back of my head, this style was really tricky. I began by giving myself a side part just like the twins' styles.
I left a section of hair free at the front, so that I could grip it down like the girls did.
Next, I split the remainder of my hair in half and made a low bun on one side of the back of my head. I did this by making a pigtail, but not quite pulling all my hair through the hair tie.
I then wrapped the loose part of the pigtail around the small bun I had accidentally created, and fixed the ends sticking upright with a few bobby pins. I repeated the process on the other side.
Finally, I gripped the loose section at the front of my head down, brought the remainder of it back, and wound it around the nearest bun. I secured it with bobby pins in a similar fashion as before.
Verdict: I don't think this works with thick, long hair or without a professional hairdresser's help. Mary-Kate and Ashley's 'dos look cool and trendy, whereas mine looks like, well, like a hot mess.
4. The Passport To Paris Half Up, Half Down Hairstyle
Method: This Passport To Paris look was surprisingly simple to recreate. I took two strands of hair around my face and separated them from the rest of my mane.
After this, I grabbed two small sections of hair from immediately behind the area I'd just separated. I twisted these a little and used bobby pins to secure them at the back of my head. The look was complete!
Verdict: This look shocked me with how girly yet minimal it was. I really hate having hair anywhere near my face, but I think I could get used to it in this style.
5. The Our Lips Are Sealed Style
Method: Mary-Kate and Ashley were rocking those laid back vibes from a young age, as seen here when they sported a bandana and a floral headband in Our Lips Are Sealed.
Unfortunately, my bandana collection is long gone, so I got crafty with a piece of material from my sewing bag.
I separated two strands of hair at the front of my head, ensuring these would be seen from straight-on.
I then tied a loose bun at the back, and finished the look by tying my makeshift bandana around my bun.
Verdict: This style would have very likely looked a lot better with shorter hair. I felt like an anime character, but not in a good way.
6. The Holiday In The Sun Beach Waves
Method: I loved the beachy, tousled hairstyle seen in Holiday In The Sun, so I wanted to try to recreate it on my own locks. I'm not going to lie, I'm terrible at using a curling wand, so I resorted to my heated rollers.
After I'd had them in for a while, I removed them and finger-combed my hair in order to achieve less structured curls. And voilà!
Verdict: Although I do like the loose curls, they aren't nearly as good as those Olsen waves.
7. The Modern Braid
Method: For my final look, I went for a contemporary Olsen twin style. I picked the long braid that basically epitomizes Mary-Kate and Ashley's chic yet relaxed auras.
I gave myself a normal braid and I didn't stress too much about making it look perfect, since that's obviously not what these stylish siblings strive for.
Verdict: I do love a good braid. When a braid toes the line between prim and disheveled, it makes my heart sing. I'd love to wear this frequently IRL.
It turns out that Mary-Kate and Ashley's hairstyles aren't actually that hard to recreate. In fact, I was quite shocked at how easily I could copy some of their signature looks.
Ultimately, if you like a look, try not to sit there pining after it for years. Just experiment! You might be surprised at how simple your favorite celebs' hairstyles are to attain. I'll definitely be rocking some of these in the real world.
Want more fashion and beauty tips? Check out the playlist below, and be sure to subscribe to Bustle's YouTube page for more hacks and tricks!
Images: ABC (1); Warner Bros. Television, ABC (1); Griffard/Adler Productions, Dualstar Productions, Miller-Boyett-Warren Productions, Warner Bros. Television (1); Warner Bros., Tapestry Films, Dualstar (1); Tapestry Films (1); Dualstar Entertainment, Atlantis Paradise Island, Tapestry Films (1); Phoebe Waller