What To Wear On A First Date In Hot Weather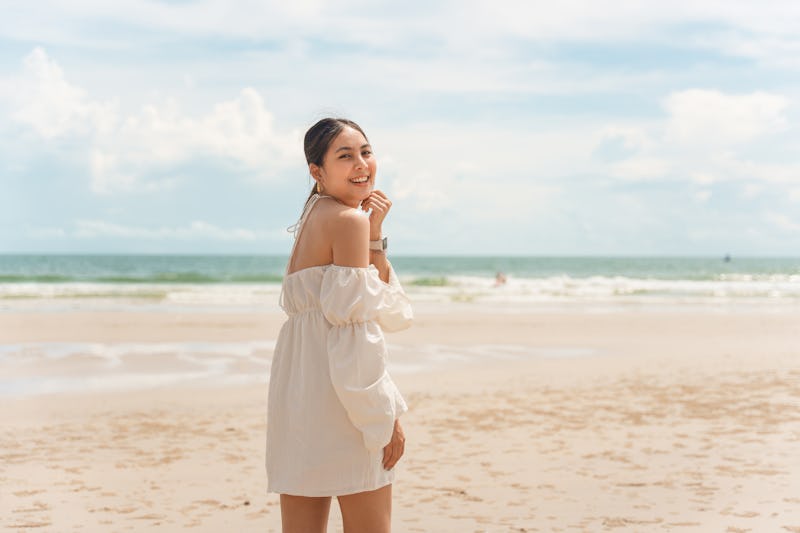 Thanayu Jongwattanasilkul / EyeEm/EyeEm/Getty Images
First dates are equal parts exciting and nerve-wracking. The last thing you want to be worrying about is what to wear on a first date if it's super hot outside. There are so many things to mull over on the lead up to a first date. These include, but are certainly not limited to: Not knowing how to get to the place where you've agreed to meet, brainstorming things to talk about to avoid awkward silences, contemplating what not to discuss on the first date, fretting about who will pay the bill, or worrying about whether the establishment will cater to your specific dietary requirements. On top of all this, you really don't want to be worrying about passing out from the heat, feeling uncomfortable the entire time, or excessive sweat patches.
Before you go spiralling into a vortex of anxiety, remember why you are doing this. It's probably because you want to find out more about your date and potentially enter into some kind of romantic relationship. Of course, your date will want to discover more about you too, but the event is certainly not all about you. So quit worrying and take a look at these first date appropriate garments, shoes, and accessories which should help you feel less self-conscious in the sweltering heat and focus on what matters – the person sitting opposite you.
1. The Chiffon Dress
Free People Chiffon Lilou Dress In Black Print, $167, asos.com
Stay cool, calm, and collected in a pretty chiffon dress.
Plus Kim Chiffon Split Sleeve V Neck Dress, $35, boohoo.com
Go for a contemporary twist on the LBD with this split sleeve number.
2. The Cool Shorts
Out From Under Alvarado Short, $29, urbanoutfitters.com
Although denim shorts might seem tempting, they may not offer you as much room for freedom of movement and they could feel quite tight against your skin. The last thing you want on a boiling hot day is to feel trapped in your denim shorts, so go for a fabric pair instead.
Music Note Print Belted Sateen Shorts, $44.50, torrid.com
These sweet, music note print shorts will be music to your ears, as their monochrome color palette will basically go with anything.
3. The Pleated Midi
Satin Pleat Midi Skirt, $85, topshop.com
Float your way through your date in a pleated midi skirt.
Asos Curve Pleated Midi Skirt, $51, asos.com
Go for a chic style to exude elegance and make a great first impression.
4. The Mesh Bodysuit
Carrie Floral Lace Mesh Bodysuit, $30, boohoo.com
Slip into a gorgeous bodysuit to add a dash of sauciness to your outfit. Although you might want to pair it with a skirt or some shorts considering it's your first date.
Mesh Bodysuit In "Black," $45, chubbycartwheels.com
Look totally hot while keeping cool in a plus size mesh bodysuit.
5. The Feather Earrings
Feather Frenzy Drop Set, $10.15, claires.com
Feel easy and breezy in a pair of feather earrings; with this set you have 6 pairs to choose from to match your outfit.
6. The Embellished Maxi
Premium Mini Flower Embellished Mesh Maxi Dress Blue, $170, missguidedus.com
Pick an ethereal, floral frock to look fabulously feminine.
Lovedrobe Embellished Maxi Dress, $157.50, simplybe.com
Choose a romantic, dusky pink maxi for a semi-formal first date.
7. The Hi-Lo Skirt
Coast Kate Striped Hi Lo Midi Dress, $270, asos.com
If you're going to a fancy-pants restaurant, an elegant dress with a hi-lo skirt will work wonders.
Tie Dye Hi-Lo Maxi Skirt, $54.50, torrid.com
Maybe your first date is going to be a super chilled out affair? If that's the case, a casual, tie dye, hi-lo skirt is the perfect choice.
8. The Classic Sunglasses
Selected Handmade Square Sunglasses, $34, asos.com
Don't spend an outdoor date squinting; sport a pair of tortoiseshell print glasses instead!
9. The Tulle Skirt
Boutique Amelia Crochet Trim Tulle Skirt, $35, boohoo.com
Keep your outfit light and airy with a tulle skirt. Bring your biker jacket along, like the model, in case your date lasts into the evening.
Tulle Of The Trade Skirt In Blanc, $49.99, modcloth.com
Add a touch of whimsy to your outfit with a knee length, tulle skirt. Available in sizes L to 4X.
10. The Culotte Jumpsuit
Silence + Noise Ribbed Knit Culotte Jumpsuit, $69, urbanoutfitters.com
Show off some skin in a quirky, culotte jumpsuit.
Plus Maya Paisley Print Culotte Jumpsuit, $30, boohoo.com
Pair your culotte jumpsuit with some killer sandals to make a stylish statement.
11. The Wedges
Magnifique Motif Wedge, $49.99, modcloth.com
Become the epitome of spring in these pretty, floral wedges.
Strappy Platform Wedges (Wide Width,) $49.50, torrid.com
Allow your feet to breathe in these vibrant strappy wedges.
Enjoy your first date and if everything goes well, your outfit will be the last thing on your mind, so don't sweat the small stuff!
Images: Thanayu Jongwattanasilkul / EyeEm/EyeEm/Getty Images; Courtesy Brands