11 Ways To Wear Knee High Socks In The Spring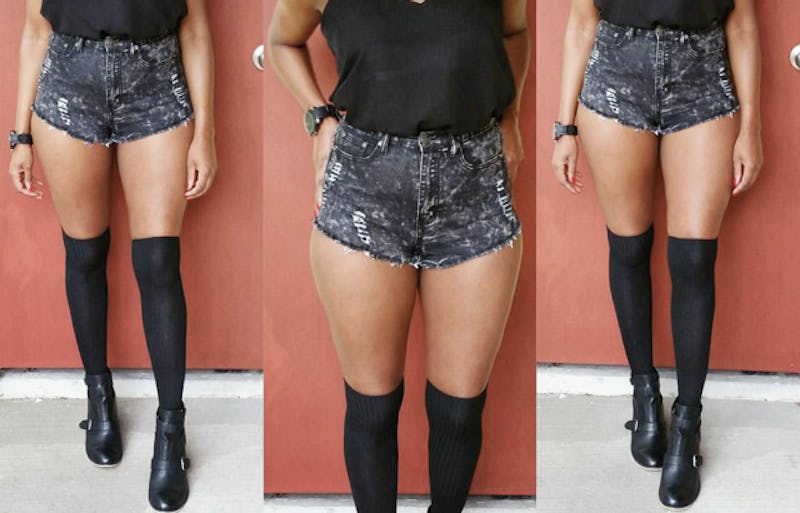 The coming of spring usually brings about fresh beginnings, which means it's a great time to try out new things. This could come in the form of a new hobby, a different career path, or experimenting with new takes on old trends, such as sporting knee high socks in spring. Knee high socks are usually synonymous with fall and winter, as they fulfill our need to cover up bare legs as the temperatures drop. However, if you flip this notion on its head, it actually makes sense to sport knee high socks in spring, when it's not yet warm enough to go without hosiery but maybe too warm to wear jeans.
If you look to popular culture, you'll see that the most stylish screen sirens rock knee high socks whenever there's a hint of sunshine. The most memorable of all long sock wearers is obviously Clueless ' Cher Horowitz and her BFF Dionne Davenport, who could almost always be spotted in knee highs throughout the movie. In more recent years, queen bee Blair Waldorf and her mean girl gang took preppy fashion to another level on Gossip Girl by wearing darling knee high socks for school practically every day.
So now it's time to take inspiration from some fashion savvy folks in the real world. They're showing the rest of us how to wear knee high socks IRL during spring.
Try: American Apparel Cotton Solid Thigh-High Socks, $15.95, Amazon; Muk Luks Nordic Pattern Knee Socks, $13, Amazon
1. Paired With Crotchet
Pair some dark knit knee highs with a light colored, crochet dress for some major spring vibes and a monochrome clash. It may look chilly out, but your knitted socks are sure to keep you toasty.
2. With Color Coordinating Accessories
Mix and match your shade of sock to complement or clash with the rest of your outfit. These gray knee highs work well with the sweater, but the pop of green in the shoes and handbag lends this look a fresh, spring feel.
3. Go For Short Shorts & Shades
When the heat is on, exude coolness in a pair of denim short shorts, accompanied with all-black garments and accessories. There's nothing chicer than an all-black outfit.
4. Give Off '90s Vibes
The '90s trend seems to be cemented as a style that's here to stay. If you're a fan of the 1990s, pair your knee high socks with your favorite '90s inspired garments. I reckon they'd look awesome with a pair of jelly sandals!
5. Lend Luxe Appeal To Cozy Casuals
Planning to spend your Sunday lazing around? Put a stylish spin on your loungewear by adding a pair of knee high socks.
Want more fashion and beauty tips? Check out the playlist below, and be sure to subscribe to Bustle's YouTube page for more hacks and tricks!
6. Finish Off An LBD & Blazer Combo
When you're trying to nail smart casual, wear your fave simple LBD with a blazer and complete your look with a pair of knee high socks to give your outfit a fun finish.
7. Give Off An Athleisure Aura
You too can follow in the fashionable footsteps of the Clueless girls, whose athleisure looks were on point. Go for a crop top, shorts, and a zip-up sports jacket with knee high socks to match. You'll be the most stylish and sporty gal in the gym.
8. Go For Plaid & Platforms
Just like knee high socks, plaid isn't just for winter, so free your plaid from the back of your closet and wear it with your favorite platforms and knee high socks this spring. This dreamy image was snapped by Daz X Photography.
9. Get A Denim Dress & An Umbrella For Spring Showers
Of course you can't expect every day to have blue skies, but this doesn't mean you have to sacrifice your style when it's raining outside. So pop on a denim dress and arm yourself with an umbrella: You'll look super cute no matter the weather.
10. Remember Long Socks & Lace
There's nothing lovelier than lace, especially in spring. When knee high socks are added into the equation, you'll have the most adorably feminine aura.
11. Be Pretty In Pastels
Sailor Moon style socks paired with pastels? Trendy '90s kids are sure to love this look. Put a different spin on the spring staple by combining pastels with black to give your look a bit of an edge.
Dare to bare a little leg and wear your knee high socks this spring, because you don't have to play by any so-called fashion rules, seasonal or otherwise.
Image: cmiroll/Instagram