How Much Does A Starbucks Mini Frappuccino Cost?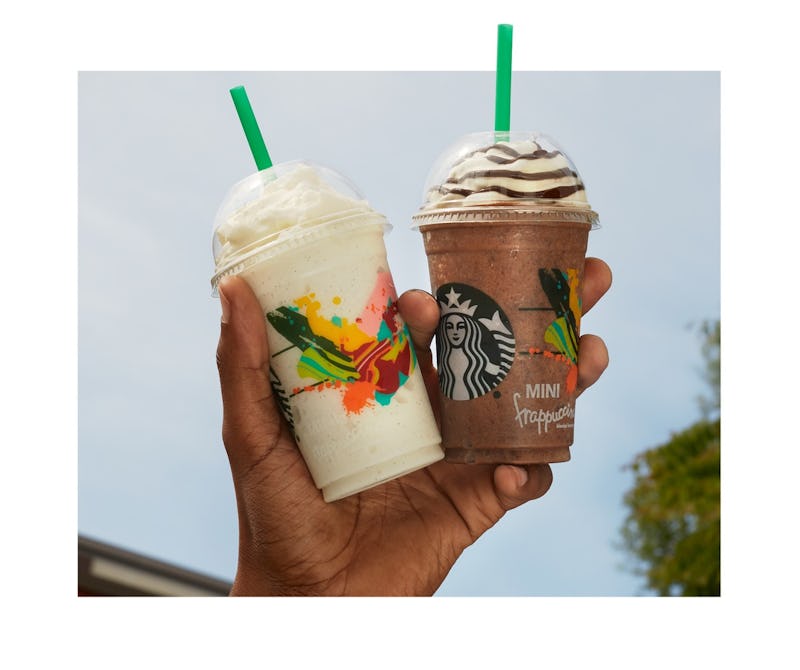 Starbucks lovers, unite! You are in so much coffee-related luck this summer, because Starbucks just announced that they're bringing back their Mini Frappuccinos for the season. Of course, you might be wondering how much a Starbucks Mini Frappuccino costs — and the good news is, I have information for you. According to a Starbucks representative, the price for your Mini Frappuccino will vary a little based on location, but in general, you can expect to shell out 20 to 30 cents less than you would for a Tall Frappuccino — not a bad price to pay to start your day with a smile. And obviously, the Mini Frapps will look amazing on your Instagram.
So, let's get into the size of these babies: Mini Frapps come in at an adorable 10 ounces. For reference, this is in comparison to the Tall Frapps (12 ounces), Grande Frapps (16 ounces), and Venti Frapps (24 ounces). In my opinion, the Mini Frapp size is perfect for trying new flavors or combinations, like Starbucks seasonal treats... Or even the sacred Starbucks secret menu.
If you're also a Starbucks fanatic, it's likely you remember the Mini Frapps from their 2015 debut, last May. As is such with most Starbucks limited releases, customers basically lost their minds over these adorable plastic cups and the company was cool enough to bring them back around again, and this time, for longer.
Why do people love small things? For one thing, it's easier to balance a smaller drink than a massive one when you're shopping, carrying your bags, or just on your way to work. For another, it means you're likely to actually finish your drink and enjoy it, as opposed to slurping half of it in a minute and then having an epic brain freeze (yes, this has happened to me). This drink would also be good if you're looking for a kid-friendly option (or if you just avoid caffeine for any reason), as you can order Starbucks Frapps without caffeine. Also, as Matthew Kassel points out over at The Observer, Starbucks made a really interesting choice in branding for this drink: Unlike the other Starbucks drink sizes, "mini" isn't an Italian word (obviously). While it could, arguably, be called a "Dieci Frapp" (dieci means 10 in Italian, in reference to the ten ounce size of the Mini Frapp) there's something about the word mini that makes the whole thing cuter and more summer-y.
And last but certainly not least: When can get you get a Mini Frappuccino? Fear not you guys because you can get them right now. Seriously, they're available starting today, May 16 and are a summer seasonal treat. Basically, this means they are a limited-time only, but should be here for the entire summer. This is the ideal length of time for you to go through a rotation of Starbucks Frapps and pick your favorite(s) by the end of the summer. Plus, nothing will look cuter than a bunch of Mini Frapps nestled into the sand while you take beach pictures with your friends, am I right?
Images: Starbucks (2)