11 Hacks To Know If You're A Sweaty Person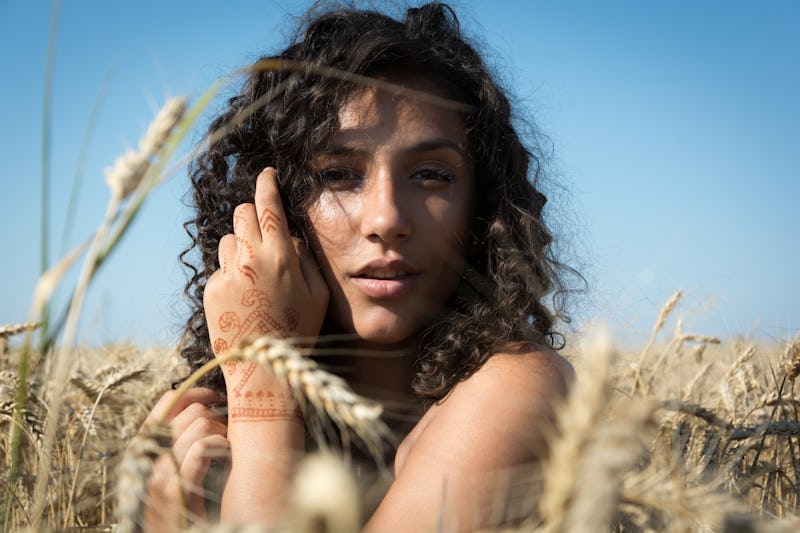 Summertime and the livin' is easy. Or so it should be, but you're too busy worrying about how sweaty you are. Truth is, you and summer probably got off to a bumpy start. However, all is not lost. Learning a few sweaty person hacks should hopefully make your life much easier.
I know what it's like. I've been squashed among the throng of people underground on the subway, all the while becoming one perspiring, stinky mess. I remember walking down the school corridors, begging my friends to borrow their antiperspirant as my sweat patches grew larger and larger, until my entire shirt was basically one giant wet patch. I've been a hot mess more times than I'd like to count. So as a fellow sweaty person, I understand that this season can bring with it a certain kind of terror that might make you break out in a sweat if you weren't already dripping.
The thing is, people sweat for a number of reasons, not just because they're feeling hot. From eating spicy foods to feeling emotional, sweat uses any excuse to transform you from a freshly polished human into a potentially damp disaster. So here are some hacks you can use to help prevent the sweats this summer. Or at least, to prevent the evidence of them.
1. Use Waterproof Makeup
Locked & Coated Lash Topcoat, $10, Amazon
Also try: Maybelline Volum'Express Turbo, $15, Amazon
Wearing waterproof makeup is a must for people who sweat a lot. I'm not saying you have to bin all of your makeup and start over immediately, but if you gradually transform your makeup bag into a waterproof wonderland, it'll be easier on your bank balance.
Start with eye makeup, since smudged mascara can be super noticeable, move onto foundation, and then fill in the gaps. You'll be so pleased when you arrive at work without feeling like your face has melted off.
2. Allow Your Feet To Breathe
If you suffer from sweaty and/or smelly feet, it might be wise to step away from your old sneakers or combat boots, give yourself a pedicure, and slip into a pair of sandals. Your feet will be feeling easy and breezy all day long.
Marc by Marc Jacobs Women's Dress Sandal, $148, Amazon
3. Keep A Misting Spray In Your Bag
Evian Spray, $10, Amazon
Take a chill pill, people! You can cool down morning, noon, or night with a quick mist of this Evian Spray.
4. Look After Your Pits
Whether you choose to shave or not, we all have to look after our armpits, especially if we don't want a bad case of body odor. You'll want to choose a deodorant that works with you in terms of serving as an antiperspirant, not against you.
Gals with fuzz might want to follow Good Housekeeping's advice: "Provided you keep your underarms clean and treat the hair similarly to the hair on your head, washing it every day, bacteria will not accumulate and therefore won't cause any bad odors."
Almay Antipersperant & Deodorant, $5, Amazon
5. Invest In Sweat-Wicking Underwear
No Show Briefs, $20, sweatybetty.com
You might have heard of sweat-wicking technology being used in sportswear, but have you heard that it's being utilized in underwear, too? Panties like these are a godsend for those who suffer with an unrelentingly sweaty crotch.
6. Wear Floaty Fabrics
This one's a no brainer: Why suffer drowning in tight, thick fabrics when you can be free in floaty cotton, chiffon, or other light materials? If you really want to wear something slinky, opt for a mesh garment so your skin can breathe through the gaps.
7. Choose Darker-Colored Or Patterned Clothes
According to Bustle's Emily McClure, "When it comes to concealing sweat, it's all about wearing the right colors. Brighter neutrals such as white and gray are notorious for showing off sweat stains. The Huffington Post suggested hiding any possible staining by choosing darker neutrals such as black, navy, or brown."
If you're a lover of color, make sure to wear busy patterns that will avert people's gazes away from your sweat patches and towards the bold print instead.
8. Keep Wipes In Your Bag At All Times
Ban Total Refresh Cooling Body Cloths Restore 10 Count, $3, Amazon
Pop a pack of these body cloths into your purse to feel so fresh (and so clean) at any time of day or night.
9. Take Care Of Your Hair
One of the worst things about being a sweaty person in summer is when your hair gets so drenched that it ruins your look and you feel like a drowned rat. Don't worry, fellow Bustler Elena Hart has got you covered with some awesome sweaty hair hacks and products to keep your hair on point. From herbal hair tonic to detangling brushes, Hart's tips will give your hair a helping hand.
10. Wear Stylish Sweat-Wicking Shorts
Patagonia Women's Denim Shorts, $75, patagonia.com
Who knew perspiration-reducing shorts that don't make you look like a wannabe cyclist actually exist? This pair is made from stretchy, organic cotton/polyester Coolmax denim to help you stay as fresh as a daisy.
11. Wear Earrings & Ditch Other Jewelry
Do you really want to cover your favorite jewelry in a layer of sweat? You might end up getting so hot that your necklaces, bracelets, and cuffs stick to your skin, leaving you feeling super uncomfortable.
Unless you stay in the shade, any metallic jewelry you wear may heat up in the sun and give you a sting when you brush past it. Earrings are a safe bet, as only the fastening is in direct contact with your skin. Steer clear of feather earrings, though, because sweat and feathers do not mix.
There's absolutely nothing wrong with being a sweaty lady, but if it sometimes makes you feel uncomfy, hopefully these hacks will help.
Images: Greyerbaby, tookapic, Unsplash, Bergadder, xusenru, laleyla5/Pixabay; Larisa Birta/Unsplash; Courtesy Brands