7 Ways 'Finding Dory' Will Change Animated Movies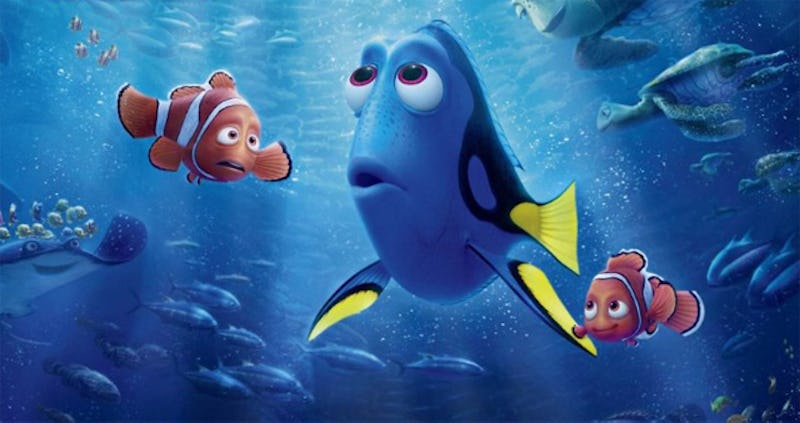 The long awaited sequel to Finding Nemo, Finding Dory, was finally unleashed upon the world on June 17, and boy did it deliver. Not only did the film earn stellar reviews, but it destroyed the box office record for the biggest opening ever for an animated film. Pixar movies are always a big deal, but this one feels different, and I think that the success of Finding Dory will change animated movies going forward. But what was it about this movie that made it so successful?
That question isn't so easy to answer because the movie's success is likely due to a combination of factors. For one, judging by the reviews, Pixar made a really good movie. If they had made a stinker, the film likely would not have performed as well. Secondly, it's a sequel to an extremely popular movie, and audiences are always more willing to spend money on a familiar property than to take a chance on something new that they might not like. Third, it has an amazing cast. It utilizes new technology. It appeals to all ages... OK, look, there's a lot of things this movie did right, and here are seven ways that it's going to change animated movies going forward.
1. More Sequels
Before Finding Dory, Pixar had only produced sequels to two of its films: Toy Story and Cars. With the success of Finding Dory, I definitely expect to see a lot more enter production following the already planned Cars 3, Toy Story 4, and The Incredibles 2; and for Disney to greenlight that long-gestating Frozen sequel, too, along with many other films.
2. A Focus On Old Franchises
Finding Dory isn't just a sequel, but a sequel to an old movie. Finding Nemo was 13 years ago. That's a big gap between the first and second movies in a franchise, so it could inspire other studios to dig through their old libraries for potential franchises that could be brought back to life. Who's up for a new American Tail movie?
3. More Spinoffs
Finding Dory is a sequel, but you could also consider it a spinoff, since the focus of the movie is on the breakout character from the first film, Dory, rather than on the main characters, Nemo and Marlin. Other breakout stars could get a similar treatment, like maybe a Bing Bong prequel to Inside Out, or a solo adventure starring Dug from Up.
4. More Female-Led Films
Like Frozen before it, Finding Dory offers more proof that animated films led by women characters, especially those with independent, bold personalities, are in high demand. The film nearly doubled the opening weekend gross of its male-led predecessor, and the strong and funny female lead character is likely a big reason why.
5. Inclusion Of LGBT Characters
Finding Dory may or may not contain gay characters, but the film has started a conversation on the subject, meaning it's only a matter of time before animated films start to regularly feature characters from the gay community.
6. Five Quadrant Movies
A four quadrant movie is an industry term for a film that appeals to both men and women who are both over and under 25 years old. Disney jokingly referred to Finding Dory as a five quadrant film before it premiered because there was literally no conceivable demographic to whom the movie didn't appeal, and that type of universal acceptance will likely be sought by feature cartoons from now on. In other words, bye bye kids' movies.
7. More Animation Breakthroughs
By all accounts, Finding Dory is gorgeous. The strides in animation technology in the years since Finding Nemo are breathtaking, and I fully expect new animated films to take advantage of these breakthroughs, like Renderman RIS, which allowed the new film to realistically depict the way light reflects underwater. By following in Finding Dory's footsteps, pretty soon animated films could be indistinguishable from live action.
These reasons are all part of why Finding Dory is such a huge success, and you can expect other animated films to be playing catch up for years to come.
Images: Walt Disney Pictures; Giphy