11 Garments You Got For Your Birthday In The '90s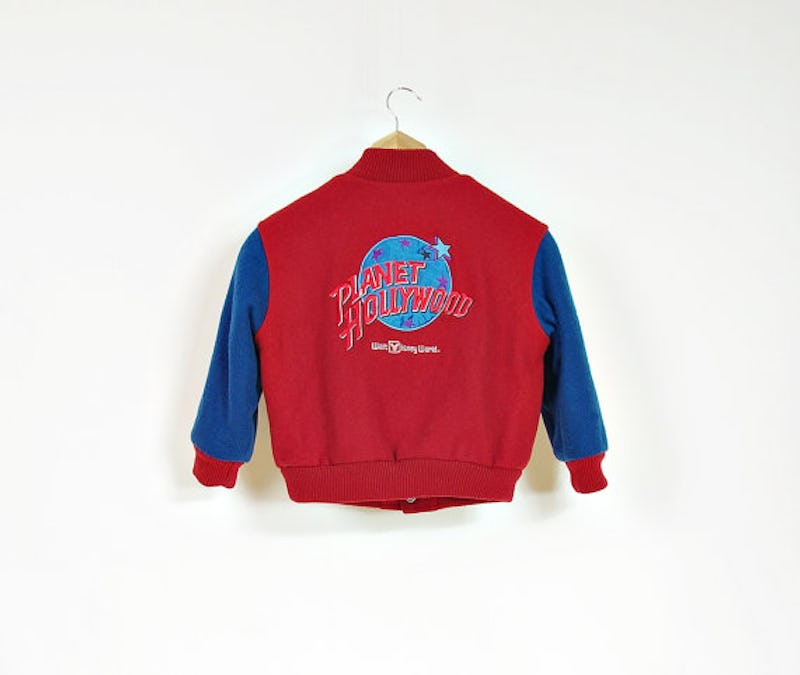 Unless you're someone who's super into birthdays, you likely make less effort celebrating your nameday as each year passes. However, your childhood was probably a different story: One filled with novelty cake, princess parties, and awesome clothing you got for your birthday in the '90s. It was a time during which every party had a theme, gift bags included yo-yos, and someone's dad dressed up as a clown and made balloon animals. Today, your birthdays usually consist of too much cheap wine, not knowing what face to pull when someone gives you a bizarre present, and feeling more and more like Bridget Jones.
As you approach the glaring beacon that is 30 and make your way over that hump, the number of gifts you receive likely gets smaller. Instead, gifts are replaced by cards that poke fun at how ancient you are, plus a feeling of regret over a life not lived exactly as you planned in your childhood. You don't care too much about the gifts. Nobody wants to be a shallow, spoiled, 28-year-old Dudley Dursley, after all, and you've decided to become a minimalist thanks to Marie Kondo. But you do care about moving forward and carving out a life that 7-year-old you would be proud of.
So while you decide where you want your life to take you, let's take a walk down memory lane and unwrap some of the fashion gems you got for your birthday in the '90s.
1. Something Disney-Themed
Vintage 1990s Beauty And The Beast Disney Princess Zippered Jacket, $25, etsy.com
Disney-themed clothing made you and your parents happy. You loved repping your fave characters and your 'rents wanted you to stay young at heart for as long as possible.
2. A Garish Crop Top
Vintage 1990s Kelly Green Embellished Tacky Bingo Stud Crop Top, $33.60, etsy.com
A '90s girl's wardrobe was incomplete without some kind of crazily-patterned, fringed, or embellished crop top. So of course, you got one for your birthday.
3. A Pair Of LA Gear Light-Up Sneakers
Vintage '90s LA Gear LA Tech Series Cross Runner Light Up Women's Shoes Size 8, $150, ebay.com
If you opened up a pair of LA Gear light-up sneakers on your birthday, you were one very lucky kid. Your parents probably had their own reasons for gifting you these sneaks, though, like keeping track of you more easily.
4. A Denim Mini Skirt
'90s Vintage Pastel Southwestern Print Denim Mini Skirt, $20, etsy.com
Your cool, young aunt who knew what was hip may have given you a denim mini skirt for your birthday, much to the disapproval of your parents. You loved her forever for it, though.
5. A Fancy Party Frock
1990s Crushed Velvet Merlot Babydoll Dress, $45, etsy.com
Your parents or grandparents bought you a fancy dress every year for your birthday, even if you hated wearing them. Considering the fact that they probably also bought you some kind of awesome toy — like a Super Soaker — you felt obliged to wear this piece for the duration of your birthday celebrations.
6. Some Jazzy Leggings
Saved By The Bell Lands End Bright Abstract 3/4 length Leggings Vintage 1990s, $30, etsy.com
Anything that made you feel like Kelly Kapowski IRL was awesome in your book, including a pair of surreal rainbow-colored leggings.
7. A Novelty Waistcoat
Novelty Knit Vintage '90s White Stag Blue Harvest Pumpkin Waistcoat, $15.55, etsy.com
An older relative likely gifted you a sensible, but (in their opinion) sweet, novelty waistcoat in the '90s. If you were really lucky, they might have knitted it themselves. You only ever wore this when your mom made you or when the aforementioned relative paid you a visit.
8. A Planet Hollywood Jacket
1991 Planet Hollywood Kids Bomber Jacket, $145, etsy.com
If you were #blessed to be given a Planet Hollywood jacket for your birthday, you probably never wanted to take it off. You felt like a modern-day Pink Lady and a T-Bird all rolled into one.
9. A Neon Tracksuit
Columbia Purple Teal Windbreaker Warm Up Jacket & Pants Track Suit Medium Vintage 1990s, $75, etsy.com
At the time, you were super excited to receive a brightly-colored tracksuit for your birthday. But looking back at the photos, you kind of wish you'd received a My Little Pony one instead.
10. A Looney Tunes T-Shirt
Vintage 1990s Little Girls Sylvester + Tweety Bird Crop Top, $10, etsy.com
Looney Tunes became a favorite with our generation after being aired on Nickelodeon (and after the movie Space Jam made the wacky characters even more popular). Your friends and family knew they couldn't go wrong when they gave you a Looney Tunes tee.
11. An Inflatable Backpack
Vintage '90s Super Kawaii Pastel Inflatable Mini Backpack – Yellow, $19, etsy.com
You couldn't wait to take this kooky backpack to school. All of your friends would be way jealous.
Birthdays in the '90s were rad, as were the quirky fashion items gifted to you. Whether it was a low-key sleepover with your BFF or a party at McDonald's with your entire class, you were stoked to receive the majority of these trendy gifts.
Images: Courtesy Brands