'RHONY' Season 8 = 'RHONY' Season 3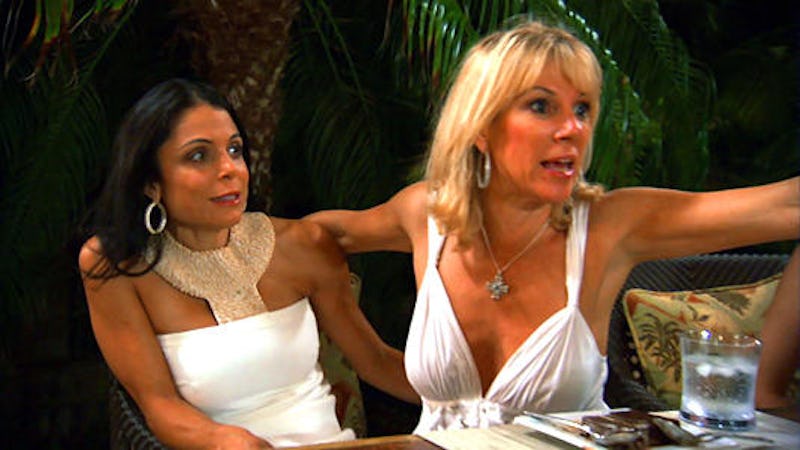 Each new season of Real Housewives brings new drama, new faces, and new storylines. However, sometimes it feels like certain seasons are repeating themselves. The latter can definitely be said for Real Housewives of New York City. Have you ever noticed that, RHONY Season 8 is just like Season 3? Yes, there are several past cast members in the third season, including Jill Zarin, Kelly Bensimon, and Alex McCord. However, when it comes to pretty much everything else, it's uncanny how many similarities there are between Season 3 and Season 8.
Since I started re-watching one of the greatest seasons of RHONY (don't judge, because you know you love Scary Island as much as I do), I can't help but relate Season 3 to the current one airing in 2016. There are six years between the two, but the time gap doesn't matter at all. The cast members who appear in both seasons have transformed, not to mention their lives have changed drastically, but sometimes it's like déjà vu when watching Season 3 after a new Season 8 episode.
With that, here are 13 ways the two seasons are exactly alike. Trust me, you're going to want to watch Season 3 all over again after reliving it below. You're welcome.
1. The Countess
Basically, Season 3 LuAnn = Season 8 LuAnn. Both are single (at first), without a place in the city, living in The Hamptons, staying with friends when they come to Manhattan, and are all about looking for a new relationship. Season 3 begins after LuAnn's divorce from her first husband, Count Alexandre de Lesseps, in 2009. That led to her living semi-permanently outside of the city and then whenever she did go into the city, she'd stay at a hotel or with friends, like Jill. That sure sounds an awful lot like LuAnn living with Sonja, huh? Furthermore, LuAnn started dating Jacques in Season 3, which is exactly like her dating Tom D'Agostino Jr. in Season 8. If that's not enough, like she stood up for Jill in Season 3, she did the same for Sonja Morgan in Season 8. Really, LuAnn hasn't changed at all, save for all her coolness that definitely wasn't there in the earlier seasons.
2. A New Ramona
If you recall, Season 3 Ramona was all about renewing her life. First, she cut her hair. Then, she was trying to play the peacemaker by not taking sides in fights. Finally, she and her now ex-husband, Mario Singer, renewed their vows. Renewal, renewal, renewal. Well, that's exactly who Season 8 Ramona is, too. Since she is officially divorced from Mario, she's all about having fun, dating, not having a care in the world, and starting over from scratch. Just call her Ramona the Renewer.
3. The Trips
This isn't shocking, because every season of Real Housewives has some type of memorable vacation. For RHONY, that was Season 3's Scary Island and Season 8's Florida trip. The latter is still playing out, but so far, it's right up there (and possibly worse) than when the women went to Saint John. From the arguments to the drunk moments to Turtle Time to the over-the-top drama, both Scary Island and Florida will forever be embedded in fans' brains as two of the craziest RHONY trips.
4. Bethenny & LuAnn's Fights
Bethenny and LuAnn have always had a contentious relationship, but that really showed in Seasons 3 and 8. First, Season 3: Bethenny called out LuAnn at New York Fashion Week for being a "snake" and told her she was done with her bullsh*t. Plus, Bethenny felt like LuAnn kept throwing digs her way and she couldn't take it anymore. Their fight also stemmed from LuAnn getting involved in the downfall of Bethenny and Jill's friendship. Onto Season 8: Bethenny lost it at Dorinda Medley's home when she called out LuAnn for dating men her friends are interested in, being a "snake" (again), not copping to sleeping around, and for never owning up to things. Sometimes these two just don't see eye to eye — and never will.
5. Bethenny & LuAnn's Bonkers Conversations
Remember when Bethenny and LuAnn sat down in Season 8 and had the most bonkers conversation? Bethenny couldn't get a word in edgewise without LuAnn going on and on about meeting her soulmate. Then, LuAnn basically invited herself to Bethenny's Mexico trip. It was a weird conversation, to say the least, and one that Bethenny couldn't wrap her head around. The same can be said about when the two met in The Hamptons in the Season 3 premiere. Not only did Bethenny have to drive two hours to meet LuAnn to chat, then The Countess asked if Bethenny would be paying for drinks, since she invited her. Basically, the conversation spiraled and left Bethenny speechless, once again.
6. Bethenny's New BFF
In Season 3, Bethenny and Jill stopped being friends resulting in Bethenny leaning on Alex for advice and friendship. They actually found a lot of common ground and enjoyed each other's company. You know Bethenny trusted her, when she opened up about the issues with her estranged father. It's somewhat similar to how Bethenny and Carole bonded and are legitimate BFFs in Season 8. They give relationship advice, talk about their personal lives, and runaway from brunches (ahem, Jules Wainstein's) together.
7. New Housewives
It's very rare not to see a new Housewife with each new season. In RHONY Season 3, Jennifer Gilbert joined (and didn't last long), but the same can't be said for Sonja Morgan. That's right, Sonja first joined the Real Housewives universe in Season 3. Thank goodness, right? Can you imagine it without her? In Season 8, Jules joined as the new Housewife. Who knows if she'll stay around for the long haul, but she has certainly made an impression.
8. Divorces
Season 3 focused heavily on LuAnn's divorce from The Count, which is similar to how Season 8 has focused on Bethenny's never-ending divorce from Jason Hoppy, Ramona's quick split from Mario, and the moments leading up to Jules' divorce from Michael Wainstein. Divorce is sadly the common word here.
9. Engagements
Season 3 was all about Bethenny finding love with Jason. The two got engaged during the season, which is definitely sad to watch now knowing they are no longer together. Well, Season 8 is all about LuAnn finding her soulmate with Tom. The two got engaged during the season, too, and it hasn't been without its drama. When it comes to love and relationships on Bravo, there's always some kind of drama, right?
10. A Rough Season For Bethenny
Bethenny's never been shy about sharing her painful past and whatever issues she's currently encounting. For example, in Season 3, she dealt with the end of her friendship with Jill and the death of her father. Fans have also seen Bethenny deal with some other problems in Season 8, including major health issues. It's definitely scary to watch Bethenny talk about her bleeding and the thought of not being there for her daughter, Bryn, but thankfully all appears to be well now.
11. Dating The Same Men
These women have a close group of friends and run in the same circles, which means they sometimes date the same men. When Sonja first came on in Season 3, it was discovered that she once dated the same man (Max) as Kelly. Doesn't that sound familiar? Season 8 has focused a lot on the fact that LuAnn's fiancé once dated Ramona and was Sonja's lover for over a decade. Maybe they need to date outside of their small NYC circle of friends?
12. Party On A Yacht
When don't these women party on a yacht? First it was during the fiasco that was Scary Island and then they gathered on a yacht to celebrate LuAnn's engagement. Yes, they both were full of drama and so much stress that you'd want The Countess to seriously throw you off the side of the boat.
13. Problems With Significant Others
When they aren't fighting with one another, the Housewives are finding fault with their co-stars' significant others. LuAnn found issue with Mario in Season 3 after he called her "Countless." It started a big fight that The Countess couldn't move past and one that Ramona was over as soon as it began. Then, there was the massive fight between Bethenny and Dorinda's man, John Mahdessian in Season 8. After Bethenny and Ramona confronted Dorinda about John's unattractive actions, John attacked her business and even said she stole the Skinnygirl name. Eventually, the two "made up," but I don't think they'll be hanging out anytime soon.
Anyone else curious if other previous RHONY storylines are similar to Season 8? Let the re-watching commence.
Images: Bravo; realitytvgifs (12), realhousewivesgifs (3)/Tumblr; Giphy (11)