I Wore Brightly Colored Eye Makeup For A Week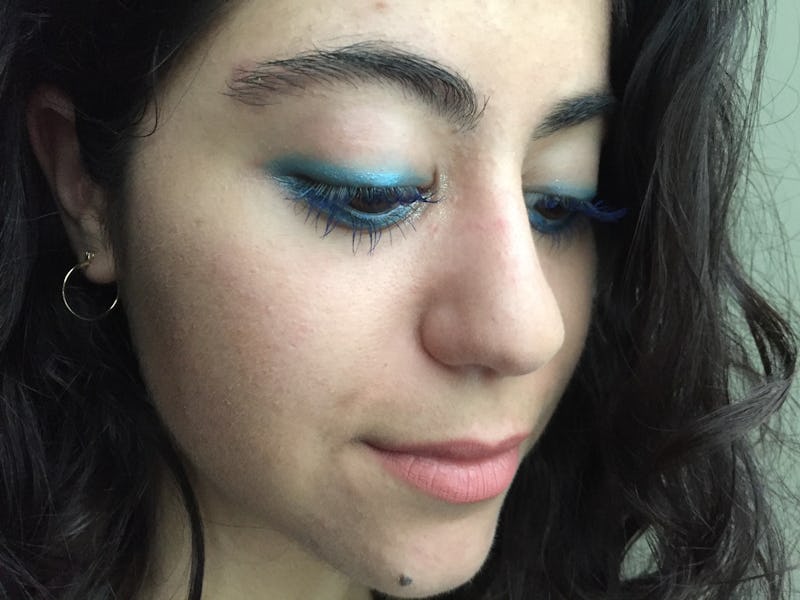 With the variety of neutral eye shadow shades on the market today, it's easy to fall into a bottomless pit of muted shades in your makeup routine. That's precisely why I wore unconventional eye shadow colors for a week, swapping out my beloved browns and grays for oranges and blues. It was not only to push myself out of my dull comfort zone, but also to gauge how bright, bold makeup shades fare in everyday life.
Recently, I have been wearing the same natural toned makeup items in my collection, avoiding color and statement-making products in favor of easy-to-wear looks. Then, I randomly bought a bright pink eyeshadow shade (stay tuned to see it in action) and got excited about how I was going to wear it. Then, I bought an orange shade, and then a green.
Don't get me wrong, I love my neutral taupes and browns for their practicality, but even just the thought of wearing brightly colored eyeshadow was charging my creativity. All of that considered, I thought it'd be amazing to take those shades out for a spin.
I was willing to stick out like a sore thumb with bright colors lining my eyes to see how it would challenge me creatively as well as record how people around me would react to it. So, here's what happened when I stepped outside of my comfort zone and wore unconventional eye shadow colors for a whole week.
Day 1: Blue
Believe it or not, I'm actually a huge fan of the '80s blue eyeshadow revival. I've gauged reactions on blue shadow before and gotten mixed reviews, so I thought it would be a good place to start my week. I rimmed my eyes with the bluest products I could find, from a bright shadow to a shadow stick, and even blue mascara. As far as the rest of my face, I dusted on some powder, and kept the focus on my eyes with a nude lipstick.
I was expecting weird comments and backhanded compliments off the bat, but after running errands, picking up groceries, and going to dinner, I didn't hear a peep. That is, until the end of the day when I specifically asked my significant other what he thought. He replied by saying that he preferred when I wore natural makeup tones and "black stuff" aka mascara around my eyes.
Blue eyeshadow may not be as unconventional as I originally thought. It's not a neutral like brown or gold, but maybe it's not exactly an unconventional shade these days. And not just on throwback photos from the '80s, but on celebs, and on models on runways. That being said, it's still super pretty and it felt fun and pushed my creativity in a different direction for a regular day.
Day 2: Green
After a rather quiet day one, I was craving some real reactions to my day two look: green eyeshadow. I dipped into a heavily pigmented matte green shadow and lined my eyes with a hunter green shadow stick, dusting it with a fluffy brush to create a reverse smoky eye. The final look I created looked more suitable for a runway or a magazine editorial rather than on someone who has nothing planned besides work and the gym. But it certainly piqued the interest of my coworkers, which is exactly what I wanted.
While we were at lunch, a coworker asked me why I was wearing green eyeshadow. I explained the experiment and asked the group what they thought. One person said, "It's night out makeup for sure." I shrugged. Another said, "It's interesting." Thanks? Maybe? Finally, I got a compliment: "I think it's cool and pretty. I like it."
Based on the range of comments I got, I couldn't even begin to gauge green eyeshadow. If I focused on what I felt only, I would say it was a success; I liked the unexpected color, especially as the focus of a rather basic makeup look. Plus, I felt creative and confident wearing it. Although, based on my coworkers reactions, it wasn't exactly a fan favorite.
Day 2: Yellow
Of all the eyeshadow shades I was slated to try out the week of this experiment, I was most hesitant about yellow. Before this experiment, I figured that yellow was mostly a great shade for a fun sun dress, or even a bright nail polish. Some people look cute in it, but to cover my eyelids with a yellow shadow might potentially make me look I have the plague rather than create a groundbreaking beauty look.
But, that's exactly what I did. I coated my eyes with the bright yellow shade that originally frightened me, and also worked it into my lower lash line with a stubby smudging brush. I paired it with a coral lip color to infuse some warmth, but kept it simple otherwise. I was feeling it, but I was afraid it was too out there for my office job.
After giving me one glance, my outspoken, male co-worker said: "Oh god, you look sick!" I laughed and said I appreciated his honesty because I too saw how the pigment was throwing off my coloring especially with the rest of my basic makeup look. But it was then that I realized yellow was probably a shade best kept for makeup experimentation, or night out looks, and probably not an office environment. No one else said anything to me that day, because my co-worker pretty much said it all.
Considering yellow eye shadow is pretty much as unconventional a color for eyeshadow you can get, I will say the day went a lot better than I had expected. Even though "sickly" isn't exactly the comment you want to get on your makeup look.
Day 4: Purple
After two crazy (and colorful) days, I was glad to take a bit of a break with an unconventional eye shadow color that's slightly less unconventional: Purple. With the help of a shadow stick, I lined my eyes with a dusty lilac color and worked in a darker purple shade as an eyeliner at the end of my lash lines. I put on a flawless base with CC cream, slopped on some lip gloss, and threw on some highlighter. Looking at myself in the mirror, I knew the color wasn't nearly as striking as the ones I tried the few days before or the ones to come, but I couldn't help but love it's subtle but pretty color lined against my dark eyes.
Just as I had expected, no one commented on my makeup that day. While I felt pretty in the soft purple color, I'm guessing that the pigment itself was too normal of an eyeshadow color to really illicit any kind of response from the people I was around. And, let's be real, they were probably still jaded from yellow the day before.
Day 5: Red
That certainly wasn't the case with day five, though. Just like yellow, red is a gorgeous color — but perhaps not for me in eyeshadow form. I was in a rush this morning, so I quickly rubbed the red shade around my bottom lash line, and slightly on the top, and smoked it out without wearing any other makeup. I was really feeling the intense crimson shade around my eyes.
I felt like Katniss Everdeen before The Hunger Games , but the color didn't play well with others. My outspoken male co-worker laughed when he saw me walk in the office with red-lined eyes, asking me when the experiment was going to be over. Later in the day my significant other asked the same thing. I texted a photo to my sister, and she admitted to thinking it was way too much, and thought it made me look like I was sick and hadn't slept in weeks.
I didn't expect all of my unconventional eyeshadow looks to be crowd favorites, but the people I spoke to were pretty honest about how they didn't like the red shadow. I can't say I particularly liked wearing the red shade either (it was a little too out there for me), so I'll probably stick to red lip colors like I always have.
Day 6: Pink
Having purchased this ColourPop eyeshadow in Slave2Pink many weeks ago, I was pretty pumped about finally having an excuse to wear it. It's so pigmented and bright, (the photo above doesn't do it justice — it's gorgeous), and I was pretty curious to see how the neon shade would go over with my co-workers and friends. I lined it around my eyes, threw on some concealer, a matte lip, and lots of highlighter. Not going to lie, I was feeling the look.
I was surprised: It went pretty well. My boss complimented me on the shade and said, "The bright color is so pretty." One of our clients in the office seemed taken aback by the color, but then seemed to enjoy how casually I was wearing it. She said, "It's so different and bright!" I took that as a compliment, mostly because I loved how I felt wearing the bright pink color.
I can understand how it might be a little distracting in a work setting, but since the pink color was so playful, it was a fun challenge to figure out how to wear it while still feeling confident. I liked how bright the color was and how it made me stand-out. Plus, it's just so pretty.
Day 7: Orange
For the last day of the experiment, I really wanted to go all out. So, I saved this stunning bright orange eyeshadow for day seven and a last hurrah to unconventional eye shadow colors. I kept my look simple and focused on the eyes for a lazy day around my apartment. A clear base, a soft matte nude lip color, and a little blush made this orange pop.
My significant other only shook his head when I asked him about the shade (I think he was growing tired of the brightly colored shadows I was wearing). And when I asked my sister what she thought, hoping for something redeemable to end the week off with, she simply said, "It looks a little like you have pink eye."
Based off my sister's reaction alone, orange eyeshadow might not have worked for someone with my skin tone. Even though it's a super unique color for eyeshadow, I admittedly thought I looked a little pale and sick in the eyes as well. As I washed off my makeup that night, I purposefully stored the bright orange shadow at the back of my makeup collection. Maybe I'll wear it again' but maybe not.
The Conclusion
I learned three things in my week of wearing unconventional eyeshadows. One, that bright shadows definitely make an impact. Two, that some people might be uncomfortable when you show up in a bold shadow. And three, that even though those two things are true, it shouldn't stop anyone from expressing their creativity and wearing colorful eyeshadows colors if they choose to do so.
You don't see people walking around with their eyes rimmed in pink eyeshadow every day — I get it. But considering I felt confident and pretty in that pink eyeshadow, I plan on wearing it again soon even if I do get weird comments and looks from people around me. There's no doubt that muted tones are more common when it comes to makeup, but sometimes it's the bright and exciting colors that make more of a statement.
Makeup, just like fashion and art, is a show of creative expression. So if you want to wear blue shadow, my best advice is to forget the haters and rock it like you want! So sorry not sorry, browns and grays, but considering how much I liked some of these bold colors, you may have officially been replaced.
Images: Melodi Erdogan