Here's What The Royal Family Thinks of 'The Crown'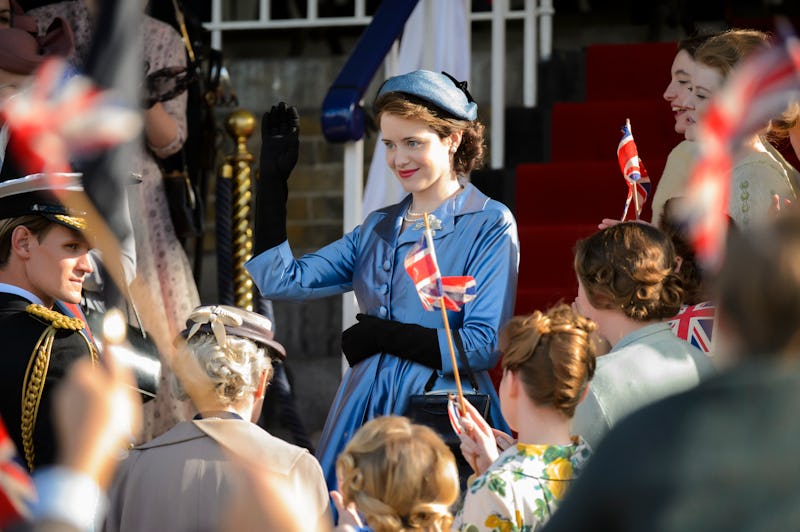 On Friday, Nov. 4, Netflix will unveil its newest original show, The Crown. The series offers a fictionalized glimpse into Britain's famously private monarchy, taking a grand, extravagant dive into the life of Queen Elizabeth II from her 1947 wedding to present day. Naturally, this raises one very important question: What does the royal family think of The Crown? Bustle reached out to the royal press office for comment and received this statement: "The Crown is a fictional drama. The Royal Household has had no involvement."
Personally, I'd want a warning if my life were about to unfold for millions of viewers on screen, and while Queen Elizabeth and co. certainly aren't strangers to the public eye, that doesn't mean they don't worry about how the world perceives them. Luckily, creator Peter Morgan was mindful of their privacy when approaching the project, according to Variety.
The royal family is "very, very aware [of the show]," he claimed during a July panel at the Television Critics Association, as reported by Variety. "They are very nervous and very excited … I think they don't like not having control, but they also understand that [a series] dealing with this subject with respect is a rare thing. These are people who are not used to being taken seriously."
Given the scrutiny the royals face on a daily basis, I can't imagine what it must be like to have their story (or a dramatized version) told on a large-scale platform like Netflix. And, while Morgan claims that they know about the show, he did later joke that he was working on getting an endorsement from the queen and admitted the family had no involvement in the series. Still, he explained that a degree of separation was ultimately preferable. "I want my independence, they want theirs. I don't want to be associated with the palace," he said, according to Variety.
The show's stars have offered plenty of info on how they familiarized themselves with their characters' real-life counterparts. In fact, Matt Smith, who plays the queen's beloved husband Prince Philip, even went as far as asking Prince William for some tips on how to play his grandfather. "He said, 'just one word — legend,'" Smith told Hello! Magazine , according to Metro. "And he's right, Philip was a bit of a rock star, really … He was the voice of dissent in that family but he was also a brilliant father and very well respected in the Navy," he said of the prince — who is still alive, despite Smith's use of the past tense in this quote.
During the same TCA panel over the summer, John Lithgow also offered some insight into playing former Prime Minister Winston Churchill, perhaps one of England's most revered and celebrated statesmen. "The hardest thing was just getting over the fear — I was very intimidated by the entire prospect of playing Churchill," he said, as Variety reported. The man behind the illustrious speeches "is very different from the public Churchill," he continued. "It's hard to find, but when you find it, it's gold."
According to the reports that have begun to bubble up online, The Crown is kind to its noble inspiration. Richard Lawson wrote in his review for Vanity Fair that the family is given a "careful, polite treatment," but you can see for yourself when it hits Netflix on Nov. 4.
Images: Alex Bailey (3), Robert Viglasky/Netflix,