How To Deal With Your Post-'Gilmore Girls' Grief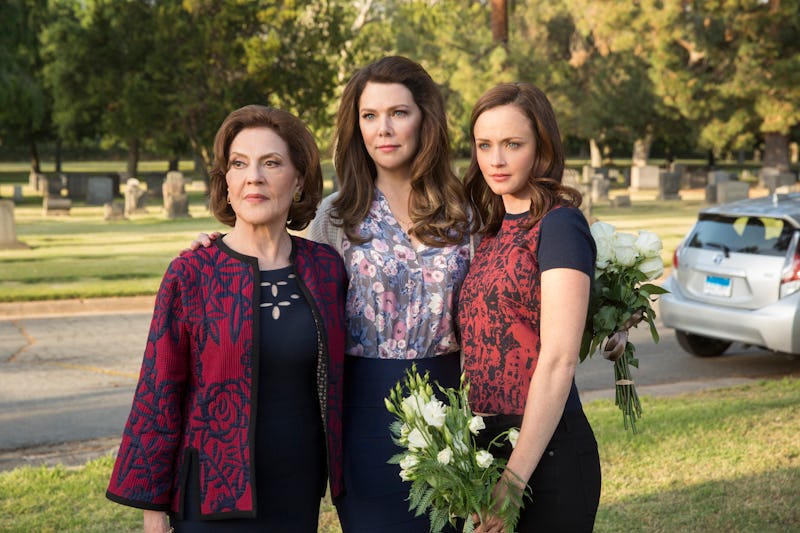 Joy has been overloading your senses over the last months in anticipation of Gilmore Girls: A Year in the Life , but you're about to deal with a whole other set of emotions before you know it. It's pretty much inevitable that you will be feeling melancholy once you finish all four episodes of the Gilmore Girls revival on Netflix. While I don't mean to take away from your excitement, I think it's best to prepare yourself for how you will deal with your grief after you finish Gilmore Girls.
Since the miniseries will premiere in its entirety on Friday, Nov. 25, you're probably going to marathon the four episodes of A Year in the Life all at once. While waking up on the day after Thanksgiving will be like waking up on Christmas morning, approximately six hours later (add more time for bathroom breaks), you will be filled with a sense of dread. Although you won't be alone with this feeling and could turn to the internet for help, I think experiencing things in your real life (rather than your virtual life) will be a more productive way to fight your devastation.
So if you plan on watching Gilmore Girls: A Year in the Life the weekend it comes out, here are some suggestions to help get you out of your post-Gilmore Girls funk.
1. Start From "Winter" All Over Again
I'm not starting with the most healthy suggestion, but if you have the time, just start rewatching the revival. If you cooked Thanksgiving dinner, have had a hectic November, or are anticipating a hellish December, you've earned this time to yourself to keep the marathon going. I mean, after the 2016 presidential election, haven't we all earned bonus Gilmore Girls?
2. Watch Something Completely Unrelated To Gilmore Girls
Because of Lorelai's spot-on pop culture commentary, it will be difficult to watch certain movies and TV shows that don't remind you of a witty quip she once said, but trust me — it is possible. Since Thanksgiving will have passed, it's officially the holiday season. If you celebrate Christmas or are into the holiday spirit regardless, I recommend jumping into some holiday movies. Love Actually is on Netflix, so you could seamlessly transfer to that modern Christmas gem after Gilmore Girls since those Brits are bound to put a smile on your face.
3. Mindfully Eat Your Leftovers
Not only will you most likely have leftovers from Thanksgiving (hoorah for turkey and stuffing!), but you're also going to have stockpiles of takeout food that you ordered for your Gilmore Girls marathon. Just make sure not to let yourself get so full that you end up feeling even worse, and try to include a few foods that could improve your mood.
4. Enjoy The Great Outdoors
If you live in the Northeast like the Gilmores — or somewhere else that experiences all four seasons — you should be getting snow this winter and maybe even in time for A Year in the Life. You know how special snow is to Lorelai, so get outside and enjoy it for yourself. Even if it's not snowing, removing yourself from the TV and getting some fresh, cold air is definitely one way to improve your mood. Live where it's warm? Then you have even nicer weather for going outside.
5. Shop For The Holidays (Or For Yourself!)
If shopping makes you happy and you skipped early Black Friday sales for the Gilmore Girls, then get yourself off the couch by heading to some stores after your marathon. If malls have a tendency to make you frustrated, then wait until the next day and take part of Small Business Saturday. And feel good knowing that the Stars Hollow community would certainly be proud of you for supporting local businesses.
6. Go To The Movies
Watching movies is a time-honored Gilmore girls tradition. Although you probably aren't lucky enough to have classic movie nights at the Black, White, and Read Bookstore in your town, you can still hit up the movie theater. With November releases ranging from Fantastic Beasts and Where to Find Them, Bleed for This, Moana, Allied, and Bad Santa 2 (hey! Lauren Graham was in the original!), you've got some decent choices. Just remember to stock up on the snacks and no talking allowed.
7. Take A Spontaneous Trip
OK, traveling during Thanksgiving weekend is pretty much a terrible idea. However, nothing says the Gilmores like running away from your problems. Heck, in the beginning of Season 2, Lorelai literally ran away to my old stomping grounds in New Hampshire. Although you'll want to avoid most major highways the weekend that A Year in the Life is released, you can take the back roads for a mini trip. Or, if spontaneity is not really your thing, plan a trip for later since creating an itinerary is a good diversion too.
8. Channel The Gilmore Girls For Ideas
If you're like Rory, read a book or get to writing. If you're like Lorelai, multitask and start planning a fabulous upcoming event, like a Christmas party. If you're like Emily, order someone around — or also plan a lavish shindig. These are a few of the Gilmore girls' favorite things, so maybe they'll make you happier too.
9. Practice The Life-Changing Magic of Tidying Up
Speaking of channeling the Gilmores, Emily is shown in the revival trailer using the method of cleaning up featured in Marie Kondo's best-selling book The Life-Changing Magic of Tidying Up to distract her from Richard's death. If you're home, or even at your parents' house where you have been storing childhood belongings, take the long Thanksgiving weekend to go through your stuff and only keep what "sparks joy," as Kondo advises. If you're like Emily, you'll be saying bye to your dining room chairs in no time while being temporarily distracted from your grief.
10. Spend Time With Your Family
Although Lorelai typically resisted Friday night dinners with her parents, take advantage of your family being gathered for Thanksgiving. Host another dinner after Thanksgiving for family bonding or plan something not related to food. Surrounding yourself with people who love you will remind you there is a world outside of Gilmore Girls.
11. Journey Back To The Very Beginning
If all else fails, go back to the Gilmore Girls pilot episode. While it's sad that there are no more new episodes on the horizon, by watching the earlier episodes you'll remember that Lorelai and Rory are always there for you in your time of need.
Where the Gilmore Girls lead, you will follow. And nothing will change that even though the initial excitement of the revival is gone.
Images: Robert Voets/Netflix; Giphy (10); Caitlin Gallagher/Bustle