How To Decide If You Should Watch 'GG' All At Once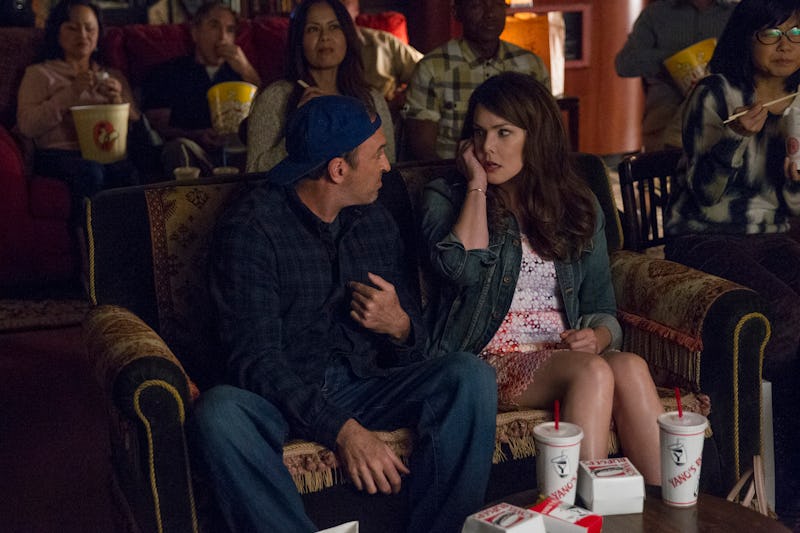 Forget the 2016 presidential election (seriously, forget about it right now for your mental health), you're on the precipice of making the toughest choice of this entire year — nay, this entire decade. For you must decide if you want to watch Gilmore Girls: A Year in the Life all at once when it premieres on Friday, Nov. 25 at 3 a.m. ET on Netflix. As this is a deeply personal issue, I don't want to tell you exactly what to do. However, I can surely channel my inner Rory Gilmore and help you weigh some pros and cons of watching Gilmore Girls: A Year in the Life in one sitting versus taking your time.
Since the revival was officially announced on Jan. 29, 2016, you've had 10 months to digest that yes, the beloved series that went off the air in 2007 really is coming back. However, have you come up with a game plan for how you will watch the Netflix miniseries? With four 90-minute-long episodes, you have six hours of TV on your hands. If you're a professional Netflix marathoner, that's a walk in the Stars Hollow town square. But the question is not can you watch all of the Gilmore Girls revival in one sitting — it's should you?
Based on your viewing style of the original series and your relationship with the Gilmore girls, here is a guide to whether or not you should marathon Gilmore Girls: A Year in the Life.
You Watched It When It Originally Aired
Did you patiently wait a whole full week to watch each new episode of Gilmore Girls from 2000 to 2007? Did you faithfully make the switch from The WB to The CW for Season 7? Did you grow up alongside Rory as she went from high school graduation to college graduation? If so, in the words of Phil Collins, you've been waiting for this moment all your life. While there's always a possibility there could be more Gilmore Girls in the future, you shouldn't expect that. So if you watch all four episodes back-to-back, don't forget there could potentially never be any new Gilmore Girls ever again. And do you remember how you felt back on May 15, 2007 when the series finale "Bon Voyage" aired?
To marathon or not to marathon?
Not to marathon. As hard as it will be, think about the emotional fallout once you finish that final episode. You've waited this long, you can at least take the weekend to digest the miniseries in all of its Gilmore glory. Just avoid all social media like the plague. Seriously — no internet for you.
You Watched The Series On DVD
Remember the days when you would buy (or rent!) seasons of a TV series on DVD? If you had a friend who was a Gilmore Girls fan, she (or he!) may have loaned you their DVD collection to introduce you to the magic that is this series. That means you're not necessarily an original watcher since the Season 1 DVD set wasn't available until 2004, but you're definitely an old school fan. For you, I have broken down my verdict into two criteria.
To marathon or not to marathon?
Not to marathon. If you watched the DVDs in time to see some of the series when it originally aired on TV, you're in the same camp as the OG watchers. Take your time and savor the return of the girls.
Marathon. If you watched the DVDs after the show was off the air, you've always had the power to watch all of the episodes whenever you wanted. You might be able to handle the full marathon in this case.
You Watched The Series On Netflix In 2014
In the U.S., the entire series of Gilmore Girls became available on Netflix on Oct. 1, 2014. Whether you had already seen the show or you were excited that you finally had the chance to have unfettered access to every episode, if you were one of the frontline Netflix watchers, you obviously love a good marathon session.
To marathon or not to marathon?
Marathon. Let's be real, you're probably not going to be able to stop yourself from watching every episode anyway.
You Watched The Series On Netflix In 2016
Whether you finally got to watching Gilmore Girls after years of knowing you should have already seen it or you just wanted to fully comprehend what all the fuss about the revival was, you're a newer fan.
To marathon or not to marathon?
Marathon. Assuming that you're obsessed, you were late to this fandom party, so you might as well be part of the first people to watch the revival.
You're A Casual Fan
There's really nothing "casual" about watching Gilmore Girls, so not only am I unsure that you exist — I'm equally unsure if I can relate.
To marathon or not to marathon?
Viewer's choice. You're (hep) alien to me if you're not fanatical about Gilmore Girls, so I can't be of much assistance. But if you don't care that much about the show, it really shouldn't matter to you either way. (Seriously, who are you?)
You Haven't Seen An Episode Since It Went Off The Air
Maybe you are one of the OG viewers who just has never returned to the series since 2007. Maybe you're not that sentimental and once something is over, you move on. If you've got a busy life, I can understand on a basic level that 153 episodes of Emily, Lorelai, and Rory Gilmore is a big investment and so you've just never returned to Stars Hallow.
To marathon or not to marathon?
Not to marathon. The final four words of the show being spoiled for you probably wouldn't bug you too much, so no need to marathon. And you should probably start by rewatching the original series first. (Remember the thing I said about understanding it's hard to rewatch? Yeah, that's a lie. I'm super sentimental and literally watch TV for a living.)
You've Seen The Complete Series 1 Time
You may have only seen the entire series once, but you're still super stoked about the revival. Perhaps you even watched some of the best Gilmore Girls episodes in preparation of the revival without watching the show from start to finish again.
To marathon or not to marathon?
Marathon. You can still be obsessed if you've only see it once, but you don't need to necessarily take your time. And after watching A Year in the Life, why not go back and watch again from Season 1?
You've Seen The Complete Series 2–4 Times
You might fall into the category of original viewer who then rewatched once it came on Netflix once or twice. Or you've streamed it four times. Either way, you have a healthy level of commitment, my friend.
To marathon or not to marathon?
Not to marathon. You may benefit the most from giving yourself time to take it all in because this is a major deal for you.
You've Seen The Complete Series 5+ Times
Whether your Gilmore Girls DVDs are busted from replaying them so often or you just love having an episode streaming on Netflix in the background at all times, there's nothing that can stand between you and your Gilmore Girls.
To marathon or not to marathon?
Marathon. You've been gearing up for this for far too long to have a patient watching style. Plus, once the final miniseries episode ends, you know you'll go right back to watching it all over again. You might even watch each miniseries episode twice before embarking on the next one.
You've Never Seen It
You've heard all about the revival and sheer curiosity has you considering just jumping in.
To marathon or not to marathon?
Not to marathon. You haven't earned that much nostalgia in one sitting! Plus, as a purist, I demand you begin at the pilot.
Of course, these are just suggestions and however you choose to consume your Gilmore Girls during the Thanksgiving weekend, acknowledge that this is a sacred event that doesn't come around every day, year, or decade — and for that, be truly thankful.
Images: Saeed Adyani/Netflix; Giphy (21)