Another Of D.J.'s Exes Showed Up On 'Fuller House'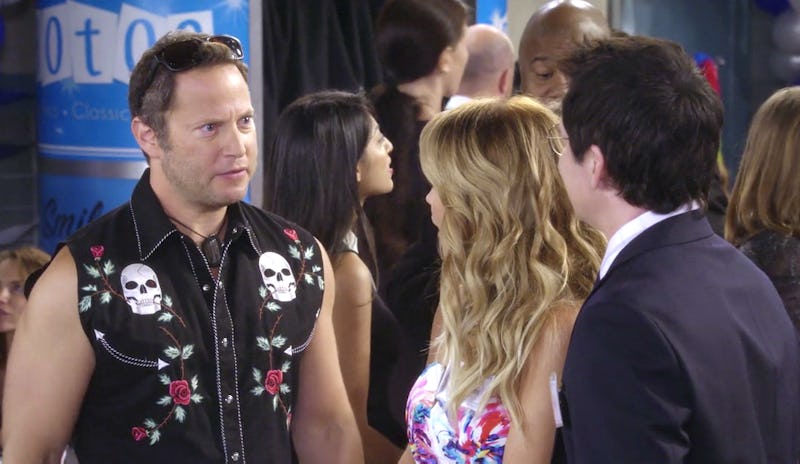 While D.J.'s first real boyfriend Steve will always be number one in Full House fans' hearts, that doesn't mean that Viper's appearance on Fuller House Season 2 was unwelcome. SPOILERS ahead for the Netflix series. D.J.'s ex-boyfriend Nelson's spot had been confirmed before Season 2 of Fuller House premiered, but Viper's had only been speculated about. But, since what is Nelson without his polar opposite rival for D.J.'s affections, Viper made an appearance in Episode 11? And at her high school reunion, Viper and Nelson put D.J. in the middle yet again.
These two Season 8 characters didn't have a ton of screen time on Full House, but after Steve and D.J. broke up, she needed new love interests for the final season of the original series. Viper played in Uncle Jesse's band and though he appeared to be a bad boy, he actually was a sweet guy who cared for D.J. However, the years were not too kind to Viper. Yes, he's still making music, but he's also buying beer for his underaged boss at Foot Locker and showing up wasted to a high school reunion — at a high school he didn't even go to.
Nelson also hadn't evolved — even if he was portrayed by a different actor since Hal Sparks replaced Jason Marsden. So just like in the Full House episode, "D.J.'s Choice," both men were fighting for her. They even started physically pulling at her like they had done 20 years ago. Uncomfortable déjà vu much?
In the original series, D.J. made the empowering decision not to choose either of them since their competition was a turnoff. But in the revival, she let Steve save her. While this was used to advance her latest love triangle plot between Steve and Matt, it was still disappointing that teenager D.J. was more of a feminist icon than adult D.J. Being grabbed and pulled by these men 20 years after they grabbed and pulled her should have made her even more angry than the first time around.
Still, if you take the reunion scene for the way Fuller House intended it to be — just a playful throwback — it was good to have Lipper back as Viper. Because even if Nelson's appearance didn't pack the same punch because of the role being recast, seeing Viper arm wrestle him might have been worth it.
Images: Netflix (2); The WB