'Bachelor' Couples That Got Together In 2016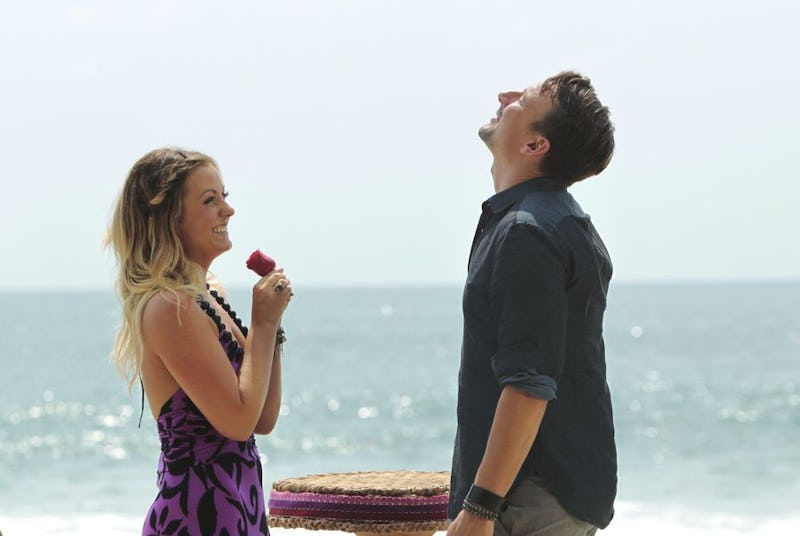 A lot of people make jokes about the relationships from the Bachelor franchise not lasting, but I have hope for the future. And aside from having more faith in the relationships that have been formed recently, it also makes sense to be optimistic based on the sheer volume of couples that come out of this show in one way or another. A bunch of Bachelor stars got together in 2016. This makes sense since at this point The Bachelor, The Bachelorette, and Bachelor in Paradise all produce new romances every year. Plus, all of these Bachelor Nation alums seem to hang out all the time, so it's only logical for some of those people to end up hooking up.
Sure, not all of these couples survived 2016, but that doesn't take away from the fact that there really were a lot of Bachelor pairings this year. More contestants are being added to Bachelor Nation every year, so that makes me think that this is just the beginning of the hook up increase for the franchise. I have no idea if these are all bonds that will last forever, but it is kind of crazy to think that there have been so many couples formed all thanks to participation in a reality TV show franchise.
These are the Bachelor, Bachelorette, and Bachelor in Paradise alums that hooked up in 2016. A lot of these pairings, you're familiar with since you saw them get together on TV, but others happened away from the reality TV cameras. Thank god for social media!
Becca Tilley & Robert Graham
This pairing happened away from the TV cameras, but it was very much present on social media. For a while, Becca Tilley and Robert Graham's official relationship status was unclear, but now that it's confirmed, these two are the surprise couple from the franchise for 2016.
Carly Waddell & Evan Bass
Although Becca and Robert's romance was a little surprising since it didn't go down on reality TV, the pairing of Carly Waddell and Evan Bass was also pretty shocking since she was not feeling him AT ALL in the beginning. Then Evan faked an injury, Carly realized how much she cared about him, and they became the best couple out of Bachelor in Paradise Season 3. This the 2016 couple I am definitely rooting for the most to make it.
JoJo Fletcher & Jordan Rodgers
As much as I love JoJo Fletcher, I have to be honest when I admit that I didn't know what to expect when JoJo chose Jordan Rodgers at the end of her Bachelorette season, but I am so on board with JoJoJo, even if that couple name never catches on. They really seem genuine. Just follow them on social media and you will not be able to help but support them.
Grant Kemp & Lace Morris
Sadly, the couple known as Grace recently announced their separation. I'm actually pretty sad about this, so I'm hoping that Lace Morris and Grant Kemp will get back together at some point in the future. Sure, they got matching tattoos way too early in the relationship, but I feel like they just really worked well together on Bachelor in Paradise.
Amanda Stanton & Josh Murray
This is another Bachelor in Paradise Season 3 couple that reportedly broke up recently. They seemed to make a super cute family with Amanda's two daughters while it lasted.
Jared Haibon & Caila Quinn
This relationship came and went very quickly. After Jared Haibon and Caila Quinn left the drama behind on BiP, they admitted that they did date for a few weeks after the show, but they just could not make it work.
Ben Higgins & Lauren Bushnell
For anyone trying to get technical with me, yes, I am aware that technically speaking Ben Higgins and Lauren Bushnell got together in 2015, but they couldn't be a public couple until the Bachelor finale in 2016, so I that's why I am including them here. Plus, it actually does seem like they are going to get married, so they needed to be celebrated.
2016 was a great year for forming new Bachelor relationships. Although some of them didn't survive the whole year, I still have high hopes for the others to make it through 2017.
Image: ABC/Rick Rowell