Adults Reading YA Isn't That Big of a Deal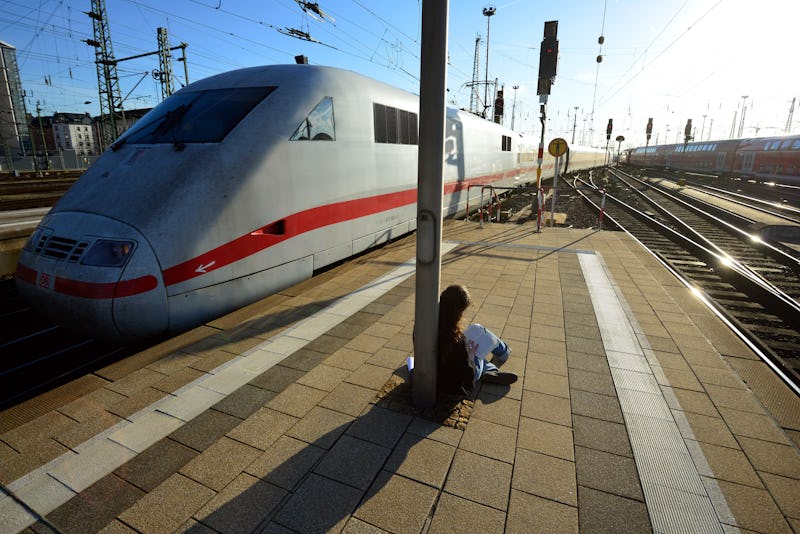 Thomas Lohnes/Getty Images News/Getty Images
Ruth Graham has an article on Slate with the hed, "Against YA," and a summary that says, "Read whatever you want. But you should feel embarrassed when what you're reading was written for children." I know what Slate is doing; they want pieces like mine to draw more attention to theirs. And I'm going to giving it to them, because as an adult who reads YA, there's a lot to point out — and even agree with — here. So let's look further into Slate's argument.
Are the buyers of YA books really the readers of YA books?
The basis for Graham's takedown of adults reading YA lit is a survey that shows 28 percent of all YA sales are from people between the ages of 30 and 44. But this stat's significance is used to come to problematic conclusions. A lot of these "grown-ups" have or know children — ones for whom they buy YA books. Adults are the people with purchasing power. So how, exactly, do we seamlessly take adult buying statistics and attribute them to adult reading statistics?
This stat is further used to come to the conclusion that young adult novels are replacing literary fiction in the lives of adult readers. But, Graham herself read The Fault in Our Stars , so presumably she bought it, and that won't stop her from buying adult lit.
The problem with defining "literature"
Muddied in this argument is the ever-elusive issue of defining "literature." I won't try my hand at it, because I don't find categorizing writing this way all that important. However, it seems clear between the lines that the author is trying to make a distinction between what's "literature" and what's not, mostly with the latter composed of young adult books and genre fiction:
Let's set aside the transparently trashy stuff like Divergent and Twilight, which no one defends as serious literature. I'm talking about the genre the publishing industry calls "realistic fiction."
Unfortunately, these labels aren't as transparent as Graham may wish. Are sci-fi, dystopian, magical realism, and other "adult" genres also de-legitimatized alongside any current trend in YA? Is this also an argument against books like Cormac McCarthy's 2007 Pulitzer Prize-winner The Road; Kate Atkinson's Life After Life, named to The New York Times's best books of 2013; or The Ocean at the End of the Lane by Neil Gaiman, which Graham's colleague Rachael Larimore named to Slate's own "favorite books" of 2013?
Graham further claims that young adult "literature" finds its appeal in escapism, instant gratification, and nostalgia. But isn't all fiction in some way escapist?
Additionally, I'm not one to take down specific authors or people's own tastes, but I certainly can't say with a straight face that the entirety of adult fiction is as emotionally and morally ambiguous as real life. As we know from Pixar movies, sometimes the children's section has more true to life elements than art geared toward grown-ups.
Graham recounts her reaction to reading John Green's The Fault in Our Stars:
I'm a reader who did not weep ... when I read The Fault in Our Stars. I thought, Hmm, that's a nicely written book for 13-year-olds. If I'm being honest, it also left me saying "Oh, brother" out loud more than once. Does this make me heartless? Or does it make me a grown-up?
It's an interesting point. I'm what societal norms have defined a "grown-up" and I cried. I cried during Up , too. Does that make me a child? A sensitive adult? Someone who can relate to terminal illnesses in my life? Someone who has an all-too-close relationship to childhood cancer? More importantly: Does it matter?
The (new) young adult label
"Young adult," "adult," and other publishing labels are nothing more than marketing tools. Sales, marketing and booksellers need to classify in order to sell and market books. Readers, however, do not. Marcus Sedgwick, Printz Award-winner, agreed, in an interview with Bustle:
The absolute bottom line — because you can have all those arguments about appropriate labels, what is included in YA, and when does a YA book become an adult book? … But, as a writer, it's not how I set out to write a book. I don't set out to say, 'I'm going to write a YA novel,' I set out to write a story I think is interesting or has an idea that has gripped or obsessed me. … And I don't think readers go around thinking, Is this book written for me? Was I the person this book was designed for? As a reader, you're just looking for something you love, or something you hope you'll fall in love with.
His perspective also begs the question of what Slate thinks of adults writing YA. However, Graham's reading experience sounds a lot different:
But I remember, when I was a young adult, being desperate to earn my way into the adult stacks; I wouldn't have wanted to live in a world where all the adults were camped out in mine. There's a special reward in that feeling of stretching yourself beyond the YA mark, akin to the excitement of graduating out of the kiddie pool and the rest of the padded trappings of childhood: It's the thrill of growing up.
Seeing the world Graham's way doesn't resonate with me. I have zero recollection of needing to classify myself based on my likes and dislikes, particularly within books. I can't remember defining a difference between YA and adult books. Instead, when I was a pre-teen and teenager, I was in the stacks reading literary authors like Fitzgerald and Shakespeare, in the mystery section checking out all the Agatha Christie I could, and devouring Tolkien, Salinger, Updike, L'Engle, Paterson, Ingalls Wilder and, yes, The Baby-sitters Club and Nancy Drew. I sincerely don't remember being worried about "graduating" to adult books — probably because I was too worried about finding books I would like.
Slate gets a few things right, though
At the end of it all, I don't believe that the writer is railing against YA (and what she defines as "non-literature"). She might not know it, but she's really resisting the homogeneity of reading:
And if people are reading Eleanor & Park instead of watching Nashville or reading detective novels, so be it, I suppose. But if they are substituting maudlin teen dramas for the complexity of great adult literature, then they are missing something.
Focus on that word "substituting." As discussed in the beginning, the article doesn't show any resources stating that this is happening at all. And in my experience, it's not how most teenagers or adults read now. If it were, I would agree, but I don't believe most people are only reading YA lit (and for that matter, only one genre of YA lit), which I agree might put diverse reading at risk.
For example, if you love the adult book Gone Girl , you should also read the YA We Were Liars . Read YA and adult books. Read male authors, female authors, black authors, white authors, Native American authors, Asian authors, straight authors, gay authors, short stories, 700-page epics, classic novels, contemporary novels, graphic novels, fantasy stories, (yes) detective novels, thrillers, romance, and realism — for all ages. Read it all. But don't close off YA like the author, who says:
Life is so short, and the list of truly great books for adults is so long.
C.S. Lewis, the author of The Chronicles of Narnia series, once said, "A children's story that can only be enjoyed by children is not a good children's story in the slightest." #PromoteYAInstead.
Image: Google Images / Blogspot