11 of 2014's Must-Read Debuts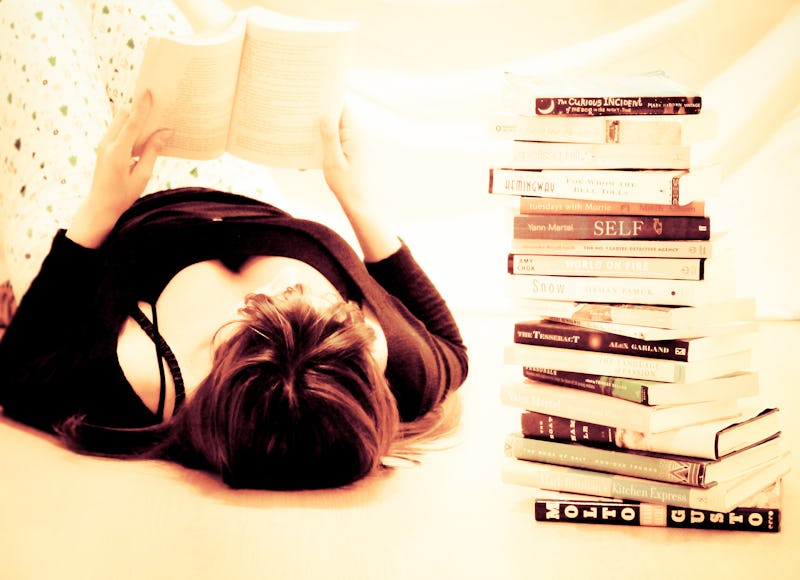 In the world of literary fiction, 2014 has been an epic year for debuts. Month after month, readers were hit with a whirlwind of knockouts, and it's safe to say our libraries got hefty boosts this year (while our social lives may have taken a hit). Personally, I had to buy a new bookshelf altogether. Most impressive about the year in readng was the fact that debut authors kept on putting out works that were just as explosive as ones by authors we've been reading for years.
The list of excellent debuts released in 2014 was way more impressive than usual — daunting, even — but I've narrowed it here to 11 (because 10 was just impossible, deal with it). As most seasoned writers will attest to, producing a first work is a momentous task, but these 11 writers owned the challenge and delivered, carving out their own unique spaces within the literary landscape and securing their status as writers to watch.
After browsing this list, you'll have no choice but to spend the remaining days of 2014 tucked away reading in your own library — wherever that may be. And don't be surprised if find yourself Googling in search of more publications only to recall, somewhat disappointingly, that these are the works of first-time writers, because each and every name here exhibits the skills of a seasoned author. Prepare to be impressed.
An Untamed State by Roxane Gay (Grove Atlantic)
With this debut novel, the perpetually wise and witty journalist Roxane Gay cemented her status as a literary rockstar.An Untamed State is a short novel, but it packs a powerful emotional punch as it unravels, in harrowing, unrelenting detail, the story of one woman's kidnapping in Haiti. With emotive prose and eloquent pacing, Gay makes tangible the physical and emotional trauma of the incident during the kidnapping and in its aftermath.
Nobody Is Ever Missing by Catherine Lacey (FSG Originals)
Get your highlighters ready — Catherine Lacey's Nobody is Ever Missing is packed with beautifully crafted passages you'll want to mark and revisit. With stunning poetry and urgent prose, Lacey captures the existential crisis that unfolds as one woman hitchhikes her way through the evocative New Zealand countryside. It's an intriguing interior exploration and a deliciously bold debut like nothing you've read, packed with insightful ruminations on identity, loss, love, and the human condition. Lacey's distinct style is one that lingers, haunts, and keeps us hoping for more to come from this exquisite writer.
The Land of Love and Drowning by Tiphanie Yanique (Riverhead)
Love, magic, and myth dance among the pages of this enchanting debut in which St. Thomas-born writer Tiphanie Yanique brings to vivid life the kinetic world of the Virgin Islands. The Land of Love and Drowning is a rhythmic, richly imagined evocation of place told through a Caribbean family saga that spans three generations and follows some of the most memorable characters you've met in fiction. Both gorgeous and brazen, it's a work with a big, thumping heart that earns its place on your bookshelf.
Love Me Back by Merritt Tierce (Doubleday)
Prepared to be wooed by the searing voice of Marie, the fiery but fragile narrator of Merritt Tierce's first novel. Fierce, fearless, and unconventional, Tierce's debut Love Me Back delivers a raw, startling portrait of the high-end service industry world through the eyes of one young woman on the brink of self-destruction. With lurid storytelling and seductive yet precise prose, Tierce turns a world we thought we knew into something strange, gritty, and wholly new.
Panic In a Suitcase by Yelena Akhtiorskaya (Riverhead)
Filled with authentic characters and sharp humor, this poetic debut from Brooklyn-raised author Yelena Akhtiorskaya delivers a precise and poignant portrait of one Russian immigrant family and the two worlds they inhabit — the adopted Ukrainian enclaves of Brighton Beach, Brooklyn and their native Ukraine. Pasha, Akhtiorskaya's protagonist, unlike the rest of his family, has resisted the seductive appeal of America, clinging to his origins in Odessa, while visiting America often upon his family's request. Through the family's attempts to thrive in a world where the notion of the American Dream has been irrevocably altered by the fall of the Soviet Union and the expanse of globalization, and through Pasha's own struggle to navigate both worlds, Akhtirskaya examines the meaning of home, the desire to belong, and the challenges and fears of starting anew. At once comic, whimsical, insightful, and rich, Panic in a Suitcase is an unputdownable debt filled with charming episodes that keep you smiling all the way through.
The Sleepwalker's Guide to Dancing by Mira Jacob (Random House)
Masterfully assembled, with finesse evocative of Jumpha Lahiri, Mira Jacob's The Sleepwalker's Guide to Dancing captures the nuances of one Indian immigrant family — the bonds that tie them, the secrets that divide them, and the tragedies that change them. You'll be impressed by the raw honesty with which Jacob renders the dynamics of a family in crisis and the inevitable divide among generations. Jacob's first novel is a tender, beautifully resonant work that delivers a freshly imagined potrait of the immigrant experience and marks Jacob as a writer to be watched.
I'm Having So Much Fun Here Without You by Courtney Maum (Touchstone)
A failing marriage, an unfaithful husband, and a theatrical attempt to rekindle lost love — sure, you've read it all before; but never quite like this. Though Courtney Maum is covering familiar terrain, it's the charm of her dark comedy and the depth of her character's emotions that make Maum's debut I'm Having So Much Fun Here Without You a standout. Told through the eyes of a failed monogamist, relatable in his many flaws, and sprinkled with those small, yet affecting, intimate moments, Maum's story of modern marriage breathes fresh energy into a timeworn topic.
Everything I Never Told You by Celeste Ng (Penguin)
From page one, Celeste Ng's haunting debut will take hold of your heartstrings. Though it's clear early on that Ng is a gifted storyteller, her affecting, layered characters are what truly leave an impression in this story of interracial love, family dynamics, and the affects of tragedy. Part thrilling murder mystery, part emotional journey, Everything I Never Told You is a compelling debut you don't want to miss, one with which Ng makes a resounding entrance onto the literary stage.
The Land of Steady Habits by Ted Thompson (Little, Brown)
With this impressive debut, first-time novelist Ted Thompson certainly earns his place on your literary radar. In The Land of Steady Habits, Thompson chronicles, with precision and wit, one man's journey through a midlife crisis turned second coming of age. Thompson's protagonist Anders Hill, who is in his early 60s, abandons the familiar life he has spent years building — family, friends, a lucrative finance career, and an impressive home within America's suburban upper crust — and sets out to create a new identity outside the security of his familial routine. What follows is a topsy-turvy quest for fulfillment that consistently titers between self-destruction and self-discovery. Throughout The Land of Steady Habits, Thompson displays a masterful ability to capture interior conflict, layered emotions, and the subtle dynamics of decaying familial relationships.
The Wilds by Julia Elliott (Tin House)
Your imagination will certainly run wild as you explore the pages of Julia Elliott's debut story collection and dive into the surreal worlds they create. Like a mad scientist roaming a library, Elliot fearlessly tinkers with genres, bending and melding them in thrilling and unexpected ways, testing the laws of storytelling with explosive results. Here, fairytale magic meets dystopia, gothic collides with sci-fi, and grotesque melds with beauty to create stories that enchant, shock, and satirize in wonderfully wild ways.
Redeployment by Phil Klay (Penguin Press)
In this stunning debut story collection, Phil Klay, a veteran Marine who served in Iraq, vividly captures the haunting toll war takes on the individual — the emotionally splintering effects of harrowing combat and the fractured psyches it leaves its wake. These stories, rendered in lurid detail, draw readers into the depths of war in all its theatrics, violence, torment, and heartbreak and even comedy, and force them to look beyond what they know, and into the very soul of war and the soldiers that fight it. Told in unrelenting prose and sprinkled with humor, tittering on hopelessness, Redeployment captures the cadence and chaos of the wars in Iraq and Afghanistan unlike any other work of fiction out there.
Image: susanfernandez/flickr