Will We See Amal At The Academy Awards?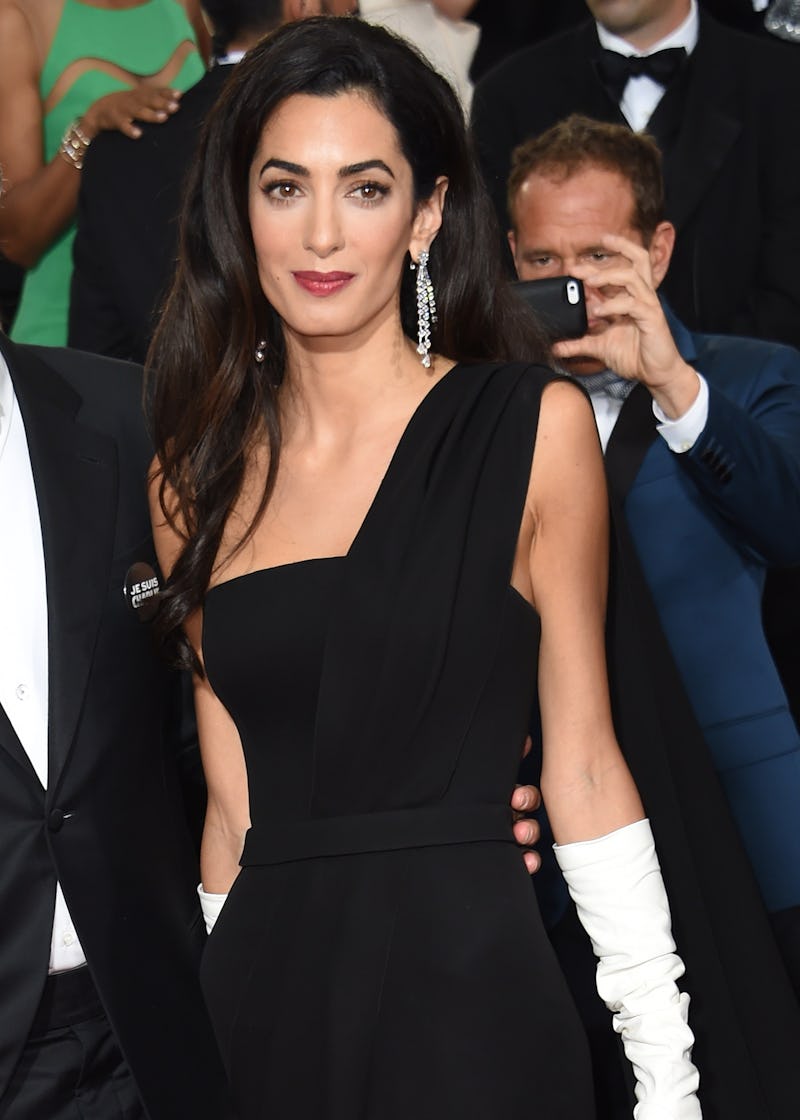 As exciting as the Academy Awards, the nominees, and the winners are, you know what else gets fans of the awards show pumped up? Who's the presenters and other random celebs in attendance. Yes, I'm all about checking out the films and rooting for those I want to win, but I also can't wait to see some of my favorite actors and actresses, even if they aren't nominated. Speaking of, do you think we will see George Clooney's wife Amal Alamuddin at the Oscars? First of all, if Clooney isn't going to be there, I'm pretty sure Alamuddin won't be there either. So, maybe the question we should be asking ourselves is: Will George Clooney be at the Oscars?
Well, seeing as Clooney isn't nominated, isn't receiving a Lifetime Achievement Award like he did at the Globes, isn't connected to any of the films nominated, and we have yet to hear who will be presenting at this year's Oscars, I'm going to say there's a 50/50 chance that the couple will and won't attend. It's one of those things you can't really predict. However, seeing as Clooney has been the talk of the town after receiving the Cecil B. DeMille Award, maybe he'll be invited to another prestigious award ceremony. After all, he previously won two Oscars and I'm sure the Academy would gladly welcome the talented and giving man to their awards show.
But, enough about Clooney; let's talk Alamuddin. If she does attend the Oscars with her husband, then that means we might get to see more white gloves, gracefulness, and classiness from the lawyer, activist, and humanitarian. I think Amy Poehler and Tina Fey said it best at the Globes:
So, yeah, Alamuddin would totally class up the Oscars. Don't believe me? Here are a few ways she would add even more grace to one of the most talked about and elegant award shows.
With Her Fashion
Wait, is George even in this picture? Sorry, George, but Amal has it going on.
With Her Intelligence
There's no way around it: Alamuddin is smart and, let's face it, not only is that super attractive, but we need more focus on women, their work, and intelligence. She would definitely bring that to the Oscars.
With Her Personality
Just look at that gracefulness when she is talking, laughing, and smiling. Also, um, George, what is going on here?
With Her Modesty
Amal's all like, "Wait, why are all these people staring at me and taking my photo?" She handles the press with such humility.
With Her Red Carpet Responses
Yes, there's no doubt we all want to know if these two will ever have children, but sometimes it's overkill to keep asking the same question repeatedly. Clearly, Alamuddin can handle the press.
We'll have to wait and see if the couple will actually be at the Oscars, but, until then we can hold out hope.
Images: nowwiththisnews (2), jonsabillon, entertainmenttonight/Tumblr; Getty Images (4)