Miss 'Parenthood?' Watch These 7 Shows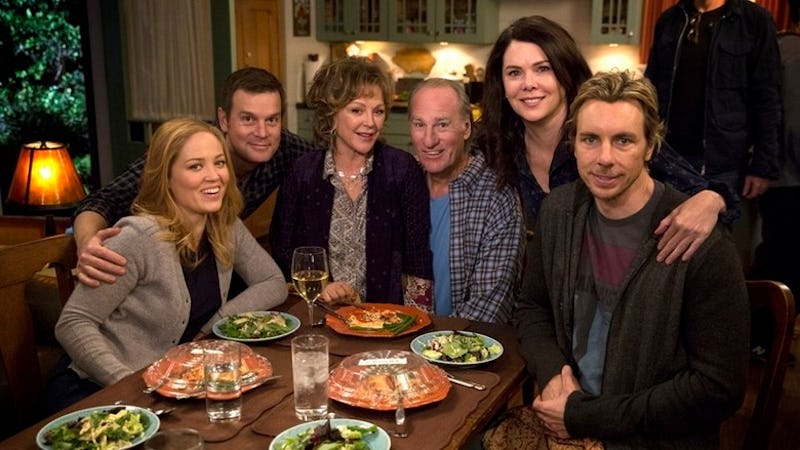 If, like me, you were a major fan of NBC's Parenthood , chances are you've probably been experiencing these symptoms since the series finale aired last Thursday: uncontrollable crying. Obsessive re-watching. The permanent invasion of "Forever Young" on a loop inside your brain. Dealing with the beloved show's recent end has been hard, and as for getting over it? Well, that's just impossible.
Still, spending the next however many years of your life mourning the loss of a TV show is probably not the healthiest way to live, however tempting it may be. As hard as it might seem now to believe, it is possible to get over the end of the Bravermans — or, at the very least, learn to live without them by finding a suitable replacement that's Parenthood-like in every way but title. Of course, no show can actually replace Parenthood; it was just too smart, too funny, and too unique a series for that. Still, a few shows come close, whether it be due to having similar storylines or giving viewers a constant need for Kleenex. Below, seven shows that might just work in fixing that huge, Braverman-sized hole in your heart:
The Fosters
What It's About: The life and times of the Foster family, consisting of a lesbian couple and their five biological/adopted/foster kids.
Why It Could Replace Parenthood: It's a family-oriented show that's actually good, a rare find in today's TV. Like Parenthood, there are a lot of people, a lot of talking, and a lot of drama. And, most similarly, The Fosters doesn't shy away from serious subject matter, whether that be LGBTQ issues, racism, or abortion.
About a Boy
What It's About: A single, immature songwriter who befriends the 11-year-old oddball next door. Based off the Hugh Grant movie.
Why It Could Replace Parenthood: It's created by Jason Katims, is a family-focused dramedy, and features occasional cameos by Dax Shepard. With less-sharp writing and more meandering plots, Boy's not be quite as good as Parenthood, but it's similar enough that that just might not matter.
Gilmore Girls
What It's About: The incredibly close bond between a young mother and her teenage daughter.
Why It Could Replace Parenthood: Hey, I never said the substitute had to be new. Like Six Feet Under and Arrested Development, Gilmore stars a Parenthood cast member, but the appearance of Lauren Graham isn't the only way it's a good replacement; it's a whip-smart, hilarious show about family and love, featuring a close mother-daughter bond and a fantastic supporting cast.
Friday Night Lights
What It's About: The teenage members of a Texas football team, as well as their devoted coach and his wife.
Why It Could Replace Parenthood: Another old show, FNL is perhaps the closest of any on this list to Parenthood. It was produced by Jason Katims, revolves around family and friends, and features plenty of actors who've made their way into the world of the Bravermans. FNL is addicting and affecting, the perfect precursor of Parenthood and simply one of the best dramas ever on TV.
Transparent
What It's About: A recently-out transgender woman and her three dysfunctional adult siblings.
Why It Could Replace Parenthood: Transparent's a lot darker than Parenthood, and a whole lot more graphic, but its themes — family closeness, finding acceptance, adult siblings who can't deal with their lives without calling each other up every thirty seconds — are familiar.
Switched at Birth
What It's About: The lives of two teenage girls who discovered — you guessed it — that they were switched at birth and moved in together as one family.
Why It Could Replace Parenthood: It's just as family-oriented, and, like The Fosters, isn't afraid to discuss tough topics, whether that be ableism, privilege, or the often-subtle rivalries between women. Also, they hug a lot. It's Parenthood, just with more sign language.
The Untitled Monica Potter Show
What It's About: A woman trying to get back into the dating scene while balancing her family life and her three ex-husbands.
Why It Could Replace Parenthood: It's Monica Potter, as a mom, in an NBC series. Who knows if it'll be any good, but it's the closest revival of Kristina Braverman that we're ever gonna get.
Images: NBC (3); ABC Family (2); The WB; Amazon; Getty Images