Mason Photoshopped Kim's Hair On The Rest Of Them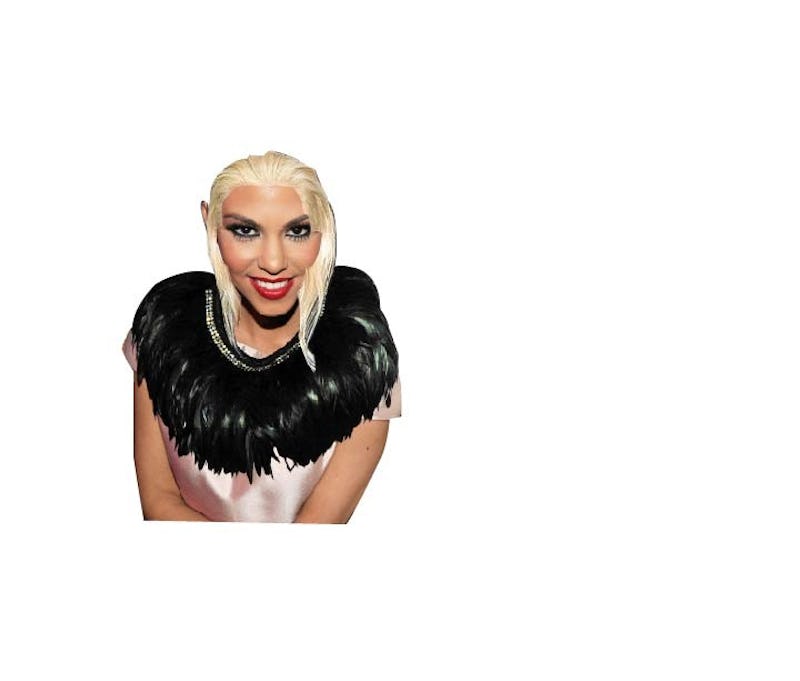 First Kylie shows us how to successfully rock a myriad of hair colors, then Khloe decides to go blonde, and now it looks like Kim is following suit. Kim Kardashian dyed her hair platinum blonde, and revealed the look at the Balmain show at Paris Fashion Week. Obviously, the Internet basically had a heart attack. Since Khloe went blonde last week, it only makes sense that the rest of the Kardashians will probably follow suit in only a matter of time.
Because these Kardashians can't seem to stick to one hair color, I couldn't help but wonder: What if Mason Disick photoshopped Kim's new blonde 'do onto the rest of the crew? I personally think the results are fantastic. In case Kendall is thinking of also going blonde after her obligation to fashion month is over, or Kourtney, who doesn't experiment with her hair as often, decides to try something unexpected, I can only pray they find this post flouting around on the Internets.
And I have to say, I think the platinum locks look better on Kanye than previous hair cuts he's had. As close of a family as they are, I think once one Kardashian goes blonde, they all have to follow suit. Right, Kim?
Kim: The Original
First she cut her hair short (which looks adorable). Now, it's platinum blonde. If you're an avid KUWTK fan, you know that Kanye has definitely had an influence on Kim's style choices. I wouldn't be surprised if this was his idea too. Either way, it looks pretty great against her olive skin tone. Definitely the kind of statement to make during fashion week in Paris.
Kourtney
Kourtney hasn't been one to drastically change her looks since KUWTK first aired in 2007 (yes, it really has been that long). She's had three adorable children with Lord Disick, but hasn't changed her appearance much. In case she decides to throw the world off, this platinum blonde looks really great on her.
Khloe
I'll admit, this is a really old picture of Khloe, but the style still looks great on her! This Kardashian sister recently went blonde, but not quite this blonde. Looks like you've got a little competition, Ko-ko.
Kendall
Kendalls otherwise obliged to fashion month currently, but when that is over, why not go a little crazy and celebrate with matching-sister-hair? Kendall's skin is a little lighter than her three older Kardashian sisters, but this color looks fantastic with her strong features and ah-mazing cheekbones.
Kylie
Of all the colors we've seen on Kylie Jenner's hair, I'm not sure that we've seen platinum blonde. Yet. Kylie, if you're reading this, I'm requesting this for your next hair change. The color looks great on your and makes your doe-shaped brown eyes pop even more. You would definitely go from fashionista to my fashion-idol with this color.
Kris
It's no secret the Kardashian mom-ager really cares about everything Kim does. If you watch the show, Kris definitely looks up to Kim for approval and advice. Their mother-daughter relationship is really sweet. I would not be surprised if Kris showed up to Kendall's runway show wearing matching-Kim hair. I just hope those pants are there again, too.
Kanye
Kanye has made some questionable hair choices in his life. From swirly designs to stars in his head, this recent break from crazy designs is kind of refreshing. But I actually gasped at how perfect this platinum hair looked on the rapper. Kanye is all about making a statement. I'm not sure of a better way to do that than growing his hair out, bleaching it, then rapping about the streets of New York. Please, Kanye, I beg you, do this.
Penelope
This is not the first picture of the fabulous Miss Penelope we've seen all dolled up. This girl definitely has Kardashian in her genes. Therefore, she deserves Kardashian hair. The platinum hair looks so cute with her bangs and hot pink sunglasses. She's definitely ready for summer. (Note: Please don't actually dye your baby's hair bleach blonde.)
North (and Dog, Georgia)
OK, North West is a really cute baby. I didn't think it was possible for her to get any cuter until I saw her mom's hair on her. She looks adorable and still looks like the perfect combination of Kim + Kanye. Although she may be too young for this style now, it's definitely something to consider when she gets older. And the family dog, Georgia, doesn't look too bad either.
Images: Getty (7); kimkardashian/Instagram