Kaitlyn's 'The Bachelorette' Taught Us So Much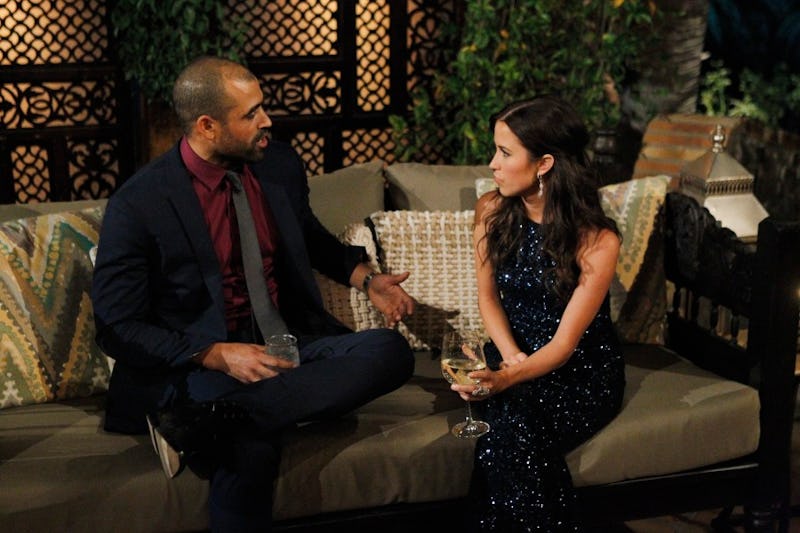 I was late to the party — or rose ceremony, rather — when it came this season of ABC's The Bachelorette. I had never really gotten into the show for whatever reason, but when my sister implored me to watch an episode with her as part of her Monday night ritual, I finally caved. In all honesty, she didn't actually implore me, she just asked, "Want to watch Bachelorette, tonight?" and I said, "OK!" Boy, am I glad that I did. One taste of the love-centric reality television competition whet my appetite for a binge-watching session worthy of Netflix, and it was nary a week that I caught up on each and every episode. Let me tell you, when you devour a substantial amount of Bachelorette episodes — along with wine and tostadas — in one sitting, you get pretty invested. Like, I might pull a Ryan Gosling/Shawn Booth a la The Notebook when the finale comes and whisper to my sister's TV screen, "I want all of you, forever, you and me, everyday."
Throughout my binge-watching, I laughed, I cried, and my eyes really hurt by the end. I also gleaned some valuable lessons from Kaitlyn Bristowe and the gang that I think we could all benefit from. Let's raise our glasses to the beacon of awesomeness known as reality television, and take a look at 7 lessons the 20th season of Bachelorette taught us.
Dressing Up Like A Cupcake Is Endearing
By now, we all know that Chris "Cupcake" Strandburg did not ultimately win Kaitlyn's heart, as our Bachelorette bid the sweet suitor adieu atop a cliff in Ireland. Cue Chris using his scarf (sidebar: every scarf worn this season has been totally on fleek — amiright??) as a handkerchief to dry his tears, and me wanting to hop into my TV screen to take him by the hand, and lead him to an Irish bakery where we could both assuage our sorrows with frosting and pastry. Despite him getting the boot, Chris had an impressive run during this season, answering the age-old question: do women prefer men who dress up as giant candy-corn-laden cupcakes? Yes. Yes we do.
Quoting Anchorman & Other Cinematic Masterpieces Does Not Make You "Surface Level"
Oh, Ian — what was that all about, bro? Ian's off-color remarks about Kaitlyn being "surface level" and how sophomoric it is to make fart jokes and quote movies like Anchorman have earned him a pretty bad rap among fans. To be fair, Ian had been feeling stressed and neglected in the house, so let's try not to go too hard on the guy and his abominable tirade. I'm hoping that he watched Anchorman after his departure and will retract his remarks during Men Tell All.
Bromances Before Shomances
Of all the heartbreaking moments this season, did anything render a lump in your throat more than the breakup between bromantic Clint and JJ? I hope these two resolved their differences post-show and began a bromance worthy of Jimmy Fallon and Justin Timberlake.
Pull A Ben H. To Avoid Drama
While everyone was busy questioning each other's intentions and poised to go fisticuffs, my sweet darling, Ben H., spent the season sitting back as the picture of low-drama perfection. Although he didn't make it all the way to the end, Ben was such a powerful contender, he's earned the love of Bachelorette fans nationwide and even the high possibility of being the next Bachelor.
It's Hard To Date More Than One Person At A Time
Oomph. Not surprisingly, things have gotten heated between cast members this season — particularly when it comes to the rivalry between Nick Viall and Shawn B. Dating is hard enough as it is, but having to see the object of your desire being courted by multiple people for national television? It hasn't been easy for Kaitlyn either. As one who gets stressed dating one person at a time (sidebar: it's currently zero people — hey, fellas!), I can only imagine how she feels.
Love Comes Unexpectedly
Everyone (Shawn) got super pissed off when Nick basically crashed a party four episodes in to earn a place in the house. Listen, people — the heart wants what it wants. Just because Nick was a little late doesn't mean he deserved to be in the house any less than anyone else. I actually enjoyed the semi-serendipitous nature of Nick and Kaitlyn's love story, and clearly she did too. He's one of the frontrunners, after all.
Winning Isn't Everything
OK, I know Britt and Brady are officially dunzo, despite their relationship being the most adorable accompaniment to ending credits that television has seen. Still, the fact that Britt losing out on being this season's Bachelorette led her to a romance shows that winning really isn't everything. You know — one door closes and another opens, and all that jazz.
Want more Bachelorette? Bustle's app provides 24/7 coverage on ALL of the rose-colored ABC franchises. So download the app from iTunes for more articles, GIFs, and memes about this season and beyond. You'll enjoy it for all the right reasons.
Images: Rick Rowell/ABC (2); Giphy (6)