The 16 Sultriest Cherry Perfumes, From Tom Ford Lost Cherry To Snif Tart Deco
Fragrances to match your cherry cola lips.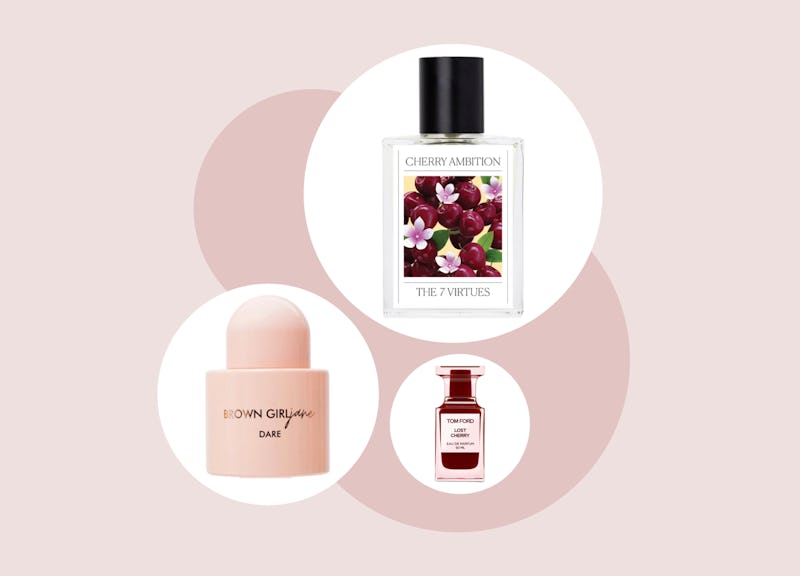 We may receive a portion of sales if you purchase a product through a link in this article.
Sweet and playful cherry motifs defined the summer of 2023, with both Hailey Bieber and Kourtney Kardashian Barker opting for adorable micro cherry nails.
In fact, searches for items in the bright red hue have been on the rise ever since a newly-pregnant Rihanna wore the color during her Superbowl performance. Now summer has ended, we're seeing a sexier and grungier take on the motif for fall — especially when it comes to new beauty and fragrance releases.
"Cherries go back to ancient civilization in Egypt," Barb Stegemann, founder of The 7 Virtues, tells Bustle. "Cherries were thought to be an enhancer for fertility and beauty."
We've already seen sensual "cherry coke" hair hues and "cherry cola lips" emerge as beauty trends this year, but now the cherry-craze is coming for your fragrance cabinet.
As well as representing feminine sensuality, the scent offers balanced harmony between warm gourmand notes and florals (like smooth sandalwood, creamy vanilla, or romantic rose), says Stegemann. What's more, the sumptuous ingredient can be expressed in both sweet and bitter ways, depending on the overall formulation of the fragrance.
Below, find 16 cherry-filled fragrances — from Tom Ford's luxurious Lost Cherry perfume to the newest drop from The 7 Virtues — to take you through fall 2023 and beyond.