Amazon's A League Of Their Own Series Unites The Good Place & Broad City Cast
On June 7, Amazon released the teaser trailer for its adaption of the 1992 classic film of the same name.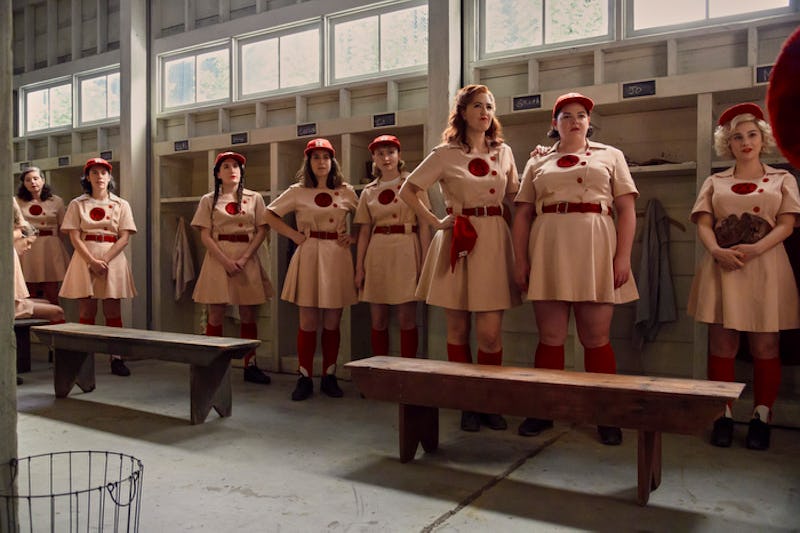 Prime Video
Sorry, Tom Hanks, but it's hard not to cry happy tears over the news that Amazon has ordered an A League of Their Own series from Broad City co-creator Abbi Jacobson and Mozart in the Jungle executive producer Will Graham. The streamer announced the news in August 2020 and revealed a cast photo featuring stars Jacobson, The Good Place's D'Arcy Carden, The Photograph's Chanté Adams, and BAFTA nominee Gbemisola Ikumelo. And to say they looked good would be an understatement. Finally, after nearly two years of waiting, fans are finally getting a sneak peek into the series and the fall release date.
The hour-long series is set to retain the spirit of director Penny Marshall's iconic 1992 film, while diving deeper into the story of '40s era women's baseball. Per the official press release, this will include taking "a deeper look at race and sexuality," and following an entirely new cast of characters. It makes sense to go in a new direction, especially since a major flaw in A League of Their Own has always been its lack of diversity. So, rather than retell the story of Dottie and Kit, the sisters played by Geena Davis and Lori Petty in the film, Jacobson and Graham have reimagined the story "for a new generation with new characters and their own fresh, modern vision on a timeless story of big dreams, friendship, love, and, of course, baseball." (The fact that one of those characters will be played by 2020 Emmy nominee Carden is reason enough to get excited.)
"It took grit, fire, authenticity, wild imagination and a crackling sense of humor for these players to achieve their dreams. We're hoping to bring audiences a story with all of those qualities," Jacobson and Graham said in a statement released by Amazon in August 2020. Here's everything else to know about the eight-episode Amazon Prime series A League of Their Own, including its release date, cast, and plot.
The A League Of Their Own Teaser Trailer & Release Date
After almost two years, the streamer finally released a teaser trailer for the series and the energy is everything you can expect from an all-women athlete series. Set to Stevie Nicks' "Edge of Seventeen," the 30-second compilation features clips of the cast batting, running, drinking, and locking eyes with palpable sexual tension. (Looking at you Jacobson and Carden.)
Along with the trailer, Amazon also set a release date and the wait won't be long now. The series will be available on the streaming platform on Aug. 12, but for anyone who wants to catch the series earlier, the show will be premiering at Tribeca Film Festival in New York on June 13.
The A League Of Their Own Plot
While the announcement didn't include any firm plot details, when the project was first announced in 2019, The Hollywood Reporter noted that the show would "begin with the formation of the league in 1943 and follow the Rockford Peaches season to season as they struggle to keep the team alive through close games, injuries, late night bar crawls, sexual awakenings, not crying, and road trips across a rapidly changing United States." It's unclear how much of the original concept made it into the pilot, but with Jacobson at the helm, the series is sure to be an authentic, funny, and raw look at the formation of the women's baseball league.
The A League Of Their Own Cast
The 1992 film made huge stars out of its ensemble cast comprised of Hanks, Davis, Petty, Madonna, and Ann Cusack. The Amazon series is following suit with a power cast, grouping together fan-favorites from various shows that dominated TV and streaming — from Suits to Parks and Recreation — in recent years.
Jacobson stars as Carson Shaw, a wife who upends her small-town farm life to follow her dream of becoming a baseball star. Playing her military husband, Charlie, who's been fighting overseas in WWII is Suits alum Patrick J. Adams. (Based on that teaser trailer though, he might have some competition when he gets back home.)
As for the Rockford Peaches team, the stars taking up bats and mitts are Carden who plays Greta, a globe-trotter "seeking new adventures and liaisons" per a Deadline report, and Adams and Ikumelo as talented BFFs Max and Clance. Rounding out the rest of the team are Kelly McCormack as Jess, Roberta Colindrez as Mita, and Priscilla Delgado as Esti, and Melanie Field as Jo. Finally, Rae Gray and Lil Frex will play Terri and Ana.
Meanwhile, playing the Peaches' coach is Parks and Rec alum Nick Offerman. He'll be playing Casey "Dove" Porter, the coach eyeing a career comback by coaching a winning team. Hanks formerly played the role of the women's coach, Jimmy Dugan.
Saidah Ekulona (Better Call Saul) plays Adams' onscreen mom, Toni Chapman, the "unofficial" mayor of their Illinois town who has different plans for her daughter.
Rosie O'Donnell, who played her star-making turn as Doris Murphy in the 1992 film, will be returning to the project. This time, she's set to guest star as a bartender at a local gay bar. In a July 2021 episode of Everything Iconic with Danny Pellegrino, she recalled the moment Jacobson sent her the pilot. "It was just really beautiful," she said on the podcast.
Kevin Dunn and Don Fanelli star as Morris and Alan Baker, the uncle and nephew duo who own and do the marketing for the baseball team, respectively. Fans of the 30-year-old classic will notice the Baker family name's significance — Cusack's character was named Shirley Baker. It's likely that it's just a subtle nod to her character but they could also be related to her somehow.
Kate Berlant (Once Upon A Time... In Hollywood), Nat Faxon (Married), Marquise Vilsón (Blindspot), Marinda Anderson (Gotham), and Nancy Lenehan (Catch Me If You Can) also join the cast. Kendall Johnson, Alex Désert, Aaron Jennings, Molly Ephraim, and Dale Dickey also join the huge ensemble cast.
Jacobson is best known for co-creating and starring in Comedy Central's Broad City, a series that was driven by a female friendship and the modern struggles of millennials trying to make it in New York City. If she can infuse that same energy and specificity into A League of Their Own, fans of the movie are sure to be in for something special.
This article was originally published on