A Full Timeline Of Noah Erb & Abigail Heringer's Relationship
Since reconciling after BiP Season 7, they've visited six states and met each other's parents.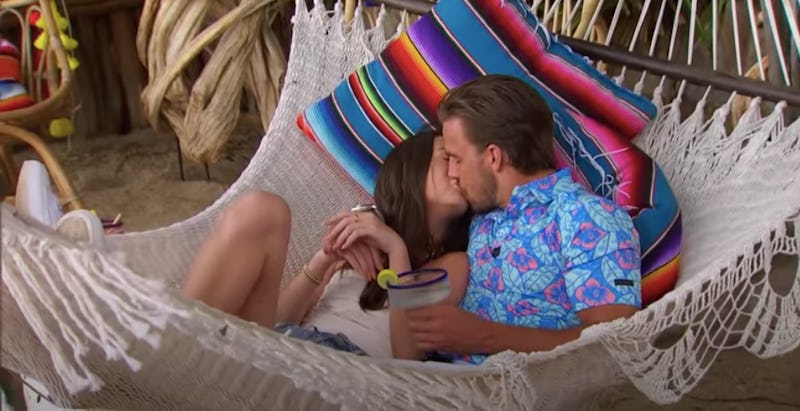 ABC
Season 7 of Bachelor in Paradise was proof that sometimes the show actually works. Though there was plenty of heartbreak along the way, five couples ultimately left the beach together. Some, like Joe and Serena, Maurissa and Riley, and Kenny and Mari, sealed their relationship by getting engaged. While others, like Abigail Heringer and Noah Erb, left Mexico single only to get back together after filming.
Abigail and Noah were one of the earliest couples to form in Season 7. They started out strong, sipping margaritas and hanging out in hammocks on the beach. But they later hit a few snags: Noah was confident in their connection while Abigail had trouble opening up, leading them to break up during a prom night party held during the penultimate episode of the season. The split didn't last long: after the finale aired, the two revealed on Instagram that they'd since worked things out and were happily dating. Here's a look back at their relationship.
June 2021: They Meet & Start Dating
Abigail was the very first person to arrive on Bachelor in Paradise Season 7, which aired in August but was filmed two months earlier in June. Noah was also among the first arrivals and went into the show hoping to meet Abigail. The two connected pretty immediately. On their first date, Abigail revealed that she takes several weeks to open up to romantic partners and often friend-zones people early on. Undeterred, Noah ensured that they shared a passionate kiss.
In the ensuing weeks, the two never seemed to waver from one another. In fact, it often seemed like Noah and Abigail were on their own show. They've poked fun at how "boring" their relationship appeared on TV, as they were often shown cuddling and drinking margaritas in a hammock while the rest of the cast hashed out drama.
June 2021: They Break Up
After three weeks of filming, Noah and Abigail split in the penultimate episode of BiP. Though there were moments when it seemed like they couldn't quite match each other's emotional needs, their breakup came as a surprise — particularly for Abigail, who said she felt "blindsided." Whereas Noah seemed to feel pretty certain about his feelings for Abigail, she was more hesitant to commit to a future with him, leading Noah to pull away. After he confessed he was falling in love and Abigail didn't respond, he took her aside for a conversation at the cast's prom party.
"I've been trying to force something that I want, when deep down I know that I've not found my person," Noah said before dumping Abigail. "I have these feelings for this girl and she's perfect in all these ways, but I don't know if she's perfect for me."
Abigail was completely shocked. "You go from telling someone you're falling in love with them the night before to this conversation," she told him, also accusing Noah of saying things he didn't mean and making "false promises." Noah then left the beach and Abigail returned to the party to let her friends know that she was leaving, too.
July 2021: They Get Back Together
There were hints long before Bachelor in Paradise aired that Abigail and Noah were still together. A Reddit user claimed in July that they'd overheard a phone conversation Abigail was having while walking around New York City in which she mentioned the words "Noah" and "my man" in the same sentence. Eagle-eyed viewers also spotted Abigail and Noah sporting similar-looking necklaces on Instagram.
Shortly after the BiP Season 7 finale aired on Oct. 5, the couple confirmed that they'd reconciled since filming. Abigail shared a romantic video on Instagram of her and Noah kissing under waterfalls, hiking, and goofing around together to the tune of Miley Cyrus' "Adore You."
Noah, for his part, uploaded a video of him and Abigail lip-syncing to "I Will Always Love You" by Whitney Houston before leaning in for a kiss. "@abigail_heringer, love you gale," he captioned the post on his Instagram Story. "Cute/embarrassing content coming tomorrow (I know you're asleep so you can't stop me)."
September 2021: They Attend Governors Ball
Bachelor alums love a good music festival, so it's no surprise that so many of them were at New York City's Governors Ball in late September. Both Abigail and Noah posted photos from the festival, though neither of their posts were of them together.
September 2021: Rumors Emerge About Abigail & Dale Moss
As speculation swirled that former Bachelorette Clare Crawley and her fiancé Dale Moss had once again called it quits, rumors also arose that Abigail and Dale had briefly dated at some point in his on and off relationship with Clare. Further fanning the flames, Clare posted a photo to Instagram addressing the speculation about her relationship in which Abigail was initially tagged. The tag was later removed, and it's unclear if Clare added the tag intentionally.
Around the same time, a source claimed to Us Weekly that Abigail and Dale had "hooked up" long before Paradise started filming and that Abigail was "under the impression that [Dale] and Clare weren't serious." However, another source said things never became romantic between the pair. "[Abigail and Dale] met once at flag football in New York City that a bunch of Bachelor people attended. Everyone went to a bar after, they did not sleep together. He never cheated on Clare."
Noah addressed the rumors in early October. In a video shared to his Instagram Stories, he commented that there was a lot of "interesting stuff swirling around" and joking that it must be "spooky season." Abigail could clearly be heard giggling in the background, apparently unfazed by the gossip.
October 2021: Abigail & Noah Tour The Country
Finally public with their relationship, Noah and Abigail spent October traveling around the U.S. They went to Kansas for the Tulsa state fair and attended a football game, then went to the West Coast. They visited San Diego before heading north through Oregon, where they stopped by a scenic bridge and saw a basketball game. Noah also revealed that they'd been to six states together and met each other's parents. "Still not sure if I'm out of the friendzone," he joked on Instagram.
Once back home, Noah accidentally crashed his car into his own house while kissing Abigail. "Just took Abigail out to a nice dinner ... It starts raining. The mood is getting right. We get to my house. I stop the car. I look at Abigail and think, 'Dang, she looks really pretty' so I start kissing her," Noah explained on his Instagram Stories. "Turns out I never put the car in park and I rolled right through my grass and hit my house."
Following that experience, the two ended the month by celebrating Halloween. Noah dressed up as Shaggy while Abigail went as and Scooby-Doo. They also carved some very impressive pumpkins.
This article was originally published on