Which Bachelor In Paradise Couples Got Engaged? Let's Discuss
The BiP finale is here, which means it's time to find out which couples made it to the end.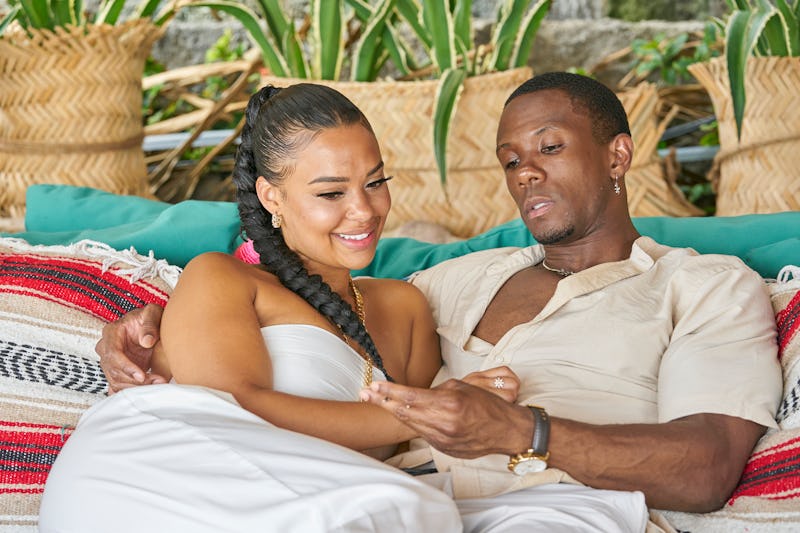 ABC/Craid Sjodin
Following several dramatic exits, one nude volleyball game, a few trips to the Boom Boom Room, and an emergency evacuation, Bachelor In Paradise is at the end of its seventh season. This means we can finally learn which couples stayed together, which ones broke up, and which ones left the beach with an engagement. Not everyone gets a Neil Lane ring, but they'll always have Mexico. Here's the status of all of the strongest couples following in Paradise finale.
Joe Amabile & Serena Pitt
Despite Joe's turbulent reunion with his ex Kendall Long, his relationship with Serena Pitt has been one of the season's strongest and most consistent. They coupled up almost immediately and stayed together even as new arrivals tested their connection. Ultimately, the couple told each other they were falling in love, which is typically a big precursor for an engagement on the show.
They had a few things working in their favor. Though distance was a major factor in Joe's breakup with Kendall, Serena — who's based in Toronto — didn't balk at the idea of living in Chicago when he brought up the topic. Plus, the flight between Chicago and Toronto is significantly shorter than the flight between Chicago and Los Angeles, where Kendall lives.
Since filming ended, Joe and Serena have dropped a few vague hints that they're still together, sharing Instagram photos doing the same activities in what appear to be the same places.
Before the couple could actually begin their engagement ceremony, Joe was approached by Kendall, who returned to the beach to speak with Joe one last time. Instead of looking for closure, the former couple said one final goodbye, admitting they'd always have a place in one another's hearts. Joe then took some time to contemplatively walk on the beach, allowing the three-hour episode to pad its runtime.
Once Serena finally arrived, it was clear the couple was ready for the next step. During her speech, Serena told Joe, "Joe, I'm head over heels in love with you, and I fall more in love with you every single day." Joe then told Serena, "In all honesty, I really didn't think I'd fall in love again," adding, "I don't see myself wanting to wake up with you not by my side." He finished by saying, "When I think about forever, it's scary, but with you, it feels right," putting a bow and a ring on their journey in Paradise.
Kenny Braasch & Mari Pepin
Kenny and Mari seemed to have one of the more instant connections this season. Despite the love triangle that formed with Demi — and then also Tia — Mari and Kenny always found a way to solidify their relationship, whether with a conversation or eating food off one another. Earlier in the season, the two admitted that they'd be happy leaving the beach together, which seemed to fall in line with a massive clue spotted in the season's trailer. In it, you could visibly see someone proposing while wearing a necklace that looks exactly like the one Kenny had been wearing all season.
These two didn't run into any difficulties during the finale. Once the episode was underway, it seemed like they were on track toward an engagement. During their ceremony, the couple mentioned the quickness with which they fell for each other, alluding to love at first sight. Ultimately, Mari told Kenny that she felt like "the luckiest woman in the world," to which Kenny responded, "You've changed my whole outlook on life."
Riley Christian & Maurissa Gunn
It's typically a good sign when you're comfortable enough with your partner to lick whipped cream off of their toes. Since getting together early on in the season, Riley and Maurissa have been hot and heavy, rarely showing signs of slowing down. They curiously don't follow each other on social media, but Maurissa did post on Instagram about her date with Riley during the season, calling it the "best first date ever." Meanwhile, Riley took to his Instagram stories to defend Maurissa after viewers slut-shamed her for sleeping with him on their first date. Ultimately, it appears the duo was just playing coy about their relationship. During the finale, Riley told Maurissa about a "Sunday morning" dream he had for his future, painting a beautiful picture of what their life could look like.
The morning of their ceremony, Riley told Maurissa that he didn't ultimately know if he was ready to propose. However, once the time came to get down on one knee, the couple seemed stronger than ever. Maurissa told Riley, "You make me feel safe, and you make me feel protected," adding, "The more that I run, the more that you stay, and the more I fall in love with you." Confident in their relationship, Riley responded, "I love you, and I've loved you since our very first date," before the couple sealed the deal with a ring. And to reinforce that they're still together, Maurissa posted an Instagram Story with Riley during the finale, showing off her engagement ring.
Despite having the largest cast in the show's history, Season 7 of Paradise managed to produce just three engagements. While the number may seem small, the three relationships could serve as proof that the process works, as long as there's some sun, sand, and whipped cream involved.
This article was originally published on