Bachelor In Paradise Couple Riley & Maurissa Have Broken Up
"Never did we imagine this, but we've come to a point where we both need to work on ourselves."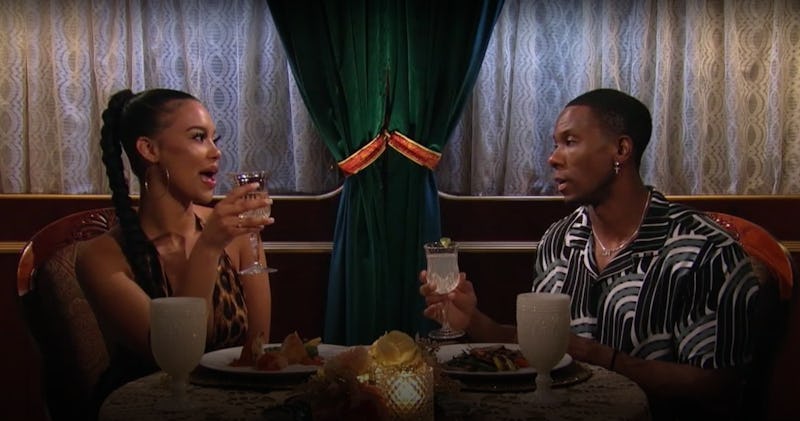 ABC/screenshot
Bachelor in Paradise couple Riley Christian and Maurissa Gunn have called it quits.
In a statement to People, Riley, 32, and Maurissa, 25, announced their split four months after viewers watched them get engaged on the reality series. "We have decided to go our separate ways. Never did we imagine this, but we've come to a point where we both need to work on ourselves," the two said in a joint statement, noting they broke up several weeks ago. "We've appreciated everyone's love and support so far throughout our journey and we just ask that you please respect our privacy as we navigate through this."
Riley and Maurissa were one of three couples who left the show's seventh season engaged, joining Joe Amabile and Serena Pitt and Kenny Braasch and Mari Pepin. They were also the first Black couple to ever get engaged on the Bachelor franchise.
The two's connection on the series was pretty immediate. After Riley arrived on the beach, he took Maurissa on a Fear Factor-like one-on-one date where they linked arms while feeding each other tongue and tripe. Despite the awkward start to the "meal," their relationship progressed quickly. In an intimate moment, Maurissa opened up about her previous struggles with body image. Riley responded by calling her "beautiful," and the two ended the date by hooking up in the notorious Boom Boom Room.
That wasn't the couple's only memorable moment involving something edible. During the Sept. 14 episode, they each licked whipped cream off of each other. Maurissa — god bless her — licked the topping off of Riley's toe on the daybed in front of everyone. Wells, who was watching with the rest of the cast, said it best: "If you can suck on a toe, you can get engaged at the end of this thing."
Throughout the season, Riley and Maurissa acted as a unit, sharing similar thoughts regarding the situations of other heartbroken contestants. During the Sept. 6 episode, they both came to Natasha Parker's defense after Brendan Morais dumped her for Pieper James, who he was apparently already seeing prior to the show. During the following episode, they rallied behind another castmate, Jessenia Cruz, who was cast aside by Chris Conran for new entrant Alana Milne.
By the Sept. 21 episode, Riley and Maurissa hit another milestone: They confessed they were falling in love with each other. It happened after Maurissa asked for validation and Riley, who tearfully opened up about his complicated family history.
In the season finale, the pair agreed to continue their relationship and go to the Fantasy Suite, where Riley shared the elaborate dream he's had since he was 21 about waking up on Sunday mornings with his wife and kids. "When I see you, I see Sunday morning," he told her before confessing, "I know for certain that I love you." Maurissa happily reciprocated.
The following morning, the two got engaged. "My life has been full of letdowns and broken promises until I met you," Maurissa told him. "Today I know I wanna make you mine forever." Responding coyly, Riley said, "I've loved you since our very first day but I just need to be sure," before getting down on one knee. After the finale, Maurissa posted a video with Riley and showed off her ring on her Instagram Story.
After their engagement, the two regularly posted photos and videos together on social media. On Oct. 9, Riley celebrated that they were finally "out of hiding" via an Instagram Reel. And in October, he even brought Maurissa to Michigan to meet his mom and show her around his hometown of Detroit.
Up until Dec. 29, they seemed to be going strong, and Riley was still posting pictures of them together — including Christmas pics by the tree in matching pajamas.
Now, Riley still has traces of their relationship on social media, but Maurissa's Instagram account no longer has any photos with Riley.
This article was originally published on