Everything To Know About The New Bachelor, Clayton Echard
Fans already met the Eureka, Missouri native and his dimples on Michelle Young's season of The Bachelorette.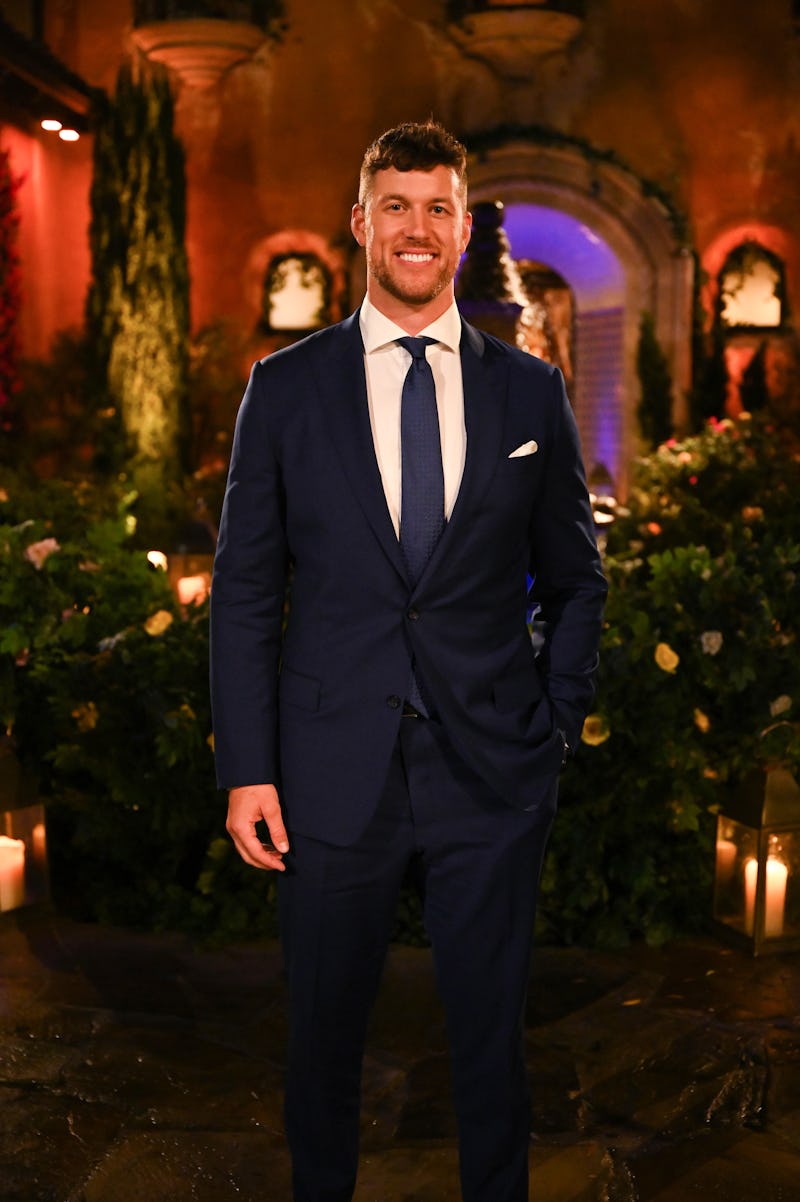 John Fleenor/ABC
Bachelor Nation, meet the man who will lead Season 26 of The Bachelor: Clayton Echard. Following leaked photos of Echard with a camera crew published by E! News in September 2021, both ABC and Warner Bros. officially confirmed his leading role on Nov. 30. If you need a refresher, you've already met him — he emerged from the limo with a wooden yardstick during the premiere of Michelle Young's season of The Bachelorette. Yes, the one who asked Young for a spanking as "punishment." (A teacher innuendo to relate to the fifth-grade educator.) Echard later earned her students' respect during a hometown visit, and while it wasn't enough for him to make her final four, he'll get another shot at love when his season of The Bachelor premieres Jan. 3 on ABC.
Speaking to Us Weekly in September, ahead of his casting announcement, a source claimed that Echard "stood out right off the bat" among other potential leading men. "Producers ended up going with him because they believed he was the best fit for the role," said the insider. "They wanted to switch things up and go with someone new and someone who hasn't been in the spotlight yet." The same month, St. Louis, Missouri's Fox affiliate aired an interview conducted with Echard as a crowd formed around the reported next Bachelor, who was filming with a camera crew. "I'm excited," he said. "I'm also very, very nervous, and I'm looking to find my person."
The reveal of Echard as the new Bachelor initially prompted lukewarm reception from fans, who didn't get to know him very well in his short run on Young's Bachelorette season. After acknowledging the backlash in a promotional video, he said: "I really hope that people just do give me a shot because my journey is authentic." Echard's journey also seems to have been successful, as he hinted during a Dec. 1 interview on Good Morning America that his Bachelor season will end in romance. "I did find love, and I was a little skeptical going into the whole journey," he said. "But I'm so pleasantly surprised that things worked out much different than what I had thought." From his Instagram account to his hometown, job, and more, here's everything we know about Clayton Echard.
Clayton Echard's Instagram
Echard's Instagram account is public and already boasts more than 120,000 followers (a nearly 100,000-increase from before the season started). The 28-year-old Bachelor's grid features photos of him frequently hitting the gym, posing with his family, and hanging with friends outdoors on boats, at beaches, or out hiking.
Clayton Echard's Hometown
Echard is originally from Eureka, Missouri, where he attended Eureka High School. Earlier this month, he returned to his hometown and was spotted filming with a production crew. St. Louis' Fox affiliate reported that ABC paid for a banner to be displayed in downtown Eureka that read, "Go find love Clayton!"
During a Sept. 16 news segment aired on Fox 2 Now, fellow Eureka native Miranda Schaeffer spoke of Echard and claimed that he dated her older sister. "Those dang dimples. I mean, those dimples will blow any girl out of the water," she said. "When he got this, I was like, 'This is very well deserving and a really good highlight for our community.'"
New Bachelor Clayton Echard's Job
According to Echard's Instagram bio, he's a "former freestyle rapper and washed-up athlete now trying his luck in orthopaedic sales." More specifically, his LinkedIn page reveals that he currently works as a Sales Representative for Stryker Orthopaedics, where he's been employed since 2016.
Prior to his current position, Echard tried his hand as a professional football player. After playing tight-end at the University of Missouri-Columbia, he was signed by the Seattle Seahawks in July 2016 and cut from the team just over one month later, per Entertainment Weekly. "After outperforming four other tight ends on a tryout basis with the Seattle Seahawks, I signed on as a free agent," wrote Echard on LinkedIn. "While there, I practiced daily with the team and played in four preseason games. I made it past the first round of cuts, however, I was not able to make the final roster. Nonetheless, it was a unique experience that I was blessed to be a part of."
As for his freestyle rap career, it's unclear how seriously he pursued it. In March 2019, he posted what appears to be artwork for a forthcoming mixtape titled Welcome to the Life of Claydoe. However, based on the comments — "This is very bad," "Stay in middle school," and "This gave me several hernias" — it seems Echard was joking. Perhaps we'll hear his freestyle skills on Season 26 of The Bachelor.
Though the knowledge that he won't succeed on Young's season is disheartening, it already looks like he'll be a promising Bachelor. In a recent interview with Entertainment Tonight, Tayshia Adams said she thinks Echard would make "a great Bachelor." "He was someone that really had fun with all of the dates. I think if it is him, you're in for a little treat," the Bachelorette co-host promised.
As for the Bachelorette herself, Young called Echard a "very genuine person" in an interview with Extra, adding, "I got to learn a lot about him, and I'm excited for you and everyone else to learn about him." With the 26th season of The Bachelor set to premiere on Jan. 3, returning to its weekly Mondays time slot, it's already shaping up to be an exciting season.
This article was originally published on