Belgravia's Hotly-Awaited Sequel The Next Chapter Will Have A Major Twist
Julian Fellowes is shaking things up for the audience.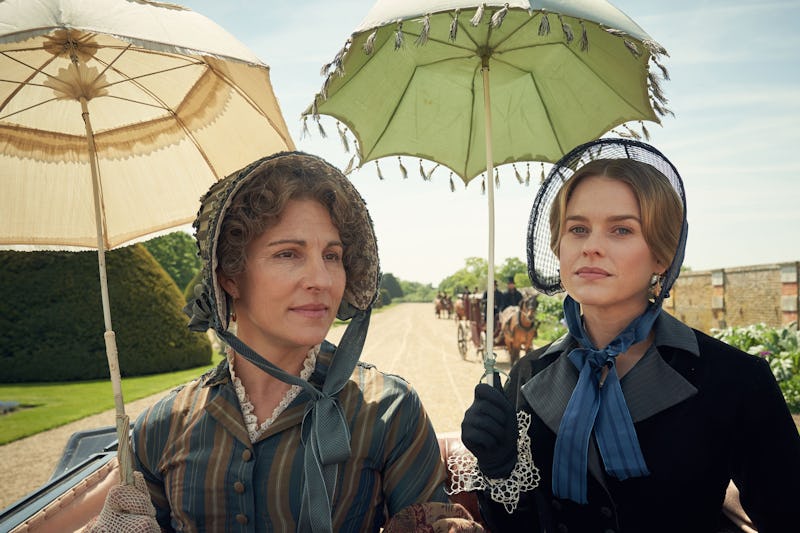 Prime Video
Created by Julian Fellowes, the man behind Downton Abbey, and based on his 2016 book of the same name, Belgravia chronicled the lives of two aristocratic families in the 19th century. American network Epix greenlit a second season in September 2022 titled Belgravia: The Next Chapter, revealing that it would be set three decades after the first season and feature a brand new cast. On March 8, 2023, the cast list was finally announced, with Harriet Slater and Ben Wainwright playing the show's lead characters, Clara and Frederick Trenchard. So here's everything we know so far about Belgravia: The Next Chapter.
Belgravia: The Next Chapter Plot
Written and developed by playwright and screenwriter Helen Edmundson, Belgravia: The Next Chapter takes place in 1871 and will "tell the love story of Frederick Trenchard, who has grown up as the third Lord Glanville, and his new love interest, Clara Dunn, who is a newcomer to London society," per the synopsis. "Unaware that his birth was the product of an affair between his mother Susan and the scoundrel John Bellasis, a troubled childhood has left Frederick deeply insecure, which challenges the courtship of and marriage to Clara."
Clara realises her marriage "will not be as smooth as she first thought and is something to fight for," but faces a challenge in loyalty when the young Dr. Stephen Ellerby becomes captivated by her. The couple faces even more drama when Frederick's estranged brother James arrives on the scene, in addition to the jealousy from Clara's older sister Emily regarding Clara and Frederick's seemingly happy marriage. Belgravia: The Next Chapter will also focus on the exploits of the "glamorous and highly unconventional" Marquise D'Étagnac and the Duchess of Rochester, otherwise known as "the queen of Belgravia."
Belgravia: The Next Chapter Cast
Belgravia: The Next Chapter features a brand new cast, starring Pennyworth's Harriet Slater as Clara, Volkov's Ben Wainwright as Frederick, Persuasion's Edward Bluemel as Dr. Stephen Ellerby, Emily In Paris' Claude Perron as The Marquise D'Étagnac, and A Discovery Of Witches' Elaine Cassidy as Clara's lady's maid Davison.
The cast is joined by Fantastic Beasts: The Crimes of Grindelwald's Toby Regbo as Rev. James Trenchard, This Is Going To Hurt's Hannah Onslow as Emily Dunn, Feel Good's Sophie Thompson as Mrs. Dunn and Sanditon's Sophie Winkleman as the Duchess of Rochester.
Belgravia: The Next Chapter Release Date
Filming is currently underway for Belgravia: The Next Chapter, according to Epix, and is slated for release in Winter 2023. ITV picked up the first season to air in the UK, but it's unclear whether this will be the case for the second season.