10 Flawless Jennifer Coolidge Roles That Belong In The Hollywood Hall Of Fame
Because the fact this woman only has one Golden Globe is truly an outrage.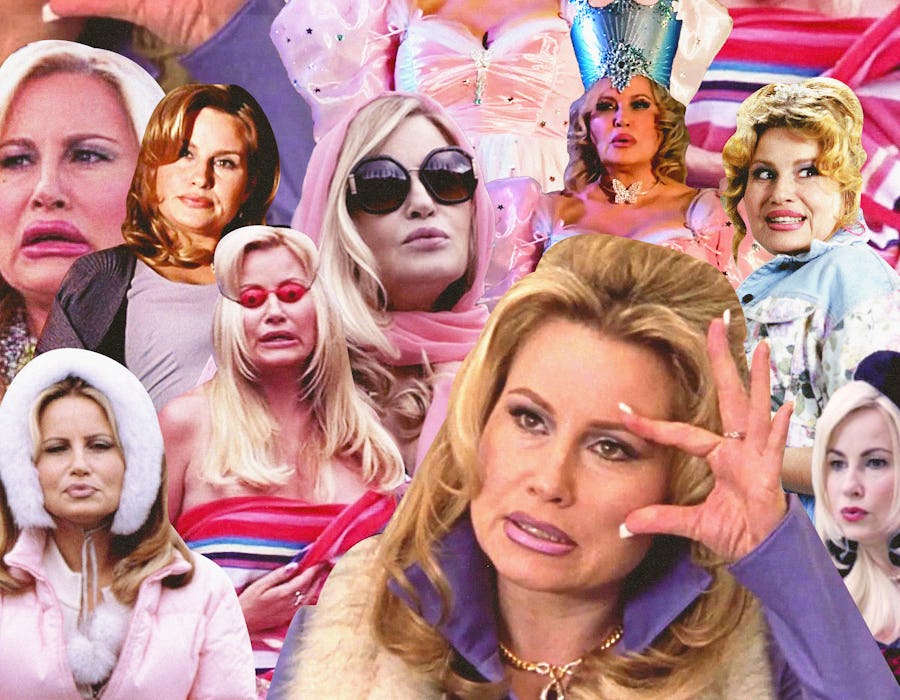 Jennifer Coolidge has a very rare quality as a comedic actor. Even when she's playing ridiculous, vacuous women who talk in bungled truisms, it's very easy to believe that all of her characters carry on living out strange, fascinating lives the minute they exit the scene. No matter how small the part, no matter how cringe the rest of the film, Coolidge's character is always the person we're desperate to get to know better.
And yet, despite this, it's taken decades for Coolidge's talents to be recognised amongst the Hollywood elite. She only bagged her first Golden Globe in 2023 for her scene-stealing portrayal of Tanya in The White Lotus. Alongside her best-known comedy roles, from the world's most infamous MILF Stifler's Mom or Legally Blonde's charmingly awkward nail salon owner Paulette, she's also a longstanding collaborator of the mockumentary king Christopher Guest, and landed herself a handful or promising roles in shows early in her career only to see them axed after just a season or two.
While it's true that some of Coolidge's characters can feel like caricatures on the surface level, there's always something darker simmering away within them. Tanya McQuoid isn't just a deluded rich person. She's lost, struggling to find her way back to a location we can never quite pin down. Fiona, Coolidge's answer to Cinderella's evil stepmother in A Cinderella Story, happens to be an insufferable cow, but she's also desperately lonely and riddled with misdirected anger after the sudden death of her late husband Hal.
In other words, it's about time the comedy icon got her dues. From her White Lotus breakthrough to early roles that never quite took off in the way that they deserved to, here's a look back at Jennifer Coolidge's greatest (and campest) roles to date.
10. Bagitta, She TV (1994)
A leading role in the short-lived sketch show She TV (a sort of U.S predecessor to Smack The Pony featuring dozens of surreal, subtly feminist comedy sketches) followed her first role in Seinfeld. Coolidge has so many brilliant roles on the show, ranging from one of Beavis and Butthead's lesbian mums to a 'Femorrhoid cream' saleswoman. But her overzealous chat show host Bagitta interviewing then-vice president Al Gore has to be her finest moment on the show.
9. Amanda Buffamonteezi, Friends (2003)
Chances are most people have at least one distant acquaintance who's just like Phoebe and Monica's overbearing old housemate Amanda Buffamonteezi. Every single time you cross paths, giddy promises to meet up for coffee are made and then forgotten as swiftly as possible. In Friends, meanwhile, the ill-fated coffee meeting actually goes ahead, and during the course of their awkward reunion it emerges that Yonkers-raised Amanda has developed her own dodgy version of a British accent, along with invented expressions like "I feel like a perfect arse."
Amanda then winds up making an even bigger perfect arse of herself when she dishes the dirt on Phoebe's historic plan to cut "controlling" Monica out of her life. Cue Coolidge's trademark brand of mayhem.
8. Whitney Taylor Brown, For Your Consideration (2006)
Reuniting with her frequent collaborator Guest for his Oscars-themed mockumentary For Your Consideration, Coolidge's diaper-heiress-turned-film-producer Whitney Taylor Brown has a habit of quietly stealing every single scene she appears in. When a studio exec (played by Ricky Gervais) asks what sort of restaurants she likes, Whitney stutters that she likes "Latitian" food. "You know… it's Latin restaurants, but I don't know the word," she elaborates. "For people who speak Latin."
In her best scene of all, she becomes angry that she's not the centre of attention. "BUT WHAT ABOUT ME!!!" she yells in the middle of one mostly improvised scene, as everybody around her flaps about how on earth they're going to get their ill-fated project over the line. Iconic, TBH.
7. Victoria, Sex And The City (2003)
In a year filled with surprise appearances, Coolidge made one of the most memorable cameos of all time in Sex And The City, playing the hilariously heartbroken Victoria. After getting brutally dumped, Victoria throws all of her energy and passion into hosting a high-stakes "purse party" featuring tuna tartlets and astonishingly ugly hand-designed handbags emblazoned with anything she can feasibly attach with a glue gun.
In typical Coolidge fashion, her portrayal of a very desperate Victoria makes it clear that a huge amount of her own self worth is riding on the night being successful. Sadly, she hasn't accounted for the force that is Samantha Jones, who brings the party to an awkward close after reuniting with former flame, waiter Jerry 'Smith' Jerrod, in highly audible fashion. "I'm way too f**king fragile to see this!" Victoria roars when she discovers their secret tryst in a backroom. Gold.
6. Aunt Sandy, Single All The Way (2021)
A deliciously cheesy pick, gay festive rom-com Single All The Way ticks off every single trope in the book – and, admittedly, that's a large part of the fun. While the film often deliberately reaches towards camp and falls very short (to quote Susan Sontag, true camp is "a seriousness that fails"), Coolidge skewers it completely with Aunt Sandy, an incredibly earnest relative who carries herself with the gravitas of a critically-acclaimed playwright despite only directing children's nativities. "All the world's a stage, and most of us are desperately under-rehearsed," she declares grandly at one point, beautifully misquoting Shakespeare's As You Like It.
"It's not because the gays know theatre," she muses elsewhere. "It's because the gays just know how to do stuff, y'know? I mean, they're survivors. For some reason, they're always obsessed with me. I don't know why," she ponders. The line (which is surely designed to be a metaphorical wink to camera) ends, "But I like it."
5. Paulette Bonafonté, Legally Blonde (2001)
The polar opposite to Stifler's Mom (more on her very shortly) Legally Blonde's resident nail salon owner Paulette Bonafonté is clumsy and awkward around delivery men she finds attractive, and also has some of the best scenes in the legendary rom-com. When Elle Woods patiently teaches her the 'bend-and-snap' move in order to subtly seduce her crush, or helps to fight for custody of Paulette's beloved pooch Rufus, you best believe that every single person at home is rooting for her.
Years later, Ariana Grande reminded people of the character's brilliance by casting Coolidge in her video for "Thank U, Next" — which the actor now credits with reviving her acting career.
4. Jeanine Stifler, American Pie (1999)
Though Stifler's Mom wasn't technically the original MILF (American Pie screenwriter Adam Hanz admitted this year that he didn't actually invent the acronym), she's certainly the reason why most people know the slightly Freudian term for a mum I'd like to… well, you can guess the rest.
A glamorous divorcee who loves an ice-cold tumbler of scotch on the rocks ("aged 18 years," she quips, "the way I like it"), Coolidge's character in American Pie is surely one of her most famous. The actor later made headlines when she said that this breakthrough role had opened the doors to an awful lot of "sexual action."
"God, you really can't make jokes in our town," she later said in a joint interview with her pal Ariana Grande, "Because I did make the terrible mistake of saying, 'Thank God for that movie, I got to sleep with 200 men,' or whatever. And look, I would love to say that was true, but I mean, that was sort of an exaggeration."
3. Fiona Montgomery, A Cinderella Story (2004)
The fuzzy-hearted fairytale reboot that is A Cinderella Story has become something of a cult classic because of its cheesier elements. In the midst of all of this, Coolidge perfectly nailed the brief when it came to playing Sam's evil step-mother Fiona — a low-stakes-evil, half-tragic villain who has a permanently deadpan expression thanks to countless rounds of botox.
In one interaction with Sam, Fiona is using a sun bed in the garden for no apparent reason and forgets to take her tanning goggles off as she informs Sam that she's "not very pretty or bright." Her best moment, though, is when she starts demanding Scandinavian salmon for breakfast. "You know it costs a fortune to fly that stuff in from Norwegia…" she says, before turning her attention to the lawn sprinklers. "Droughts are for poor people…" she ponders, "people who use extra water have extra class."
2. Sherri Ann Cabot, Best In Show (2000)
Perhaps it's no surprise that Coolidge and Guest are a creative match made in comedy heaven given JC's background in all things improv comedy. A former member of improvisational troupe The Groundlings, which also counts Will Ferrell, Melissa McCarthy, and Kristen Wiig as alumni, many of her greatest one-liners are totally non-scripted.
That talent for reducing audiences to tears of laughter with off-the-cuff quiffs is undoubtedly why Coolidge is so unstoppable as Sherri Ann Cabot in Best In Show — a millionaire and trophy wife to wealthy older husband Leslie. Over the course of training her poodle for victory ahead of the prestigious Mayflower Kennel Club Dog Show, Sherri ends up falling in love with her dog handler Christy Cummings, and the go on to launch a magazine called 'American B**ch' aimed at lesbian pure-bred dog owners.
1. Tanya McQuoid, White Lotus (2021)
Selfish, wistful, and tragi-comic all at the same time, it's easy to see why Coolidge's turn as The White Lotus' Tanya McQuoid has kickstarted a renaissance of appreciation for her actorly talents. Originally, Tanya ends up at the first series' luxurious Hawaii hotel with the intention of scattering her mother's ashes into the ocean, but when it comes to crunch time, the process reminds her too much of shoving handfuls of fish food into a tank. Plus, she's quickly distracted by the prospect of going into business with a hotel spa worker, as well as the attentions of her corridor neighbour Greg.
Helplessly insecure, Tanya enlists psychics, obnoxious honeymooners, and an increasingly irritated massage therapist Belinda to help her navigate the emotional turmoil — and delivers plenty of breathy one-liners and brilliantly subtle physical comedy along the way. Watching Coolidge nonchalantly strolling half-out of sight before sprinting along the side of a yacht has to be up there, but everyone already knows her most iconic line of all. "These gays, I think they're trying to murder me!"