Bridgerton's Phoebe Dynevor Cried "7 Times" After Returning To The Set For Season 2
"Just seeing everyone again, I mean, half their faces for the most part [because of masks]. It was just so nice."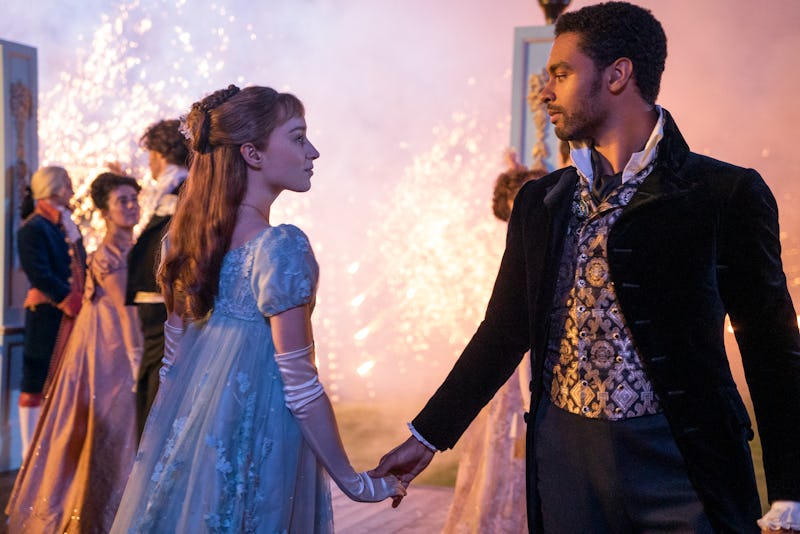 LIAM DANIEL/NETFLIX
When Phoebe Dynevor stepped foot again on the immaculately designed Regency period set of Netflix's Bridgerton to begin filming the show's upcoming second season, the tears just wouldn't stop flowing. The Duchess of Hastings herself visited The Tonight Show Starring Jimmy Fallon on June 8 and confirmed that she is currently in the process of filming the beloved period piece's much-talked about second season. "I've had three days on set," said Dynevor, who plays Daphne Bridgerton. "It's so nice to be back. It's such a nice feeling. It's the best."
But upon returning to set, Dynevor revealed that she was unable to stop crying because of just how much Bridgerton had personally changed her life. "I cried like seven times when I came back, because so much had happened since the first season," Dynevor said. "Obviously COVID and the show coming out and just seeing everyone again, I mean, half their faces for the most part. It was just so nice."
Despite previously playing the lead role opposite Regé-Jean Page in Season 1, Dynevor's character is set to play a smaller role in the upcoming season with Page no longer in attendance beside her. This is because the show's spotlight will instead swing from Simon and Daphne's fiery relationship in favor of focusing on Daphne's older brother Anthony Bridgerton, played by Jonathan Bailey, and his "exciting, convoluted, and sexier" journey to find his future Viscountess.
Dynevor also revealed that, prior to being offered the role of Daphne, she had already booked a flight home from Los Angeles back to England with the idea of giving up on her acting career entirely. "I'd been living in L.A. for about nine months and I was kind of at that point where I was ready to go home, throw in the towel, and see the fam for a bit," she admitted.
In fact, when she was asked to read for the role alongside her future co-star Page, Dynevor's initial thoughts were about the agony of having to pay to change her plane ticket. "I was like, 'oh god, that's annoying because I've got to move my flight. So I hope it pays off,'" she said. "Then the next day they were like, 'Netflix will pay for your flight back to London, because you've gotta be in rehearsals on Monday.' So it did pay off!"
Speaking with Fallon about the show, Dynevor explained what she believes makes Bridgerton so special: its focus on multiple different love stories. "The special thing about Bridgerton, that I think not a lot of shows really do, is that every season centers around a different love story," she explained. "So Season 2 is centered around Antony, my older brother, and his sort of coming out into the season and finding a match, hopefully. Every story centers around a different relationship."
Fans of the series, including Kim Kardashian, were outraged earlier this year after learning Page would not return for the show's second season and that it would instead center on Anthony's search for love. The decision to focus on a new relationship, however, is a decision that comes straight from the Julia Quinn novels which the series is adapted from.
Dynevor shared that she's looking forward to watching the second season when it's released. "I'm just really excited to watch the show as [a member of the] audience and see what it has in store for him," she said.