A Schitt's Creek Meme Involving The Royal Family Caught Dan Levy's Attention
David and Alexis Rose are sibling royalty after all.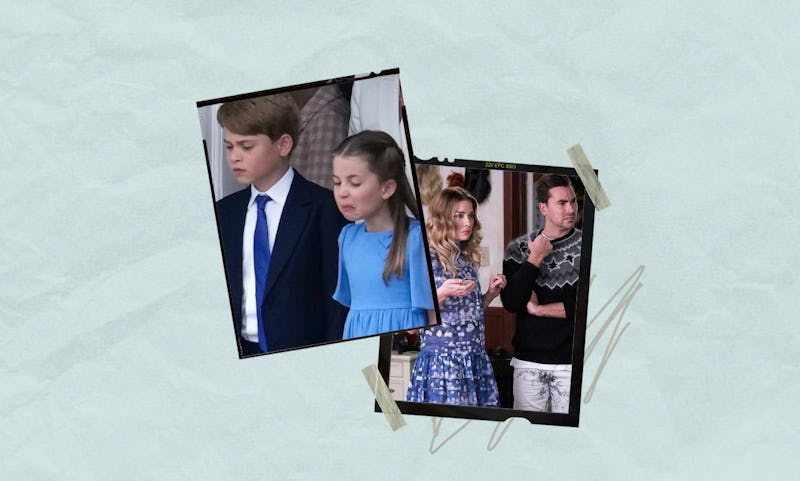 WPA Pool/Getty Images Entertainment/Comedy Central
There was no shortage of meme-worthy moments from Queen Elizabeth II's Platinum Jubilee Weekend — especially from the royal children. Beginning with the Trooping the Color, Prince George, Prince Charlotte, and Prince Louis stole the show with hilarious reactions.
As writer and comedian Rohita Kadambi pointed out in a viral meme, one such reaction from George and Charlotte while they were looking down at the annual military parade was reminiscent of another pair of sibling royalty of sorts: David and Alexis Rose of Schitt's Creek. "They are them," Kadambi wrote in a tweet, featuring a side-by-side photo of the sibling pairs looking similarly bemused. After being published June 3, the tweet has amassed more than 140,000 likes and nearly 9,000 retweets. Schitt's Creek star and creator Dan Levy even endorsed the resemblance, liking and quote-tweeting the tweet with "Lol" on June 5.
For Kadambi, the viral moment was actually more than a year in the making. As she tells Bustle, she originally tweeted out the joke during Meghan Markle and Prince Harry's interview with Oprah in Spring 2021. "Prince George and Princess Charlotte after the monarchy is abolished," she captioned a photo of David and Alexis — only then, she didn't have the perfect comparison photo of the young royals to go along with it. "After I saw the image of The Cambridge children on the Buckingham Palace Balcony at the Platinum Jubilee, I thought it would be a great opportunity to re-do the joke with a side-by-side photo," she explains.
Once the moment arrived, Kadambi — who supports abolishing the monarchy altogether — shared her now-Levy-approved meme. "I used David and Alexis to highlight the fact that they are lovely people who grew beyond the people they were when wealth and status ruled their lives," she says. "I hope that the Cambridges have an opportunity to grow up to become as charismatic, fun, and eventually grounded as David and Alexis Rose."
For the Schitt's Creek star's part, it's not the first time he has been linked to the royal family. For starters, his Twitter cover photo is a snap of Queen Elizabeth II seemingly making a hilarious "yikes" face. Incidentally, he's also made friends with two actors who have recently portrayed Princess Diana: Spencer's Kristen Stewart and The Crown's Emma Corrin, who told W Magazine last year that Levy had given her some helpful words of wisdom at a dinner. "He's a gem. He's the wisest, kindest, funniest person, and I didn't want it to end," she said. "I feel like we could have talked forever. It was really nice."