Everything To Know About The 2023 Grammy Awards
While some nominees may skip the event, Adele and Harry Styles have confirmed they're going.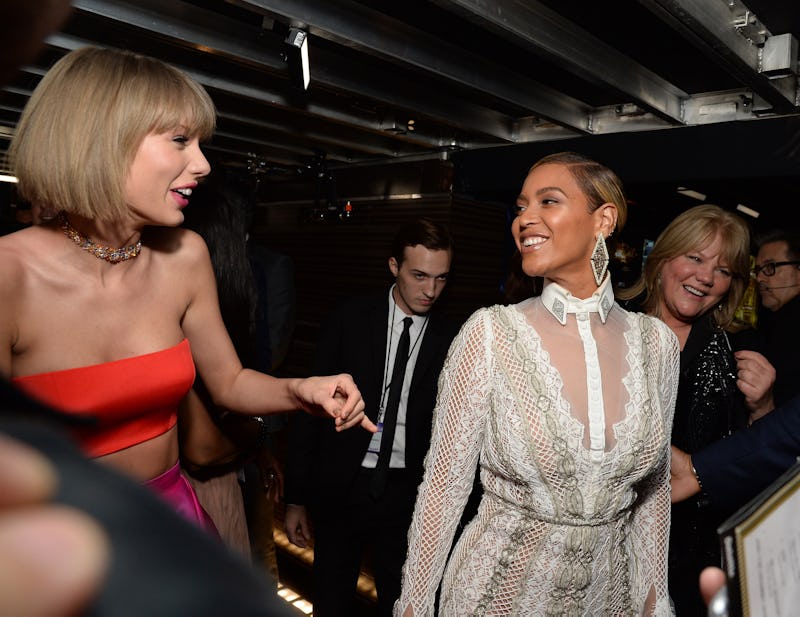 Michael Kovac/WireImage/Getty Images
Music's biggest night may have to go on without music's biggest superstars. The 65th Grammy Awards will air on Feb. 5, and a slew of A-list performers and presenters are set to grace the stage. If recent reports are any indication, some of this year's most notable nominees and frequent Grammy attendees may not even attend the ceremony, let alone perform onstage. However, it looks like producers are doing everything they can to guarantee their presence on Grammys night.
Beyoncé is the most nominated artist this year with an impressive nine nods, including Album of the Year for Renaissance and Record and Song of the Year for "Break My Soul." She will again face off against Adele, who received seven nods, including the Big Three categories for 30 and "Easy On Me," respectively. The British singer controversially won those three awards with her previous album 25 and its lead single "Hello" over Bey's critically acclaimed Lemonade.
Kendrick Lamar trails behind Bey with eight nominations, while Brandi Carlile ties with Adele for seven nods. All four artists will compete for the night's biggest prize, Album of the Year, along with ABBA, Bad Bunny, Mary J. Blige, Coldplay, Lizzo, and Styles. Other notable nominees include Taylor Swift's "All Too Well (10-Minute Version)" for Song of the Year.
The 2023 Grammys will air live on CBS and stream on Paramount+ at 8 p.m ET/5 p.m. PT on Feb. 5. The ceremony will return to its usual home at Los Angeles' Crypto.com Arena (better known as the former Staples Center) after two years away from the venue. Trevor Noah will host the ceremony for the third year in a row, after pulling off two shows that were delayed.
Here's everything you need to know about the 2023 Grammy Awards.
Who Will Perform At The 2023 Grammys?
Bad Bunny
Mary J. Blige
Brandi Carlile
Luke Combs
Steve Lacy
Lizzo
Sam Smith with Kim Petras
Harry Styles
On Jan. 26, Hits Daily Double reported that Jay-Z was likely to be on the lineup, probably performing with DJ Khaled given how their collaboration is nominated for Song of the Year. The Grammys have confirmed that additional performers will be announced in the coming days.
Who Will Present At The 2023 Grammys?
First Lady Jill Biden
Cardi B
James Corden
Billy Crystal
Viola Davis
Dwayne "The Rock" Johnson
Olivia Rodrigo
Shania Twain
More presenters will be announced before the ceremony.
Who Will Attend The 2023 Grammys?
While the Grammys have not finalized their list of expected attendees, it looks like many A-list nominees this year may not make it. HDD reported that Adele is almost definitely not performing or even attending the show. However, Adele refuted the report during her Las Vegas show on Jan. 27, affirming that she will absolutely attend the ceremony and calling the person who started the rumor a "dickhead."
Sitting at the piano, the singer explained how she's been approached by people all week asking why she wasn't going to the Grammys. "Who said I weren't going to the Grammys, man?" she said. "Whoever started that rumor is a dickhead, 'cause I am going to the Grammys. I would never miss the Grammys. I would never be as disrespectful to the Grammys or to other artists, and whoever started that little story needs to go and touch some grass, alright? Go and get some fresh air, alright darlings?"
The same story stated that Beyoncé, Taylor Swift, and Kendrick Lamar are not likely to be on the lineup either due to scheduling conflicts or other reasons, though those decisions are not yet final. But in a later report, HDD said that the Recording Academy was still in negotiations with a "female superstar" to perform, leading to speculation that Swift or Beyoncé could potentially still pop up.
When Is The Grammys Pre-Telecast Ceremony?
As usual, the 2023 Grammy Awards Premiere Ceremony will be held just hours before the big award show at Los Angeles' Microsoft Theater, just across the street from where the main ceremony takes place. This year, Randy Rainbow will co-host the Premiere Ceremony, where the vast majority of awards will be presented, save for the Big Four categories and a select amount of genre awards.
Current nominees Arooj Aftab, Madison Cunningham, Samara Joy, Anoushka Shankar, and Carlos Vives are set to perform, while Babyface, DOMi & JD BECK, Jimmy Jam, Myles Frost, Arturo O'Farrill, and Malcolm-Jamal Warner will present the awards. Fans can stream the Premiere Ceremony live on Feb. 5 at 3:30 p.m. ET/12:30 p.m. PT.
This article was originally published on