Chrishell Stause Just Confirmed She's Dating Someone New
The Selling Sunset star dropped the bombshell during Season 5's reunion special.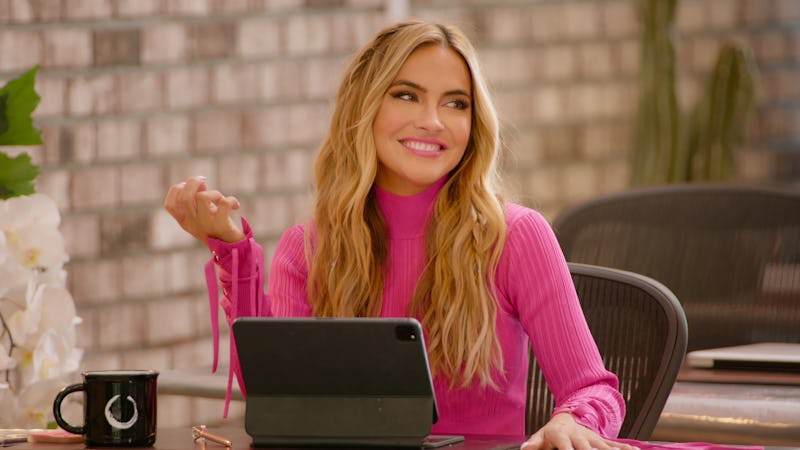 Netflix
Selling Sunset has always prioritized drama over real estate. And for Oppenheim Group realtor Chrishell Stause, that drama has not only come from clashes with Christine Quinn, but from the highs and lows of her love life. By the end of Selling Sunset Season 3, Chrishell Stause was still processing her divorce from This Is Us star Justin Hartley. In one episode, the "blindsided" Oppenheim Group realtor told co-star Mary Fitzgerald that she found out Hartley had filed divorce papers via text message, and "45 minutes later, the world knew." As she told Bustle in October 2021, despite losing fights with producers to keep the breakup off-screen, she now views the "dark, dark time" as "a gift." Fast-forward past some Dancing with the Stars drama, and Chrishell began dating her boss Jason Oppenheim, though their eventual December 2021 split capped off Selling Sunset Season 5. And now, during the first-ever Selling Sunset reunion special on May 6, Chrishell confirmed that she's moved on to someone else she's recently been linked to — the non-binary Australian musician G Flip. Below, an exhaustive history of Chrishell's dating life post-divorce.
Keo Motsepe & DWTS Drama
While competing on DWTS Season 29, rumors that Chrishell had an affair with her partner Gleb Savchenko began swirling. She denied ever having a romantic relationship with the dance pro and told Bustle in October, "Everything I said then is what I stand by today. He has a girlfriend, they're divorced. I'm happy for him." Less than a month after denying the rumors in November 2020, she revealed that she was actually dating Keo Motsepe, another DWTS pro she met during her time on the show. "I knew from my dance work I wasn't going to win a Mirrorball from the beginning," she said in an Instagram Live, per Entertainment Tonight. "To have this come from it, I'm just very smitten."
After a roughly three-month romance, however, Chrishell and Keo split in late February 2021. People reported that it was a mutual breakup, while a source close to Keo said that he was "heartbroken" and had "really wanted to make his relationship with Chrishell last," especially given the "tough time" he had with his mother's death in January. (Chrishell's mother also died in July 2020 after battling lung cancer.)
That's when the breakup got messy. In a Feb. 25 Instagram story, Chrishell accused Keo of lying. "I TRULY wanted to keep this drama free, but playing the victim and bringing your mom into it is a step too far for me," she wrote, per Us Weekly. "Taking the high road is overrated sometimes!! I was also 100% in it as well, until revelations told [to] me recently have made me question if you could even order a coffee without lying." But two days later, she added that Keo had "a non manipulative change of tone" and that she would not be sharing any additional details about their split.
In October 2021, she spoke to Bustle about fan theories alleging her relationship with Keo was fake. "To me, it's insane to put your name on something that's fake and a ruse," she said. "That's an insult to him, and I think that was ridiculous."
Around the same time as her split from Keo, Chrishell and Hartley finalized their divorce, and a judge signed off on the paperwork on Feb. 8, People reported. Since Hartley filed to divorce Chrishell in November 2019, he has been dating his former The Young and the Restless co-star Sofia Pernas; the two got married in 2021. Shortly after that, Chrishell expressed she had no interest in dating.
"Well I guess you haven't seen, but I no longer have a bf. So I will be fornicating with only myself for possible eternity as I am off of men," Chrishell replied to an Instagram commenter who criticized her for having sex before marriage, per Entertainment Tonight. "Ask me in a year. Jesus take the wheel."
Jason Oppenheim Becomes More Than A Boss
Less than a year later, however, Chrishell's love life took quite a turn... with one of her bosses. Chrishell and Oppenheim Group head Jason Oppenheim became Instagram official on July 28. The former shared several pictures of her, Jason, and fellow Selling Sunset cast members Brett Oppenheim, Mary Fitzgerald, and Romain Bonnet vacationing in Italy. Brett's now-former girlfriend, Tina Louise, was also seen having fun with the group. Chrishell simply captioned it, "The JLo effect," referring to how Jennifer Lopez went Instagram official with Ben Affleck the same week.
Jason also confirmed their romance to Us Weekly, stating, "Chrishell and I became close friends and it has developed into an amazing relationship. I care about her deeply and we're very happy together."
Of her decision to reveal their relationship via Instagram, Chrishell told Bustle, "We were about to get outed, so it was either I post it, or somebody else was about to post it." However, she would've rather kept their relationship private. "I just wanted the freedom to be able to hold my boyfriend's hand," she added. "I knew it was going to be a thing."
Chrishell further detailed their "unexpected" relationship. "He's always been a very proud bachelor. That's the opposite of what I'm looking for. He always dated these young blonde models. We just were not each other's types," she said of Jason, noting that the courtship slowly emerged out of their years-long friendly, professional bond: "I became best friends with someone platonically before it started to become romantic, so I just think that over time we both were surprised by it."
Fans of Selling Sunset know Jason used to date Mary Fitzgerald, and the other real estate agents have accused him of giving her preferential treatment in the office. However, Chrishell noted that agents are independent contractors and therefore have no direct boss. "It's not the same as going into corporate America and dating your boss," she said before joking, "Well, if I don't get some favoritism, I'm doing something wrong."
As fans saw play out in Selling Sunset Season 5, however, their solid relationship couldn't survive serial bachelor Jason ultimately deciding he doesn't want to have children. Chrishell called their circumstances of their December 2021 breakup "bittersweet" in a February 2022 People interview, insisting that they've remained best friends post-split. "You can't talk out this problem. It's just something that, it is what it is," she told the magazine, adding that they still have "so much" love for each other. "I will say it's a relationship I'm really extremely proud of. I think that we entered and left it with so much respect and love for each other."
In the same February interview, Chrishell said that she was trying "to get back out there" with dating, but even if she didn't find the right partner, would still create a family on her own terms. "I would love for [finding a partner] to happen, but if it doesn't, I feel like I can do it on my own," she added, explaining that she's keeping all "options open" when it comes to motherhood. As she also shared on Selling Sunset, she'd previously frozen her eggs.
A G Flip Music Video Turns Into Romance
Since then, Chrishell — who also denied a romance with Marvel star Simu Liu — sparked dating rumors with G Flip (real name: Georgia Flipo), after the pair hung out together at a Los Angeles concert in March. Not only did the duo exchange flirty Instagram comments after the outing, but they also attended the Bridgerton Season 2 premiere together on March 23. The two did not address the rumors until Chrishell admitted they were dating on the Selling Sunset reunion special, which was taped on April 24 and released on Netflix May 6, 2022.
Hosted by Queer Eye's Tan France, the reunion saw the cast address some of the biggest moments of Season 5 and what they've been doing since. Of course, Chrishell and Jason were asked about their split, which caused both exes to tear up. Though there are still "feelings" there on both sides, the DWTS alum said she's "not sure" whether there's a chance for reconciliation.
Chrishell was initially coy about her post-Jason love life, saying that though she is "hoping to have a family," she's also taken "the pressure off" herself as to what that looks like. "I'm just kind of enjoying right now and having a lot of fun and dating," she said. When asked multiple times who she was dating, Chrishell finally opened up about her romance with G Flip.
"I recently have been spending a lot of time with someone that's very important to me. Their name is G Flip. They're non-binary so they go by they/them. And they are an extremely talented musician," she said. The Selling Sunset star recounted how their romance blossomed after she was cast in G Flip's music video. Speaking about why she agreed to the project, the former soap opera star said, "I love acting. With the job that we have, I don't always get to do it. Of course, I was like, yes, let's do that."
The reality star also shared a clip from the unreleased video, out on May 13, about a "chaotic love story." The racy snippet shows Chrishell chewing gum and making out with G Flip at a convenience store. "We had such a blast," she said of filming. And for those who were wondering, G "definitely made the first move."
Naturally, Tan turned to Jason who, just minutes prior, shared that Chrishell was the love of his life. He was nothing but supportive. "They seem like a badass, for one," the broker replied, adding, "And two, the smile that's been on your face the last couple minutes makes me very happy. I'm proud of you."
Chrishell's dating announcement seemed like news to all, including her best friend Mary. Explaining the reason for her secrecy, Chrishell said, "I was probably as surprised as anyone. Just because nothing's really changed for me. I'm still very attracted to masculine energy and a good human." Revealing that she felt "nervous" talking about it, she added, "I hear people talk about these things and they're like, 'I knew from a young age.' That's not me. I'm just, I'm very open to good energy."
She continued, "I don't know what the future holds and it is a complicated issue to talk about. Being in this position, we get judged constantly. But at the end of the day, I'm so happy, so if that angers someone, then that's really not my problem."
This article was originally published on