Everything To Know About The Selling Sunset Season 5 Reunion
Chrishell had a shady response to Christine missing the reunion, which comes out May 6 on Netflix.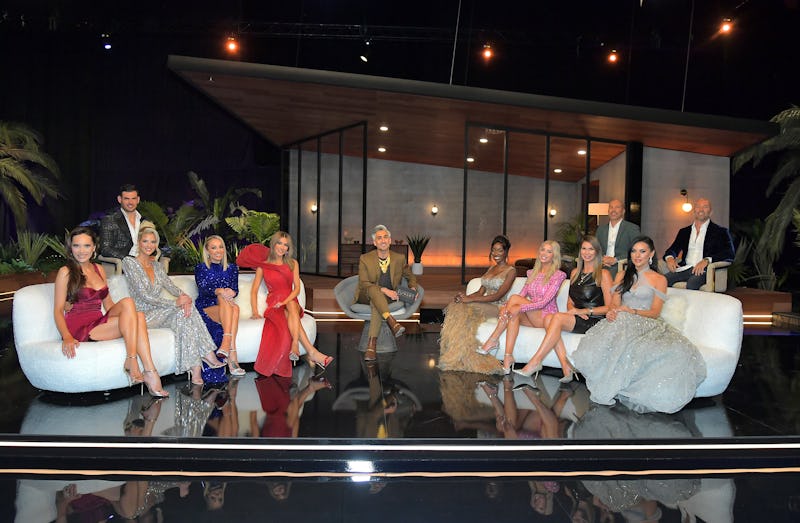 Netflix
If you sped through Selling Sunset Season 5 the second it dropped on Netflix, you're not alone. From the always dramatic introduction of a new agent to the short-lived relationship between Chrishell Stause and Jason Oppenheim, there was plenty to look forward to — but even after you think you've seen it all, it's not quite over. E! News announced a first for Selling Sunset: a reunion special. And on April 25, Netflix released more details and a first-look photo. Here's everything you should know about the Selling Sunset Season 5 reunion, including behind-the-scenes drama about who was supposed to be there but didn't show.
Selling Sunset Season 5 Reunion Release Date
The bonus Selling Sunset reunion episode will be available to watch on May 6. Though Netflix didn't release a trailer for the Selling Sunset Season 5 reunion when the episodes first dropped, there's a good reason for that — it hadn't actually happened yet. E! News said filming would take place on April 24 in Los Angeles. This is good news for an obvious reason: the agents will be able to address a weekend's worth of fan reactions to Selling Sunset Season 5's drama, including the fallout from Chrishell and Jason's split that we didn't get to see on screen (since it happened so late in the season).
Other cliffhangers to address include Christine Quinn's apparent sabotage attempt and what Vanessa's U.K. situation is — she had "mixed feelings" about potentially moving abroad to be with her then-boyfriend (now-fiancé) Tom Fraud. "I want to be with him, we're super close," she says in Episode 10. "So I'm like, what should I do? I have my career here. I honestly don't know." By the end of the episode, she's at the airport, so things are definitely (excuse the pun) up in the air.
Plus, the agents would have been able to watch the full season before they sit down and confront each other — which means if someone was talking behind someone's back, everyone would know.
In an April 22 interview with Entertainment Tonight, Jason said he was "not excited" about the reunion. "I just, you know, I think the questions will be about myself and Chrishell ... that's a difficult thing that I'm still working through. So being forced to talk about it is not easy."
Even though the concept of a post-season reunion is new to Selling Sunset, it's been done for other Netflix shows — so viewers already had some idea of how long it would take to produce this kind of special. According to BuzzFeed, for example, the recent Ultimatum reunion was filmed in February and aired in April. And Today reported that The Love is Blind Season 2 reunion was filmed before the finale aired. So it seems that a quick post-season turnaround for Netflix reality reunions is becoming status quo.
Selling Sunset Season 5 Reunion Host
Tan France will host the Selling Sunset Season 5 reunion. Not only is France a fellow Netflix fave (starring on Queer Eye, Next in Fashion, and Dressing Funny), but there's a history of the Fab Five collabing with the Oppenheim Group. In Season 3, fellow Queer Eye host Karamo Brown even made an appearance on the show.
Selling Sunset Season 5 Reunion Cast
According to E! News, the Selling Sunset Season 5 reunion cast will feature Mary Fitzgerald, Emma Hernan, Chelsea Lazkani, Heather Rae El Moussa, Brett and Jason Oppenheim, Davina Potratz, Christine Quinn, Chrishell Stause, Maya Vander, and Vanessa Villela.
But representative for Christine told PEOPLE that she was "feeling under the weather and is taking all necessary precautions" after testing positive for COVID, so she sat out the reunion. However, according to TMZ, Christine was spotted on a film set just days later. Chrishell responded to the report on Twitter with a Maury Povich GIF that read, "And the lie detector test determined that was a lie."
This post will be updated with the trailer and additional details as more information on the Selling Sunset Season 5 reunion becomes available.
This article was originally published on