Nine Perfect Strangers Pulls From The Book Author's Life
One character's story was an act of "sweet revenge."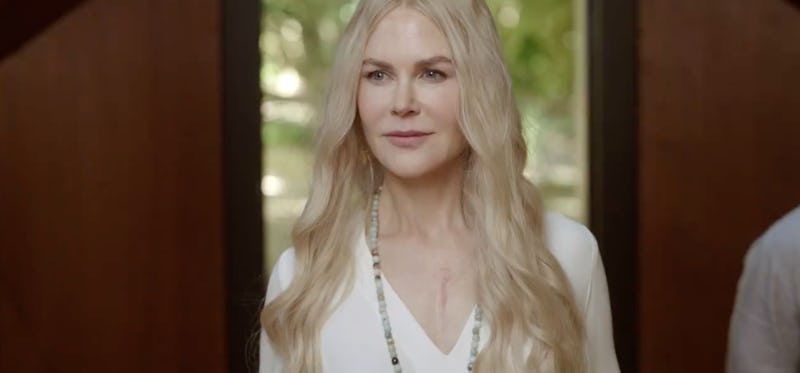 Hulu
Author Liane Moriarty has become known as a master of crafting intriguing narratives about complex characters and topics. This year, she's following up the widespread success of her Big Little Lies book-to-TV adaptation with another likely hit in Hulu's forthcoming show based on her 2018 novel, Nine Perfect Strangers. The book takes readers to the Tranquillum House wellness resort, cultivated by a health leader named Masha who's bent on employing atypical wellness therapy methods to a group of nine unsuspecting strangers. During the year the New York Times bestseller was released, Moriarty explained to The Guardian where she got the idea for her creepy tale of a retreat coach gone rogue among a group of individuals seeking refuge from their worries. It may come as a surprise to some, but Tranquillum House and one of the characters are loosely based on real-life themes.
She said, "We live in paradise. Most of us live such comfortable middle-class lives, and so, is it the desire for suffering? And this desire we all have for transformation. I can never see an article that says, 'Just change this one thing about your life, and you'll be transformed forever' – even though you know when you click on it, it won't work, I find it irresistible." It's also made known that there are "#MeToo moments" weaved within the story of Nine Perfect Strangers, which puts an even greater spotlight on the topic of suffering. Even with these social issues at the forefront, Moriarty assured that she was in good spirits while writing her book. "I actually had a lot of fun with this book which I think comes through. I had a certain feeling of freedom with it and just enjoyed myself," she declared.
There is one character, however, who slightly calls to mind Moriarty's life. Speaking of the "menopausal romance novelist" Frances character, Moriarty explained their connection: "The fact is that Frances as a romance novelist would not be invited to writers' festivals, just as I was not invited to writers' festivals for many years." The author went on to add that including this in her story was an act of "sweet revenge." Frances is one of the leading "strangers" in the novel and is portrayed by actor Melissa McCarthy in the forthcoming Hulu television adaptation.
Even though Liane Moriarty's Nine Perfect Strangers isn't based in fact, its fictional accounts were enough to evoke praise in the publishing world and growing anticipation for the TV show. The limited series is slated to premiere in 2021 with a cast that includes Nicole Kidman as Tranquillum resort host Masha, Luke Evans, Bobby Cannavale, Michael Shannon, Regina Hall, Samara Weaving, Asher Keddie, Melvin Gregg, and Grace Van Patten.