Jack's Facial Hair Moments On This Is Us, Ranked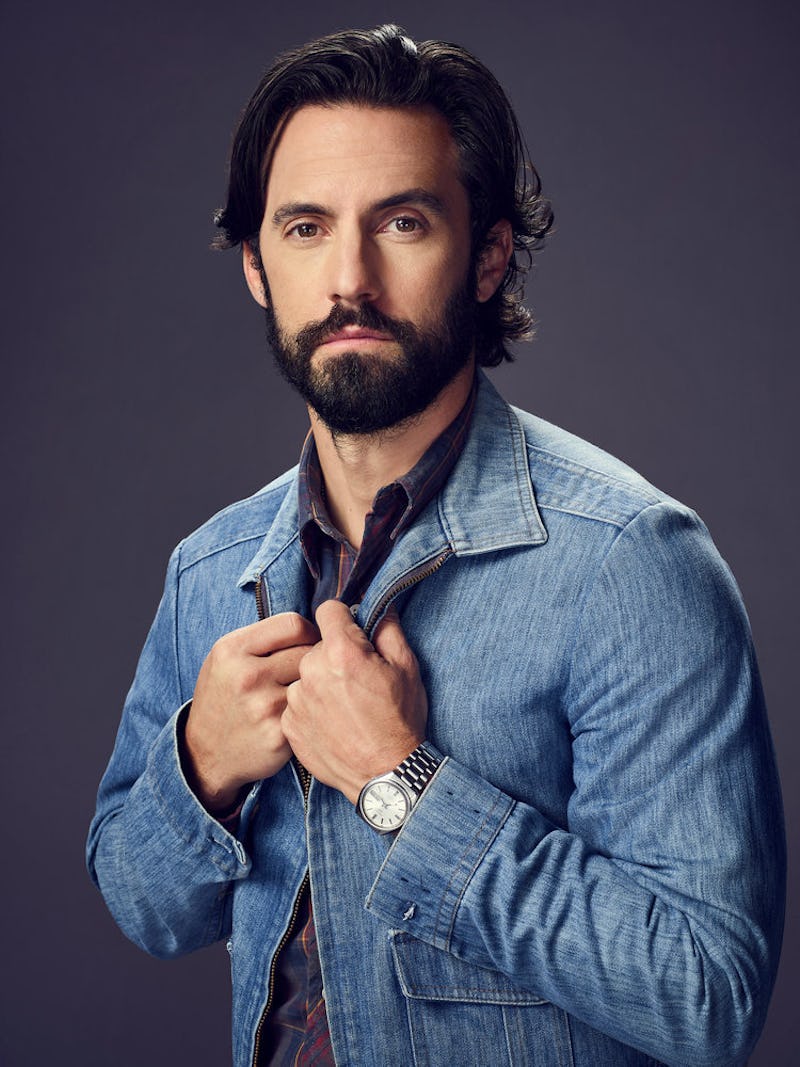 Joe Pugliese/NBC
The This Is Us series finale bid farewell to viewers with romantic callbacks, Big Three sweetness, and, most importantly, a reminder that Jack Pearson is and always will be that dad. The May 24 episode even referenced one of the Pearson patriarch's most iconic features: his face, which was often covered in some degree of stubble. "I do know a thing or two about facial hair," Jack tells a young Randall while teaching him to shave for the first time.
Boy, does he. Since 2016, actor Milo Ventimiglia has carried Jack through decades of character development and accompanying facial hair fads — from the timeless to the decidedly "dad," all of which he manages to make look extremely handsome. This Is Us may be over, but the beards and 'staches will live on forever (and if you've already started a rewatch, you're not alone). Below, a ranking of all of Jack's facial hair eras on This Is Us.
Runner Up: Sonny Jack
Jack (and the man who played him) may simply be incapable of looking bad. Case in point? Even his delightfully cheesy Season 2 Sonny and Cher costume with Rebecca — complete with floppy hair and signature 'stache — is still pretty adorable.
4. Goatee Jack
Jack truly never had a bad hair day — but the '90s goatee was one of his more dated looks. Plus, those handlebars had some serious emotional weight to carry! Jack's goatee will forever be associated with his big blowup with Rebecca, and, of course, the night he died, so it's natural to gravitate toward the happier Jack looks on this list.
3. Clean-Shaven Jack
If it's true that the beard makes the man, then Jack's lack of facial hair before meeting Rebecca could be a symbol of how thoroughly she transformed his life. The clean-shaven era is very cute, and fun to revisit from a character development perspective — or from a Jess Mariano on Gilmore Girls fan perspective. Either way, he looked great! But this Jack had a lot of growth ahead of him, literally and figuratively (and follicularly?).
2. "Pornstache" Jack
Fans have long referred to Jack's mustache as a "pornstache," but that's not a bad thing. This Is Us creator Dan Fogelman was pretty nervous about it at the time, though. In an interview with The Hollywood Reporter, Ventimiglia said Fogelman went through the show's office polling people about the look. "I asked, 'Would you f*ck this man with a mustache?" (Um, yes, next question.)
But apparently the powers that be were still not convinced, so Ventimiglia had to fight for his look. As he explained to Entertainment Weekly, he cited both the practical benefits — "I didn't want to act in a full fake beard because they never really feel right," — and the fact that, well, he looked pretty amazing in it. "I looked in the mirror and went, 'Holy sh*t, there's Jack in '88.'"
The mustache isn't just fun to look at, of course. It also became a symbol of Jack's more mature, hardworking dad era. And in Season 6, we find out that the reason he tried the look in the first place was to make Rebecca feel better after her Princess Diana haircut, which didn't win any points with the kids.
As if that weren't sweet enough, when Rebecca dies, it's Pornstache Jack who meets her in the afterlife — proof that this version of Jack was perhaps Rebecca's personal favorite. There's only one more look that rivals the impact of the 'stache, though, and you can probably guess what it is.
1. Bearded Jack
Lives were changed with this beard, OK? Audiences were understandably obsessed with Jack's butt in the This Is Us premiere six years ago, but his shaggy hair and accompanying full beard were just as powerful a visual. Not only did the look establish Jack's vibe as an undeniably cool dad (whose standards his children would spend their lives trying to live up to), but it also proved pivotal to the pilot's central trickery — that the Pearsons' stories were not, in fact, happening simultaneously but decades apart.
Jack's rugged beard was so timelessly pretty that it wouldn't look out of place in 1980 or 2016, and that's a big feat! (Perhaps it's why Ventimiglia often sports a version of the beard IRL?) And in case you were wondering, the actor confirmed to USA Today that said pilot look was all his own hair. Even better.