Jenna Ortega Has The Perfect Vision For Lady Gaga's Role On Wednesday Season 2
"[Gaga and Wednesday] would have to be two monsters that understand each other."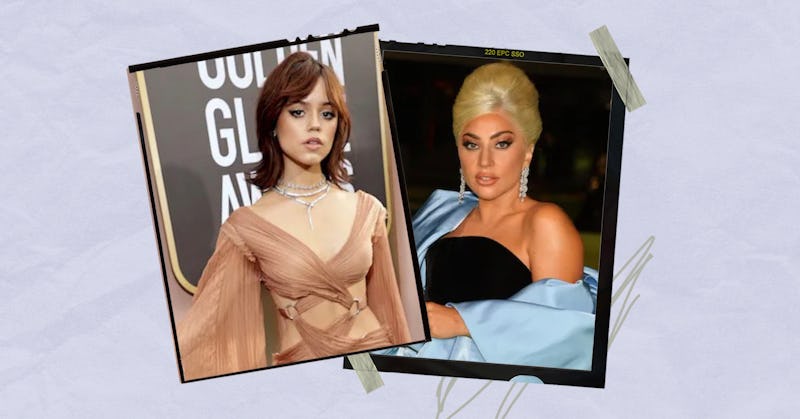 Todd Williamson/NBC/NBCUniversal/Variety/Penske Media/Getty Images
Wednesday Addams is a Little Monster. On Jan. 10, Wednesday star Jenna Ortega told Variety on the 2023 Golden Globes red carpet that she wants Lady Gaga to be a part of Season 2 of the hit Netflix series, and she already has an idea for her potential character.
"If Lady Gaga were to be a part, [she and Wednesday] would have to be two monsters that understand each other," she said, comparing their potential connection to Wednesday's relationship with Mrs. Thornhill. "I'm sure Netflix would love that," she quipped.
Gaga had nothing to do with the first season of Wednesday, yet she has become a huge part of the cultural phenomenon thanks to TikTok. Fans started recreating Wednesday's spooky moves from her school dance, but they replaced the original song used on the series (The Cramps' "Goo Goo Muck,") with Gaga's 2011 Born This Way deep cut "Bloody Mary." Wednesday approved the trend via the show's Twitter account, saying she appreciated how she was followed by "little monsters," which caused Gaga to extend an invite. "Slay Wednesday!" she wrote. "You're welcome at Haus of Gaga anytime (and bring Thing with you, we love paws around here)."
The trend came full circle when Gaga took on the Wednesday dance on TikTok on Dec. 9. The singer put on her best makeup (likely from her Haus Labs line), put her spin on the character's gothic schoolgirl look, and recreated the moves seamlessly. Even Kim Kardashian's daughter North West took on the dance, proving just how impactful Wednesday's spooky routine has become.
Now, "Bloody Mary" has become so synonymous with Wednesday that Netflix used the song to announce Season 2. On Jan. 6, the streaming platform posted a clip announcing the renewal, which featured a voiceover from Ortega's character before Gaga's track blasted in the background.
"Over the past few weeks, I've been hunted, haunted, and mimicked millions of times across the internet," she said in the clip. "It's been pure torture. Thank you." Even if Gaga doesn't wind up appearing onscreen (she is filming Joker 2, after all), her presence will surely haunt Wednesday from now on.