Johnny Sibilly Makes "Gay Shit"
Some actors don't want gay roles. This Queer as Folk star would happily play gay for the rest of his career.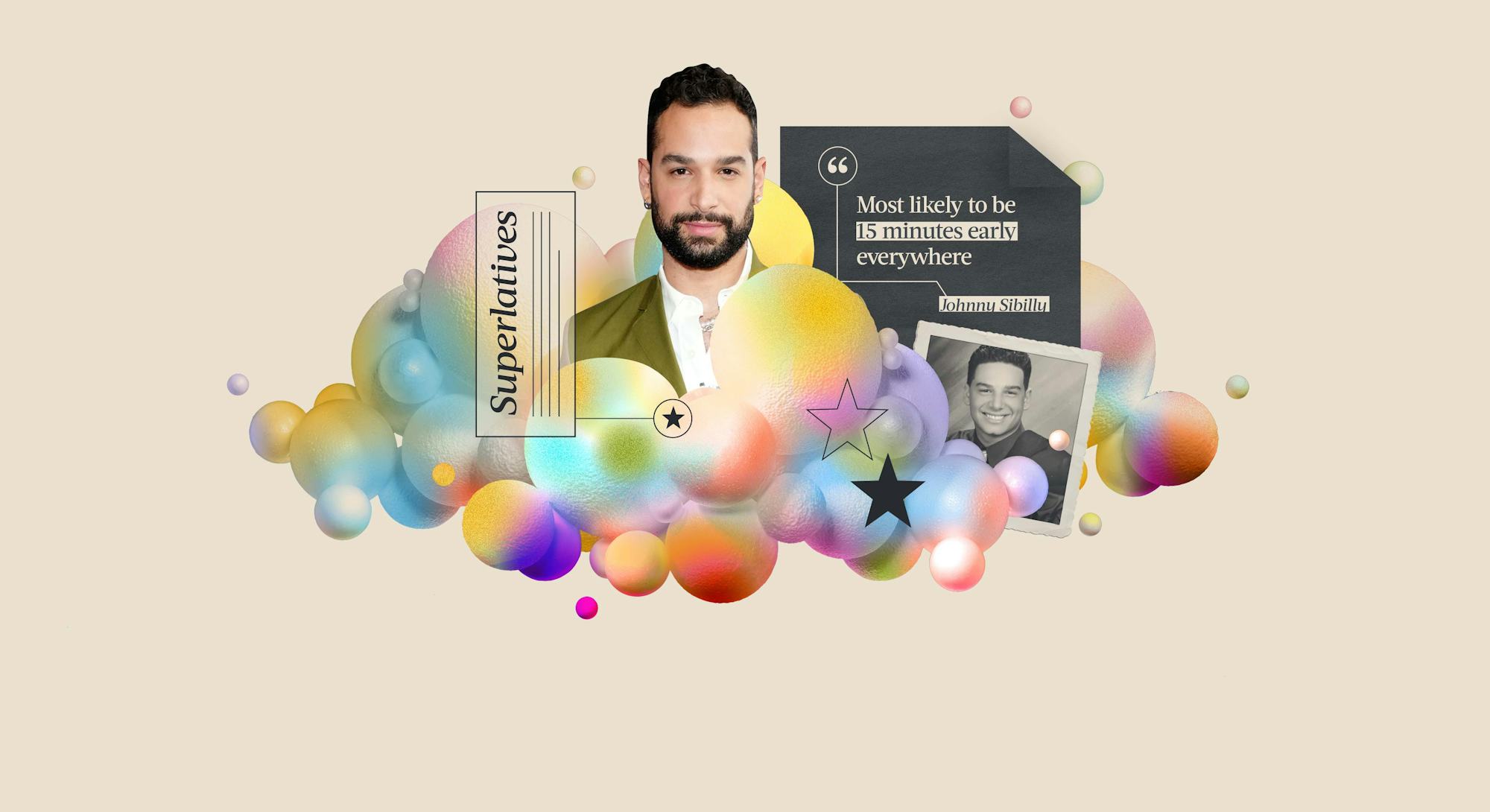 Johnny Sibilly is making "gay shit" for a living, as he likes to say, and loving every minute of doing it. You've seen him on FX's Pose and HBO Max's Hacks. Now, the 34-year-old actor is starring in Peacock's reboot of Queer as Folk as Noah Hernandez, a grieving lawyer who sometimes searches for photos of Chris Meloni's butt on Google while at work. Sibilly lives his life offscreen just as apologetically as the characters he plays onscreen. "Knowing that I have a chosen family in my life right now in 2022, both personal and professional, that would make little lonely Johnny smile wide," Sibilly tells Bustle when asked to reveal his proudest moment as part of this LGBTQ+ community.
Sibilly is quickly becoming Hollywood's go-to guy when a show needs a handsome and emotive actor to play a gay love interest. In the past, gay actors sometimes shied away from taking on queer roles for fear of becoming typecast, but Sibilly's mindset is different. "I always say if I never played a straight character ever again, I would be perfectly fine with that," he recently told Out. "There's so many queer stories that haven't been told that I am dying to tell. It would be an honor to only play queer characters forever."
Read on to learn what Sibilly — who plans on celebrating Pride Month this year by taking himself to dinner and relaxing with his pup at home — wants to tell trans students.
Johnny Sibilly On Trans Rights & His Go-To Music
How do you feel about trans rights and the ongoing discrimination against transgender students? What would you tell a student who feels discouraged?
Trans rights are not up for discussion or debate. Trans people matter and are truly not only the bedrock of the queer community but also show a mirror to the world of what life could look like if you truly see yourself and your potential. I want any young student to know that you're only scratching the surface of your potential and that absolutely NO ONE can ever define who you are and what you'll be but you.
What superlative would you give yourself for the the 2022 Pride Yearbook?
Most likely to be 15 minutes early everywhere.
What were some of your go-to songs or artists in high school? How about today?
High school was always Britney Spears, Missy Elliott, and The Killers. Now it's SZA, Doja [Cat], and Megan [Thee Stallion]. Yes we're on a first-name basis.
Who is an important role model in your life, and what has that person taught you?
Queer people I have never met are the ones that keep me going. Just having the faith I'm not alone through them means everything.
What is your self-care routine
Oh baby, I love facial products, massages, and wearing comfy clothes almost all the time.