Kaitlyn Bristowe Said Chris Harrison Ignored Her After Her Bachelorette Hosting Gig
"I was like, OK, he hates me."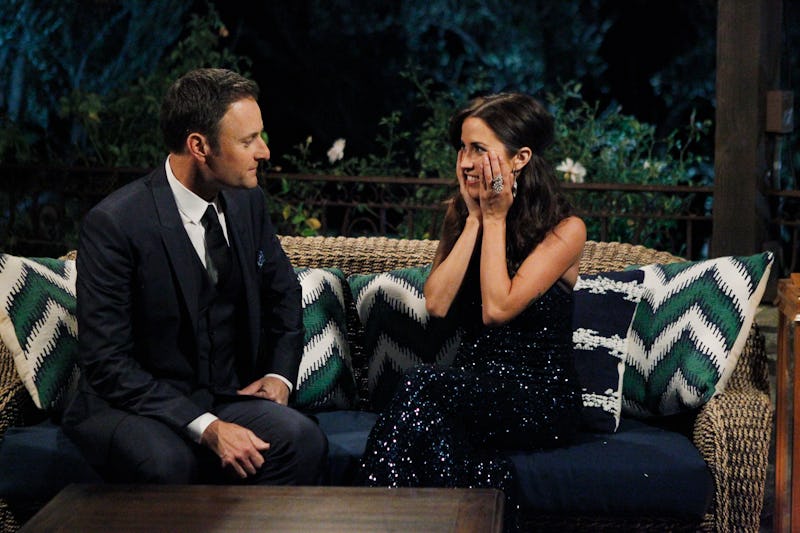 Rick Rowell/Disney General Entertainment Content/Getty Images
Bachelor Nation is no stranger to bad breakups — but as Kaitlyn Bristowe and Chris Harrison prove, a fractured friendship can be its own kind of pain. During a Jan. 31 appearance on the Not Skinny but Not Fat podcast, Kaitlyn opened up about how her long-running friendship with the former Bachelor host changed over the last few years.
After Harrison's racism controversy, in which he defended Bachelor contestant Rachael Kirkconnell's past offensive actions, Kaitlyn said she reached out to let him know that she supported him while still acknowledging that "what [he] did was wrong." While Harrison responded at that time, Kaitlyn said he did not return her messages after news broke that she'd be co-hosting The Bachelorette with Tayshia Adams.
Kaitlyn initially thought it was going to be a mentorship role and not a full-on hosting spot. The headlines made her feel "icky" about seemingly stepping in for Harrison, she explained. "I just wanted him to know that I thought he was irreplaceable, and I didn't want to step on toes."
However, Kaitlyn ultimately messaged the former host "probably 10 times" without a response. She also asked him to call her, and he reportedly never did. "I was like, OK, he hates me," she said. "And we were like, best friends, and now he hates me."
Last year at Wells Adams and Sarah Hyland's wedding, Kaitlyn finally broached the subject with Harrison in person. "I walked up to him, and I was like, 'I miss you,'" she recalled. And he was like, 'Well, I've always been here.' And I'm like, 'No you haven't! You haven't responded to me in, like, forever.'"
Despite the cold period of their friendship, it seems that Kaitlyn and the former Bachelor host are on better terms today. She said she congratulated him on his new podcast, for example. "You know I can be dramatic if you ever need a guest," she commented on his Instagram in December. "Congrats! You will crush this."
Kaitlyn also had some time to reflect on how her friendship with Harrison had changed. While she "bawled [her] eyes out" over the experience, she doesn't take it personally today. "It wasn't about me," she said. "I think he was going through so much in his life."
The friends first met nearly 10 years ago, while filming for Chris Soules' Bachelor season. Later, Harrison supported Kaitlyn through her own journey as the lead of The Bachelorette in 2015.