Oh, How The Tables Have Turned On Love Island
Victoria Sanusi breaks down the chaos of the second week in the villa: bombshells, recouplings, and stolen rooftop kisses.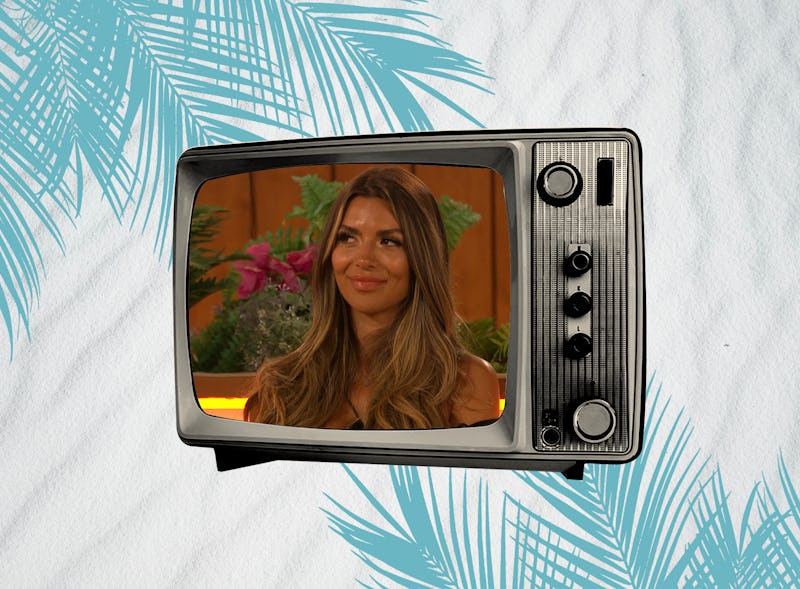 ITV
As any Love Island veteran worth their salt knows: everything can change in one text. One minute you can be nearing ick-territory, and find yourself wholeheartedly rooting for them after the ad break. Such is the case with Davide. Dear readers, I got him wrong. He doesn't mean to be hilarious, but the scene where he called out Ekin-Su's nonsense was gold. And the quotables! "Get the f**k out" needs to be put on a door mat, ASAP.
But let's talk about the mischievous wonder that is Ekin-Su… Miss-I'll-kiss-you-on-the-terrance, Ekin-fanastic-Su. First off: of course you're going to get caught! The balcony isn't opaque or hidden. All that crawling was purely done for the drama. And by God, does it make for great TV. She reminds me of those people who like toxicity in relationships, and actively seek it out. There's no doubt she's very smart when it comes to getting male attention (could she do a TED talk on this? Asking for a friend), but is she pushing it to the edge of no return?
My guess is that she will be reunited with the OG Italian Stallion. (Sorry, Jay.) But hear me out. Davide and Ekin-Su are an uncanny match: fiery and passionate, both clearly loving the drama. If Davide entertains further conversations with Ekin-Su, their friendship will undoubtedly flourish, and love (or lust) will soon follow. Leaving Jay looking like a side dish, and not the "Italian meal" he claims to be. I shan't feel sorry for him though; he has barely shown any interest in any of the other girls. He was sad to see Remi go, but I think he will be Gatwick-bound before long.
This week we also had a new bombshell enter the villa, and what an entrance that was! All it took was for Danica to show off her dance moves to practically wipe out Ekin-Su's confidence. In some ways, their energy is quite similar, following (or crawling, in Ekin-Su's case) in the spirit of Maura Higgins and Megan Barton-Hanson. They're all using the same playbook: serious confidence, sexual energy, shoot and scores. Though, it has to be said, that didn't quite work out in the recoupling. Luca's reaction – cute kiss with Gemma aside – has made him the villain of the week, without a doubt. He'll be lucky to survive the public vote, if you ask me. Yes, rejection hurts, but the pain weighs heavier when a lad is disrespectful. See you on After Sun, Mr Bish.
There's change coming for other couples, too. I see Danica eyeing up Ikenna, and the feeling is clearly mutual. We don't see Ikenna getting that excited when he speaks to Indiyah. He is wasting her time and ours. Sure, he perked up when Remi came in and was making moves – physical touch, even! – but it was too good to be true. As soon as Remi was booted out of the villa, Ikenna's energy returned to the laidback and distant vibe of before. It will be interesting to see his reaction when Dami makes a play for Indiyah's affection.
Of course, Dami moving on leaves a question mark for Amber. But will she be bothered if Dami dumps her? As former Love Island columnist Jason Okundaye put it, Amber would rather sleep on the roof than share a bed with the Irish stud. Which is a shame, really. Dami's easily the most charismatic man in there. Amber's body language and endless eye rolling has not gone without notice, but I will give her the benefit of the doubt. I think I would find spending 24/7 of my time around 16 strangers a bit much, too. If she hates it as much as her behaviour suggests, perhaps she'll follow Liam and choose to leave the villa next?
In another quick turn of events, Gemma has to be the hero of this week. Yes, even after she accidentally called Luca by her ex's name. It is an easy enough mistake to make, given her ex is right there. Jacques seems to have gone somewhat quiet, though. It would seem he has fulfilled his task of being "the ex," but failed to deliver on the gossip (Michael Owen mic drop) and mayhem. He does, however, continue to sprinkle in his brand of inappropriate comments in heated moments which provide so much laughter.
This coming week, I'm looking forward to more drama. Dami has to stop playing it safe and pull Indiyah. Will we see more of Andrew and Tasha? Seems fairly one-sided, despite her claims. Will Jaques and Paige finally kiss? Here's hoping Paige will take a page out of Ekin-Su's book and just do it herself.