8 Mick Carter Moments That Made EastEnders History
With Danny Dyer taking a step back from Albert Square, we look back on his best moments from the past nine years.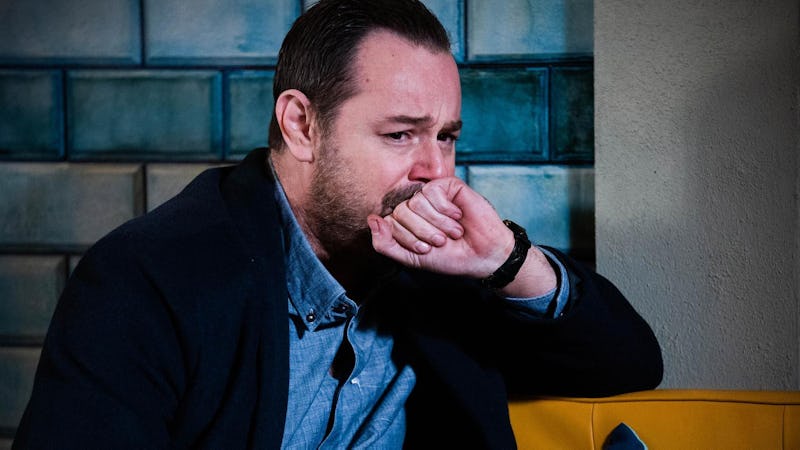 BBC
Trigger warning: This article contains mentions of sexual assault.
It feels like only yesterday that EastEnders introduced family man and Queen Vic landlord Mick Carter to Albert Square. And now, after nine years, Danny Dyer has announced he'll be leaving Eastenders for good. And boy, will he be missed.
You can always tell when an actor in EastEnders is a little more Hampstead than Hackney, painfully dropping their t's and making cockney rhyming slang sound like a Shakespearean sonnet. But not Dyer. Despite his right royal connections (more of that later...), Dyer is a proper east-ender. Raised in Newham, he was born to play the role of Mick Carter on Britain's favourite soap.
As well as acting, Dyer is known for effing and blinding his way through TV on gritty documentaries like The Real Football Factories and, of course, appearing on the ancestry show Who Do You Think You Are? only to find out he's a direct descendent of Edward III. But it's his time on EastEnders that we'll all remember him for.
The Carter family has been a fan favourite throughout their time on the show – and they've had their fair share of drama since hitting the square. Acting alongside his TV wife Linda (played by Kellie Bright), their six kids, and his hard-as-nails mum Shirley, their onscreen chemistry definitely brought fresh air to the soap.
This really is the end of an era and we're going to miss his charm and charisma on the square. So, what better way to wish Mick Carter farewell than looking back at some of his best bits on EastEnders? See below for eight stand-out moments from his time on the show.
Mick's Mental Health
One of the ongoing storylines for Mick has been his mental health journey, which has shon an important light on the often overlooked mental health struggles of men. When he starts experiencing crushing and debilitating chest pains in 2019, we soon find out Mick is suffering from anxiety and panic attacks. And it continues throughout the years, including while he's in court. On one occasion, Mick even rings The Samaritans, which raised awareness about an important resource available to people struggling with these kinds of issues.
The Biggest Parent Reveal Since Kat and Zoe
At this point, EastEnders is practically known for its wild parent-child revelations, including a particularly shocking one that rocked the Carter family back in 2014. In a move that harped back to EastEnder's legendary "YOU AIN'T MY MOTHER!!!!" scene, Mick, who believed Shirley and Tina to be his big sisters, finds out that Shirley was actually his mum all along. It was complete chaos to begin with, nearly destroying the family, but now the pair couldn't be closer.
The Lake
What made Shirley's reveal even more painful for Mick was the fact that her younger son Dean (who Mick thought was his nephew) sexually assaulted Mick's wife Linda, and Shirley decided to take Dean's side. It all resulted in a tense fight by a lake on Mick and Linda's wedding day, where Dean unsuccessfully tries to drown their mum and ends up nearly drowning himself. And even after all of this, Mick still saves him.
Mick Delivers A Baby
In 2021, Danny Dyer's IRL daughter Danni Dyer made a highly anticipated cameo on the soap. Best known for winning Love Island in 2018, she ditched the villa for the square, appearing as a heavily pregnant taxi driver Jeanette. Mick ends up helping deliver her baby on their way to the hospital to see his wife Linda, who also happens to be pregnant.
Eastenders Does Titanic
Somehow the lake wasn't the only time Mick has found himself jumping into freezing water to save a family member. For EastEnders' 35th anniversary, the soap went full out with a boat party on the Thames – resulting in a dramatic and fatal sinking. Linda gets her foot stuck while trying to escape the sinking ship, but the east end's answer to Jack Dawson comes to the rescue as the water continues to creep higher. At one point he literally kisses air into her mouth to prevent her from drowning. And of course, the rescue mission was a success.
Mick Gets Married In A Dressing Gown
Proving time and time again how comfortable he is in his masculinity, who can forget when Mick tied the knot with Linda wearing a pink fluffy nightgown? The nightgown became an EastEnders regular and a character in its own right, worn time and time again by Mick throughout his years on the show.
The Brawls
While we don't condone violence, it's silly to ignore the swings Mick has delivered over the years – in fact, he's probably dished out more punches than Peggy Michell has slaps. And that's saying something. It feels as Mick has punched just about all of his EastEnders enemies, from his brother Dean to Stuart Highway (multiple times), Max Branning to his daughter's boyfriend Zack. And who can forget about Woody Woodward (played with gusto by Lee from Blue) who dared to wear Mick's beloved nightgown and paid for it with a black eye?
The Surprise Child
We were all pretty sure the Carters were done having children until a young photographer Frankie (played by Rose Ayling-Ellis, winner of Strictly Come Dancing 2021) came onto the scene. We soon find out Frankie is Mick's first child who he had no idea about. Observant fans doing the maths realised this made Mick a father at 12 years old. EastEnders went on to carefully handle a storyline on child sexual assault, resulting in a court case and a deeper dive into Mick Carter's back story and mental health. In the end, they all accept Frankie and the Carters gain a new family member.