Monét X Change Keeps Winning
The Drag Race Miss Congeniality and All Stars 4 winner's latest victory? Oprah's stamp of approval.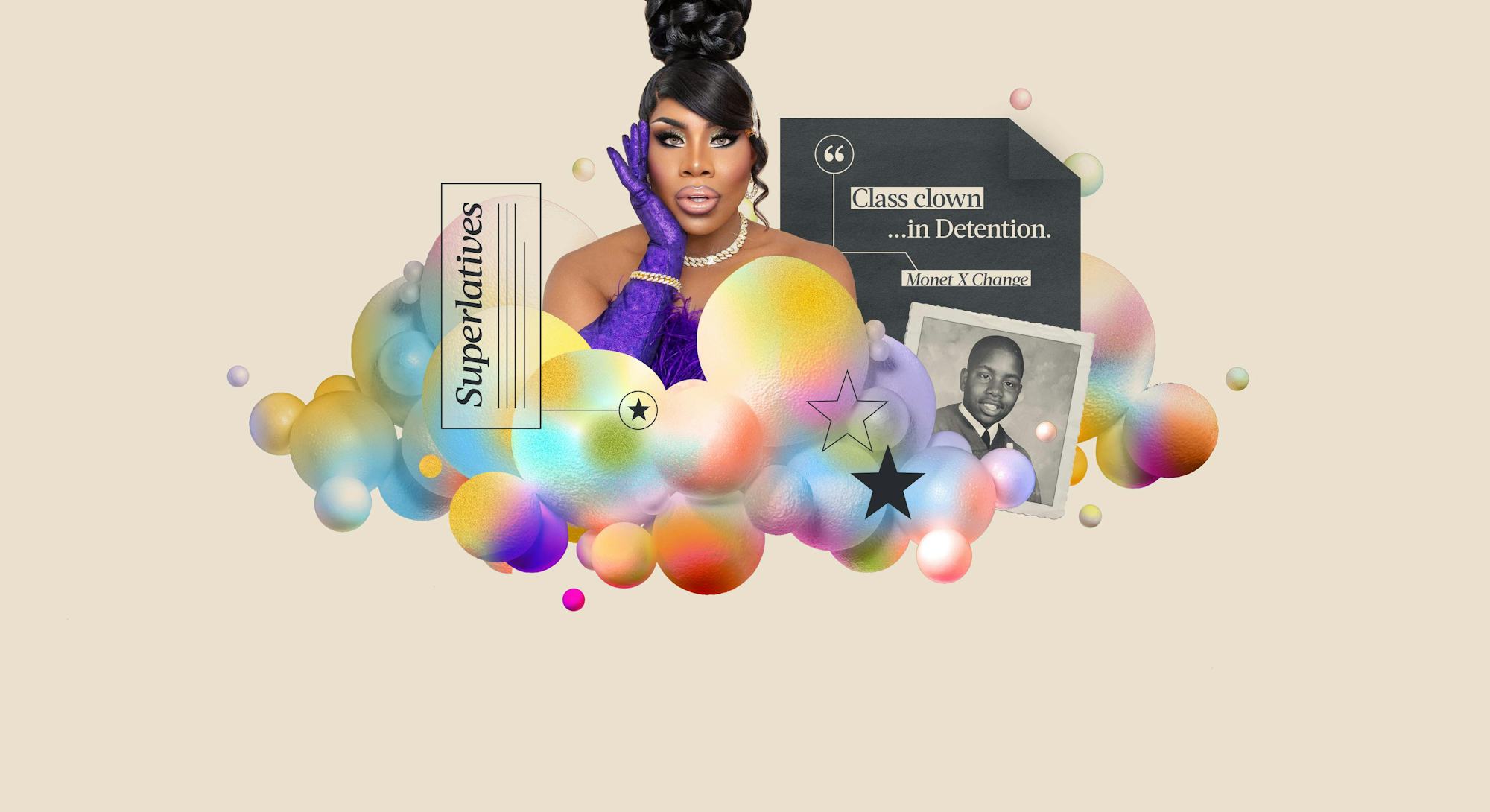 Monet X Change
Monét X Change's face is everywhere — on the all-winners season of RuPaul's Drag Race All Stars 7, on vodka bottles at LGBTQ+ bars, and in Vogue. The latter caught Oprah Winfrey's attention. When Vogue challenged Monét and other queens to recreate archival Vogue covers for Pride Month, she chose Oprah's October 1998 cover. Oprah quickly commented on the 32-year-old drag star's Instagram post about the cover to thank her for picking that one, adding, "This deserves a Legendary Legend Star if I do say so myself," referring to the badges RuPaul awards All Stars 7 queens when they win challenges while they compete for the show's $200,000 grand prize.
Oprah's stamp of approval is another memorable drop in Monét's 2022 bucket, which also includes recently headlining the Just for Laughs Comedy Festival in Toronto, taping a standup special at the Tribeca Film Festival, and co-hosting the popular Sibling Rivalry podcast with Bob the Drag Queen. The comedy queen has a lot to be proud of, but she's particularly honored to represent her ethnicity and Caribbean community so publicly.
"One of my proudest moments would be the visibility I have received as a queer West Indian," Monét, the winner of All Stars 4, tells Bustle. "My family is from St. Lucia and seeing other queer Caribbean folk sound off in the comments with their country flag or sending me messages saying that they feel seen when I do something feels good."
Read on to learn why Monét wants to use her public platform to influence social change, find out what her go-to songs were in high school, and discover her self-care routine.
Monét On Trans Rights & Stanning A Teletubby
How do you feel about trans rights and the ongoing discrimination against transgender students? What would you tell a student who feels discouraged?
It's really appalling, and it's very hard for me to not get visibly upset every time I talk about this. The fact that trans human beings are still fighting for basic civil rights in 2022 makes my skin crawl, it makes my stomach turn, it makes my blood boil. How is this our reality? I feel like telling them "don't worry it gets better" is a bold-faced lie because this fight has persisted for decades. The only truth that I can offer to them is that they are loved immeasurably. I see their pain, I feel their pain, and I will do everything in my power, with my platform, to make their future better and brighter to the best of my ability.
What superlative would you give yourself for the the 2022 Pride Yearbook?
Class Clown … in Detention!
What were some of your go-to songs or artists in high school? How about today?
High school was when I first fell in love with Rihanna. When the "Umbrella" remix dropped, it was game over. Today I'm most definitely in my SZA bag. I majorly stan.
Who is an important role model in your life, and what has that person taught you?
I don't really believe in "role models" per se because as human beings we are all so naturally flawed and we ALL mess up. I do however have mentors in my head that I think have shaped me by my admiration of their work ethic, passion, and drive. Oprah, RuPaul, and Laa-Laa from the Teletubbies — [Laa-Laa is] often forgotten but arguably the fiercest of them all.
Tell us about your self-care routine and mental health tips.
For self-care, I love unplugging and staying in from the world after traveling for work, and with that, my skincare routine has become part of taking care of my mental health. When I commence my 12-step routine it's just me, some H.E.R. on the Sonos, a candle, and good vibes. It's my favorite 30 minutes I spend with myself daily.