Everything To Know About Never Have I Ever Season 3
Oh, and Netflix already renewed it for Season 4.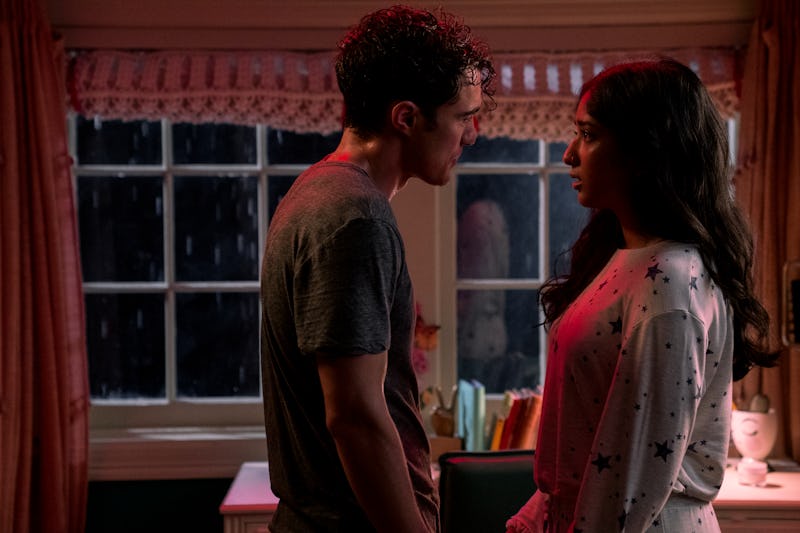 Netflix
Things are looking up for Devi Vishwakumar at the end of Never Have I Ever Season 2. As she learns how to prioritize her mental health, Devi slowly matures throughout the season. She finally talks to her mom about her father Mohan, who died suddenly before the show started. And though she's downright petty about Ben and Aneesa's relationship for several episodes, she comes to accept Aneesa as a close friend. Then Paxton makes a fool out of himself to woo Devi at prom — a near reversal of Season 1, when Devi was willing to do anything to get his attention.
It's a mostly satisfying ending, but there are several plot threads heading into Never Have I Ever Season 3. Kamala runs away from her engagement dinner to Prashant (who seemed perfect until he basically disregarded her coworker's sexist treatment of her) to go to karaoke with Devi's teacher, Mr. Kulkarni. Devi's mom Nalini suddenly breaks off her relationship with optometrist Chris, worrying that it'll be years before she's over Mohan. And at prom, Ben looks torn after learning from Eleanor that Devi wanted to choose him, not Paxton, before he started dating Aneesa. Meanwhile, Eleanor was seen hanging out with Trent in the finale, which could lead to a new pair coupling up next season.
Netflix officially renewed Never Have I Ever, with creator Mindy Kaling saying in a statement, "We are so grateful to Netflix and Universal Television for letting us continue to tell this story, and to the fans around the world who clamored to see more of this badly behaved Indian teenager." Here's everything we know so far about what's to come, including the Season 3 release date, some first-look photos, and the trailer.
The Never Have I Ever Season 3 Trailer
Just weeks before Never Have I Ever's third season premiere, Netflix unveiled the official trailer for the charming high school comedy. This new glimpse teases the "debut of Daxton," as Devi deals with her newfound popularity now that she's dating Paxton. Watch the full trailer below.
The Never Have I Ever Season 3 Premiere Date
Netflix previously announced Season 3 would premiere this summer, with the fourth and final season premiering in 2023. Later, the official Never Have I Ever Twitter page finally shared the official release date posting, "ok i am ALSO not lady whistleboy but i do have the tea... never have i ever returns august 12 [2022]!!!!"
The Never Have I Ever Season 3 Cast
Maitreyi Ramakrishnan will reprise her starring role as Devi. She also shared the Season 3 release date on Instagram, writing, "oh Devi, what on earth will you do… see you all on AUGUST 12TH FOR SEASON 3."
Jaren Lewison as Ben and Darren Barnet as Paxton will also return for another season of fighting for Devi's heart, along with castmates Poorna Jagannathan as Nalini, Richa Moorjani as Kamala, Lee Rodriguez as Fabiola, Ramona Young as Eleanor, and Megan Suri as Aneesa.
Utkarsh Ambudkar's Mr. Kulkarni will likely have a bigger role to play going forward, and we'll probably see more of Rushi Kota's Prashant if he decides to fight for Kamala. As Devi continues to work on her mental health, we'll also probably see Niecy Nash reprise her role as Devi's therapist, Dr. Ryan. But it's not yet clear if a third season would bring back Common as Dr. Chris Jackson, or how many flashbacks we'll see of Sendhil Ramamurthy as Mohan.
Not that the show doesn't already have its fill of leading men, but Netflix is introducing yet another recurring character in Season 3, the new boy Des, played by 9-1-1's Anirudh Pisharody. The Never Have I Ever Instagram page shared Pisharody's pic and captioned it, "meet des: he's the whole frickin' package." It's unclear if he'll also vie for Devi's heart like Ben and Paxton or if he'll be another academic competitor (though Ben also started out as a school rival so you never know how Des' storyline could progress).
The Never Have I Ever Season 3 First-Look Photos
Netflix shared some first look photos on May 8 and it looks like the students of Sherman Oaks have exciting days ahead. From Devi and Paxton getting together to Trent and Eleanor getting close, pairs are coupling up. A photo of Devi in an embrace with her mom Nalini was also released, leaving fans excited for this breakthrough in their relationship.
This post will be updated as more details on Never Have I Ever Season 3 are released.
This article was originally published on